Spike Tank
We call it The Tank for a reason. It's as structurally sound as you'll ever find, features complete U.S. welded fittings, is bottom draining and has four sturdy splayed legs to keep it balanced and gives you room to work underneath. You simply won't find this kind of innovation with any other homebrewing product on the market.
Note: All Tanks come with a standard lid. If you would like to switch out a standard lid with the NEW CIP Lid, select that add-on below and this will ship instead of the standard lid.
Learn More

$325.00

$40.00
Free Shipping for orders over $150
Easy to Clean
With a domed bottom design and 1.5" tri-clamp bottom drain port, cleaning has now become the quickest and easiest part of Brew Day...as it should be! Simply rinse out all your solid material, add a CIP (Clean in Place) ball and after 5 minutes of power washing the inside of your Tank, you'll have a squeaky-clean kettle.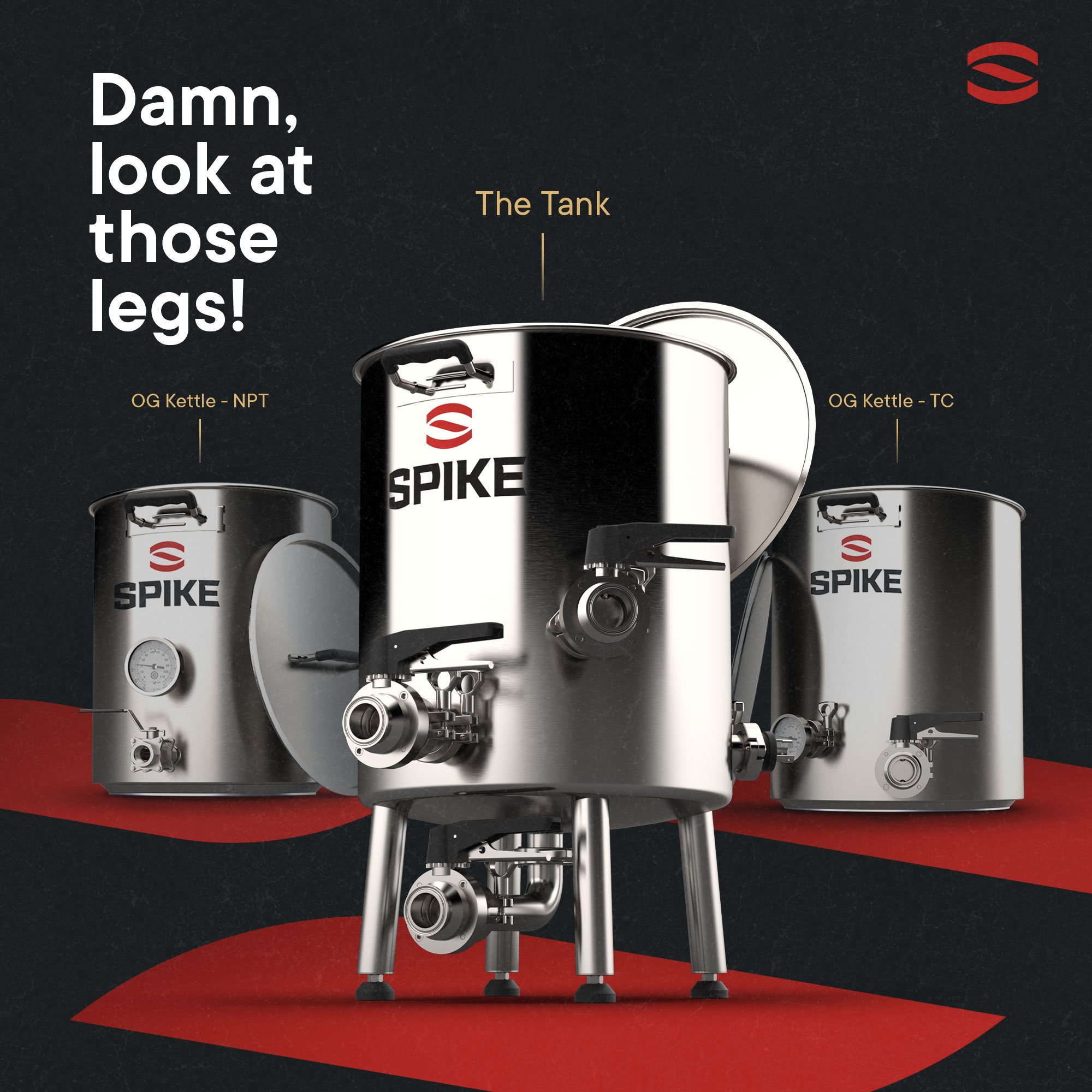 Splayed Legs
Why get a kettle with legs? The splayed legs on the Tank gives an extra wide stance for stability, as well as threaded legs to add the included adjustable leveling feet or even our caster kit.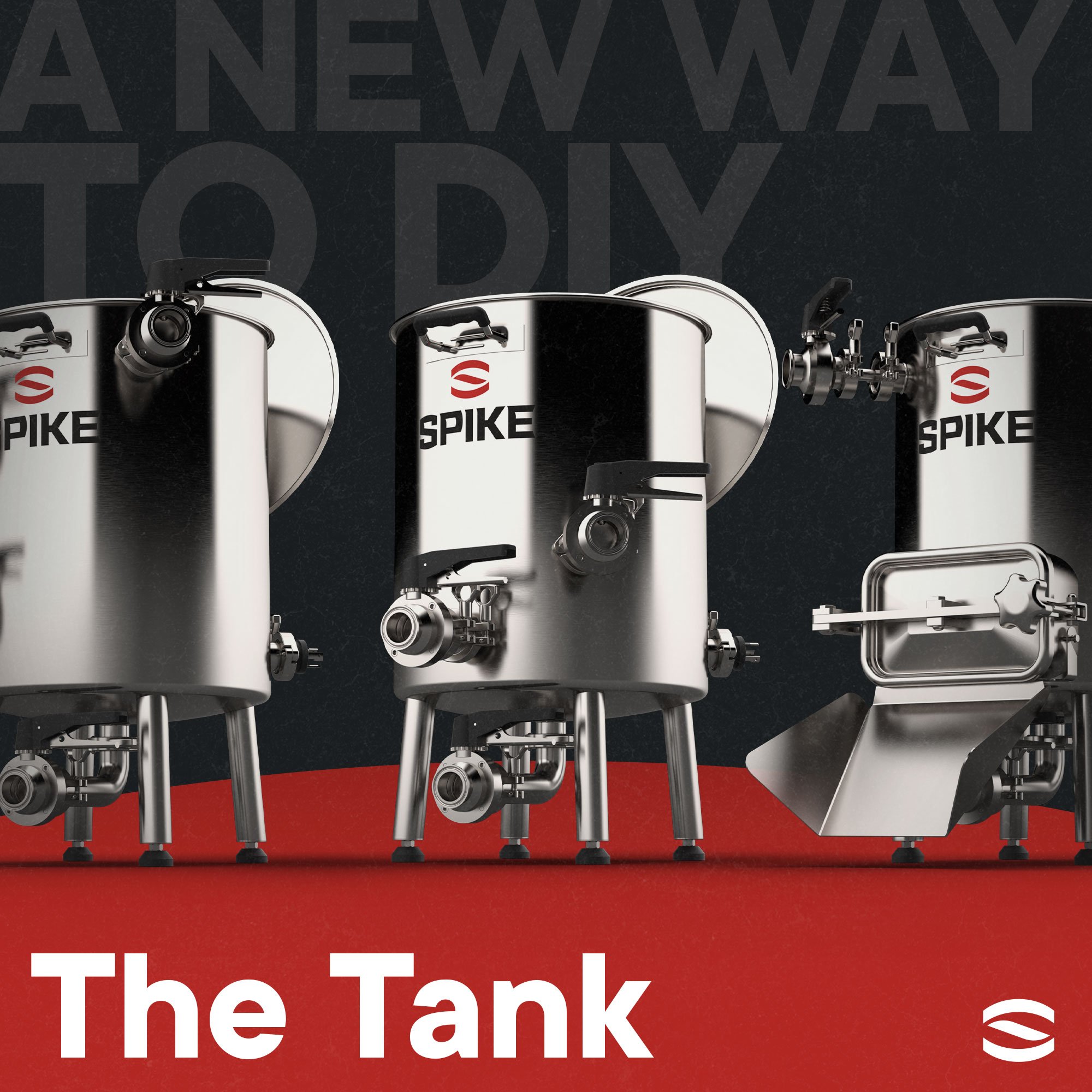 Pro Quality
Want to brew like the pros? Now you can! With professionally inspired features like the bottom drain, mash door and grain chute. This is the last kettle you'll ever need to purchase!
Tank Trio Walkthrough
Sit back, relax and enjoy a full walkthrough of the Spike Tank Trio brought to you by one of our favorite brewers, Ryan Michael Carter.
Ultimate Brew Kettle Buyers Guide
Watch as Adam and Ryan, from our engineering team, walk through all the things to consider when purchasing a new kettle. They touch on everything from thickness, type of stainless steel, shape of the bottom and the differences between the flat bottom Spike OG kettle and the bottom drain Spike Tank kettle!
01 / 06
Best Boil Kettle
The Tank makes for the easiest whirlpool and clean up imaginable. The boil kettle (BK) has ports specially for whirlpooling, racking and dumping. The whirlpool port is the highest port and is used to recirculate wort to create a whirlpool inside the kettle so trub collects at the bottom. Then you'll use the lower port on the kettle wall to rack (drain) clean wort into a fermenter. Lastly, you'll drain all remaining liquids and solid out the large 1.5" tri-clamp port on the bottom of the kettle.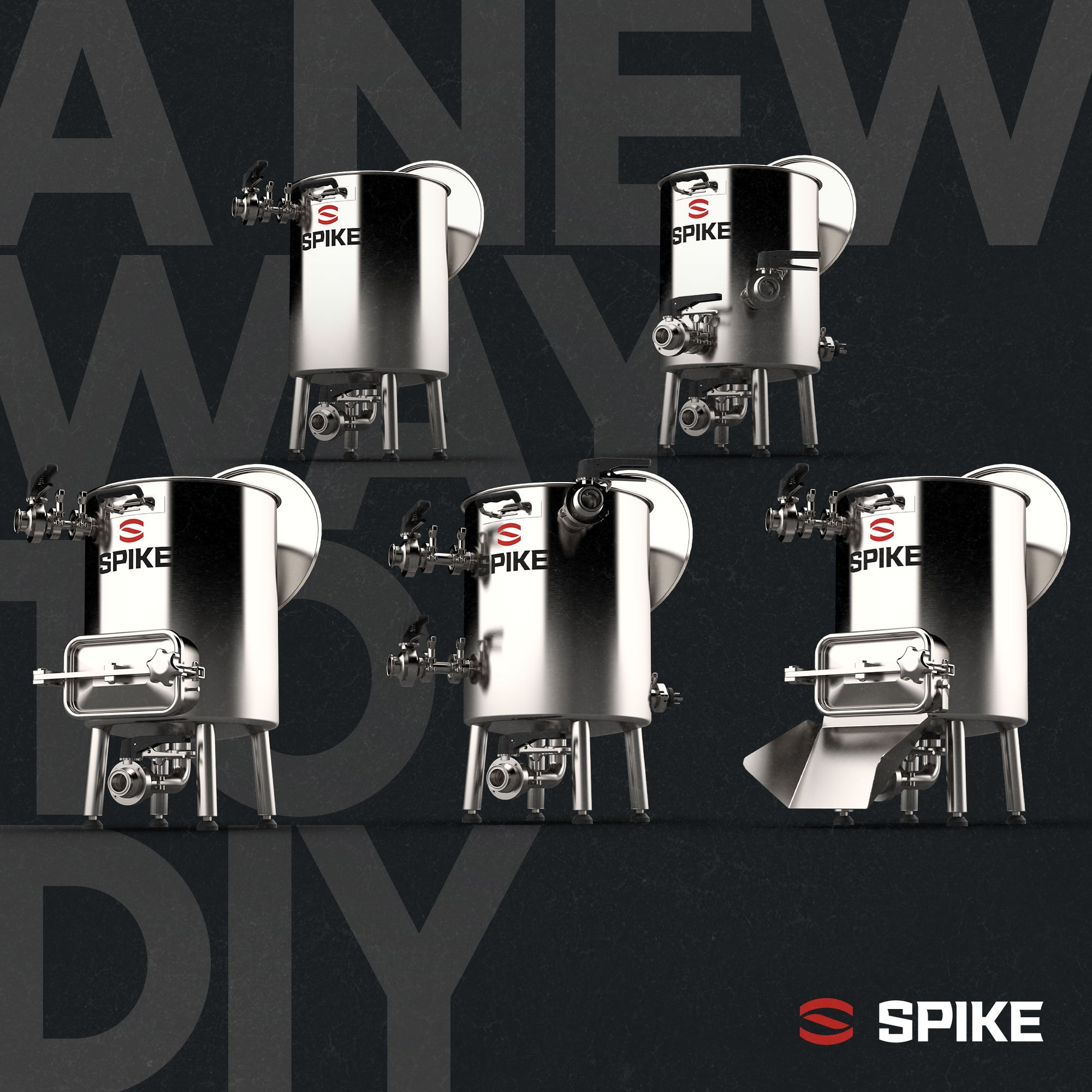 02 / 06
Customizable
Boil Kettle, Mash Tun, Hot Liquor Tank and even Solo Kettles. We've got them all in the Spike Tank line. We even offer mash tuns without the grain door if you're looking to step up your kettle game but on a budget. It's a whole new way to DIY.
03 / 06
Thickest on the Market
Spike kettles are 20% thicker than any other kettle on the market. Why? Because it's called the Tank and it's built like one!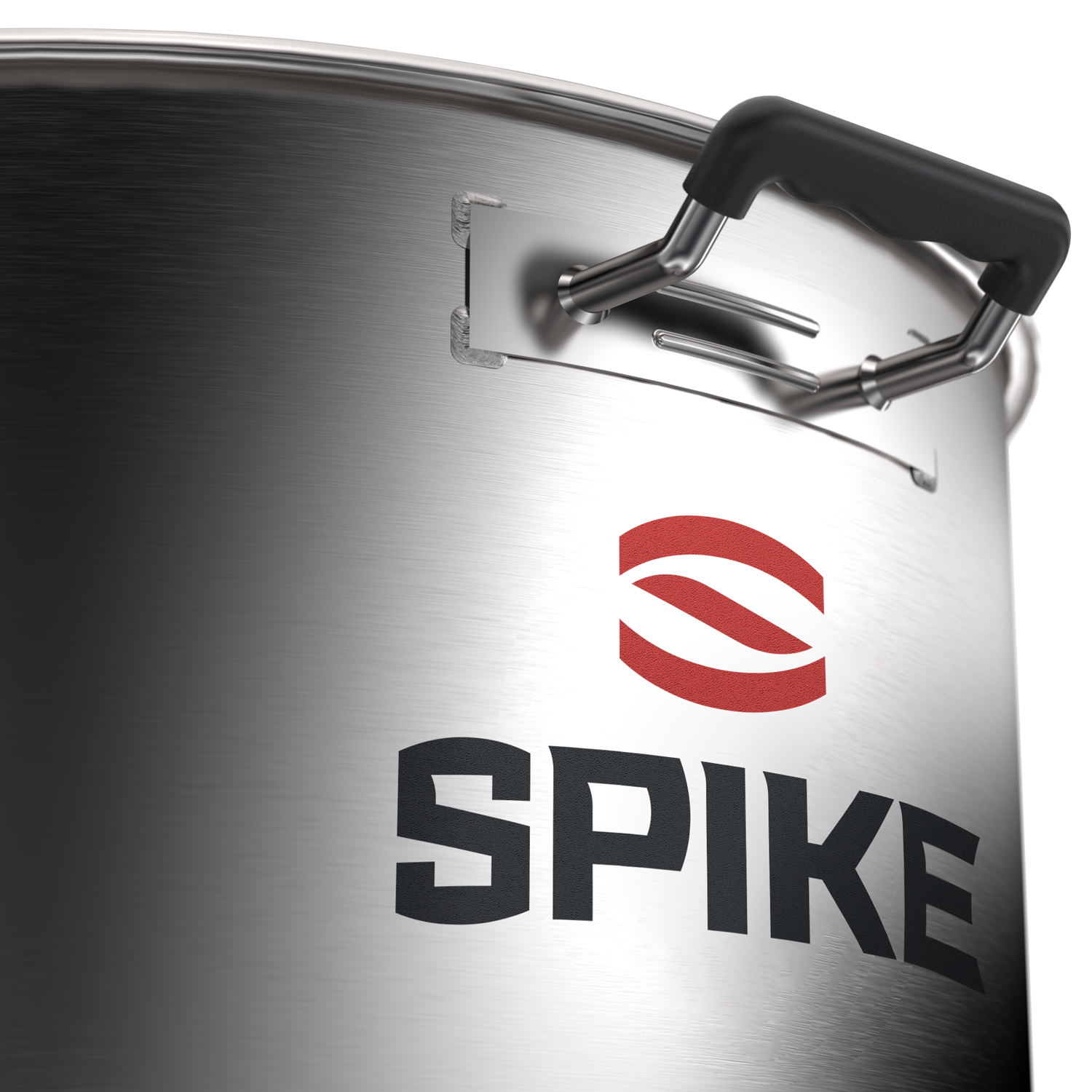 04 / 06
Welded Fittings & Handles
Our fittings are the strongest and most sanitary connection available. Our in-house welding team makes sure of that. Handles are welded on the front (as opposed to the side) so they take up less horizontal space when used with a three-kettle system like our Trio. Also, the back handle is in the perfect spot to hang your lid on.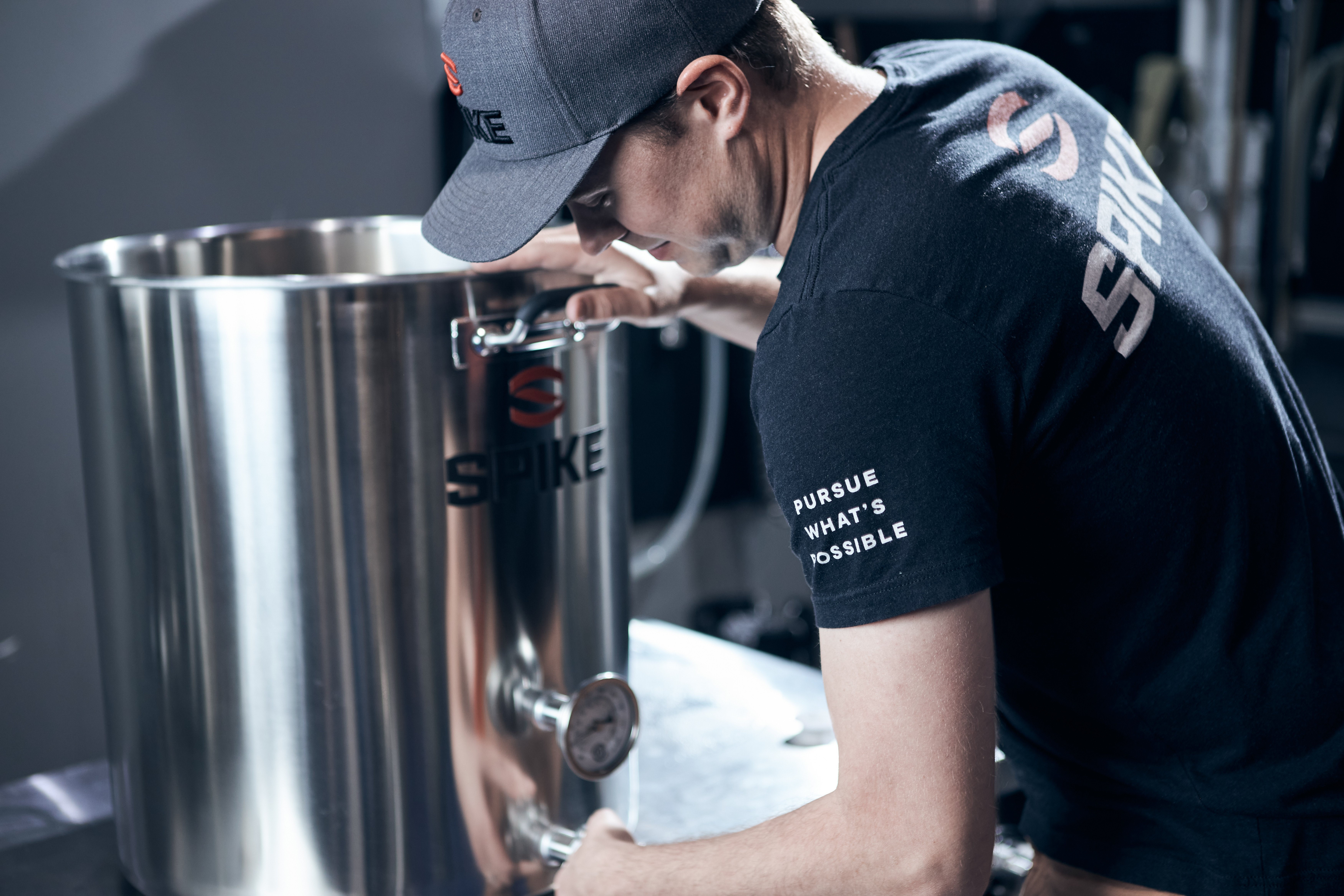 05 / 06
Polished Stainless
While polished stainless looks better, it also serves an important fuction. It's easier to clean! If you looked at a brushed stainless kettle under a microscope, you'd see that it's quite rough. Polished stainless cleans up quicker with less scrubbing and chemicals.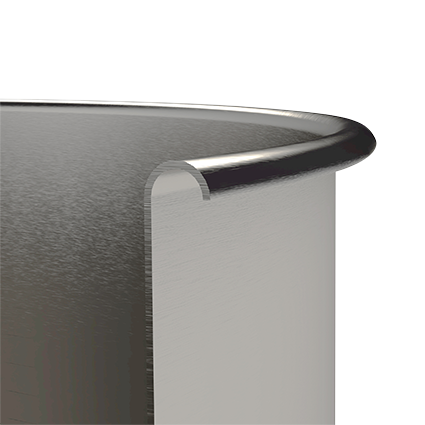 06 / 06
Partially Rolled Lip
A partially rolled lip, like our design, is far more sanitary than a fully rolled lip. A partially rolled lip can't trap liquid and leftover brewing remnants, but a rolled lip design traps liquid and makes it impossible to clean out.