Overview
The Spike conical fermenter line will simplify your Brew Day from start to finish!
Easy to install lid
Quick cleaning process
2" dump port
Plus an assortment of accessories so you can customize your conical to fit your precise brewing needs.
Each CF lid comes with three TC ports:
Blow Off Port – Dedicated port for an airlock or blow off tube
Hop Port – Dedicated port for adding hops
PRV Port – Dedicated port for your pressure relief valve (PRV)
Features:
304 stainless steel; 1.2mm (18ga)
All sanitary welded ports (no-weldless fittings)
Designed for 2.5 to 6 gallon batches
15psi working pressure (always use a 15psi pressure relief valve)

Use for pressure transfers
Use as a brite tank

Etched volume markings
14" wide by 29¨ tall
Fully polished finish
Lid Features:
Stainless band clamp for simple lid installation

Completely removable lid for easy cleaning

4" TC modular top port

Allows for hop additions, temp control coil, top sight glass, etc

(3) 1.5" TC ports which allow for:

Blow Off Port – Dedicated port for an airlock or blow off tube
Hop Port – Dedicated port for adding hops
PRV Port – Dedicated port for your pressure relief valve (PRV)
Body Features:
· Huge 2" TC bottom dump with butterfly valves (no more stuck yeast dumps)
1.5" TC racking port with butterfly valve
1.5" TC sample valve (for taking gravity readings)
1.5" TC dial thermometer
Reviews
Customer Reviews
Write a Review
Ask a Question
06/27/2022
Shane G.

United States
06/26/2022
Raul M.

United States
Excellent Equipment
This equipment brings not only the feeling of a mini brewery, but it gives you the confidence to keep experimenting and creating great beer. In the future I would have loved to get the add option for the blow off tube and sight glass on the purchase menu.
06/25/2022
Gerardo L.

United States
CF5
Works great. Glad I upgraded.
05/25/2022
John G.

United States
Life is good!
I actually have two of these bad boys (need two more but…$) and every time I use them things get easier and more user friendly. They should include the pressure bundle for the price but whatever. There are a few pieces and parts you will need to get the most out of these conicals, like a 2" QC fitting, 1 1/2" QC fitting, and definitely get the wheels. They raise the unit up to a usable height and make clean up and storage a breeze. So far so good!
05/11/2022
WESBREW

United States
ITS A BEAUTY
Easy to get everything together. Looks amazing. I love the giant lid, easy to clean. I spray it out with a hose, in place, and dump out the bottom. Trub dumps, yeast harvest and doing multiple brews on top of the same yeast is really easy. Love having a sampling port. Can ferment under pressure, use some pressure to blow out thick trub, pressure transfers, and carbonate in the tank. Downside is accessories added up. Would love to see some options to choose from with the conical and some accessory packages to get a better deal. I needed a gas block, temp coil, thermowell and two racking tubes (prevent pickup of yeast in your sample or transfer that settles on the ports) . Brewing is going great, have even pushed capacity much lower than recommended without much issue. Have Just added leg extension, new (big) casters which are perfect and a neoprene coat to keep the cold in and prevent sweating-havent used it yet. Fermenting is getting more fun.
Compare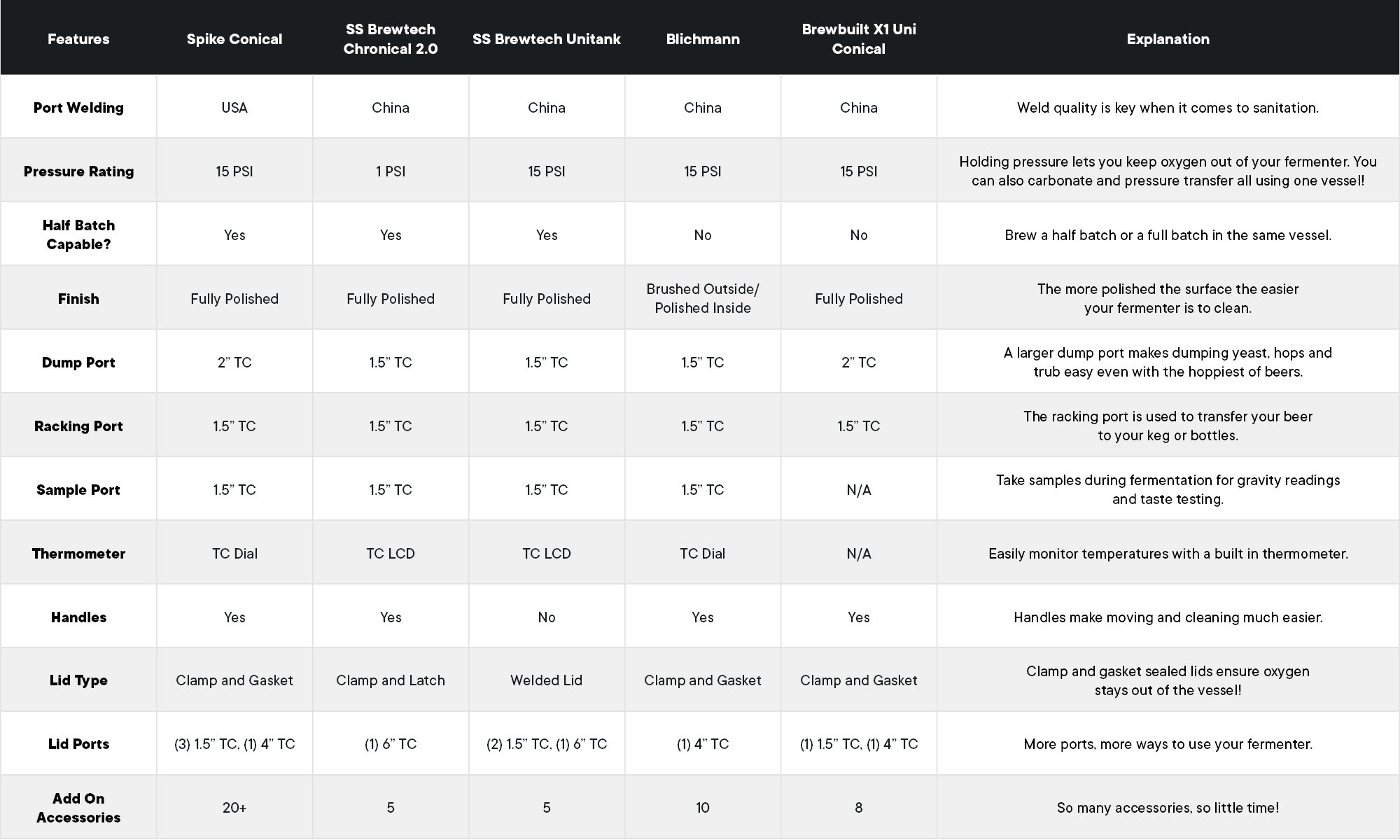 3-Port Lid
Every Conical Fermenter comes with a standard lid with three 1.5" tri-clamp ports. The ports are specifically designed for a blow off port, hop addition port and a pressure relief valve (PRV) port so you can stay safe when your CF is under pressure.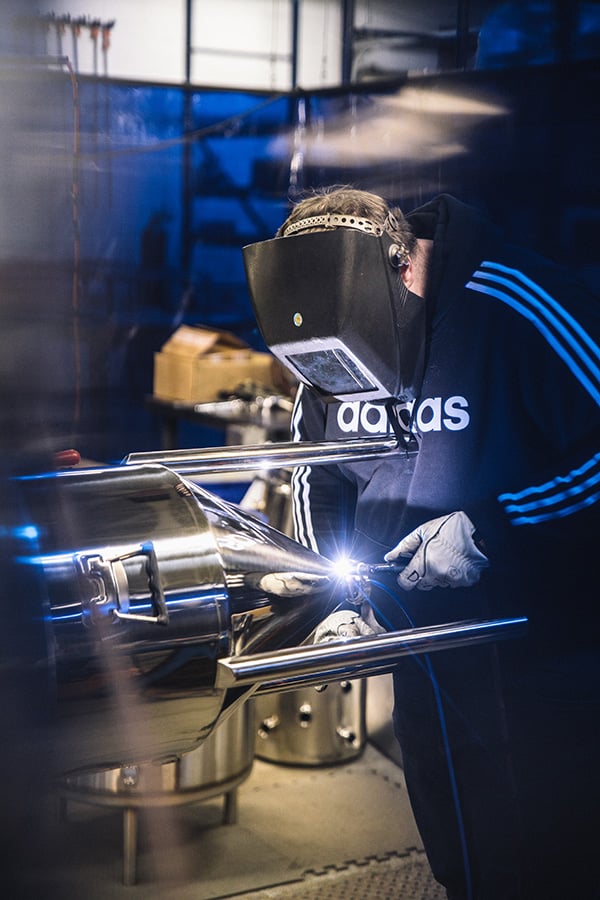 Locally Welded
We weld all our CF fittings right here at our facility in Milwaukee, WI. Why does this matter? It means we have control over our strict quality standards. Most competitor models are welded overseas, so there's fewer quality and control checks throughout the process. Spoiler alert: Sanitary welds are very important when you're making something that will eventually be consumed.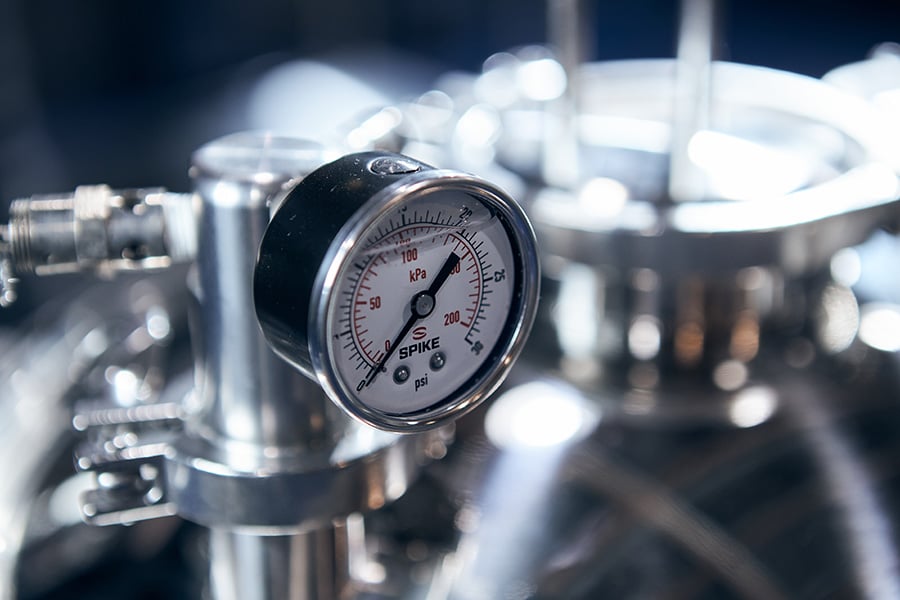 Unitank
A Unitank refers to a fermenter that can ferment and carbonate beer in one vessel. Cut down your carbonation time from 7 days in bottles and kegs to just over 24 hours using a CF Unitank and our carb stone!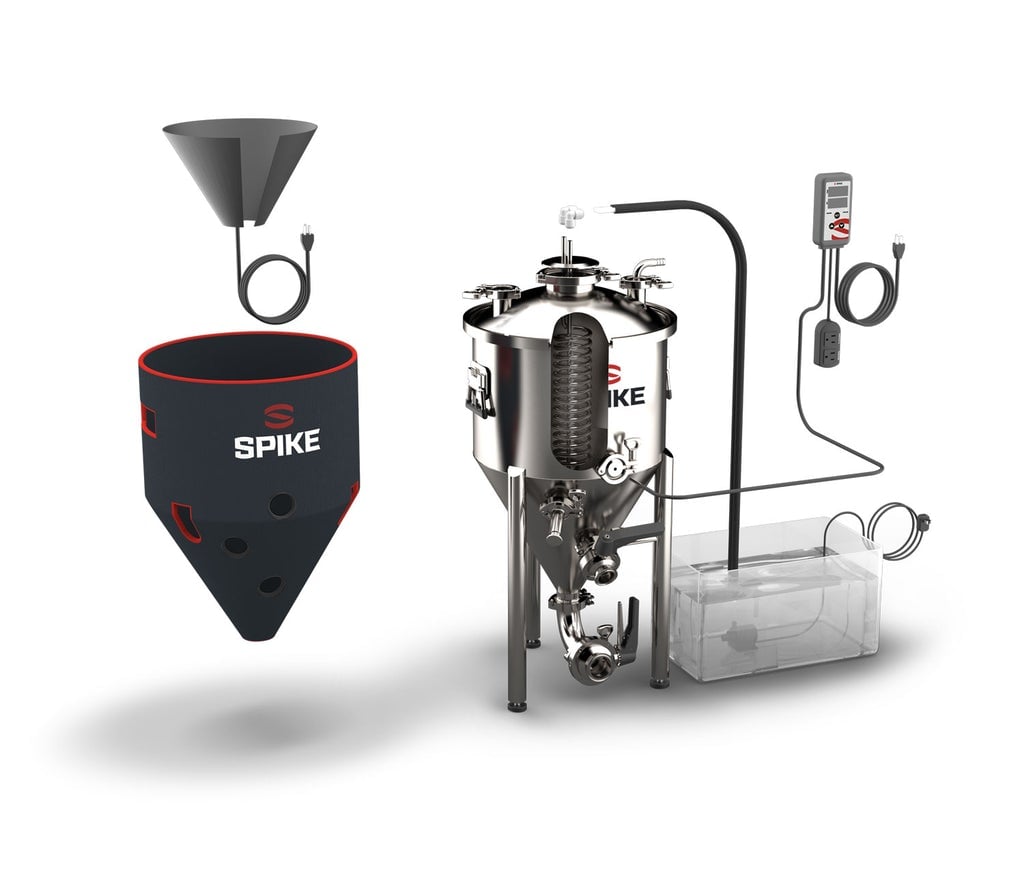 Temperature Control
Temperature control is crucial to fermentation. Some beer styles can be kept at room temperature, while others need to be kept cooler. The Spike CF line has a temperature control system (the TC-100) which will keep your beer within 1 degree of your fermentation target temperature.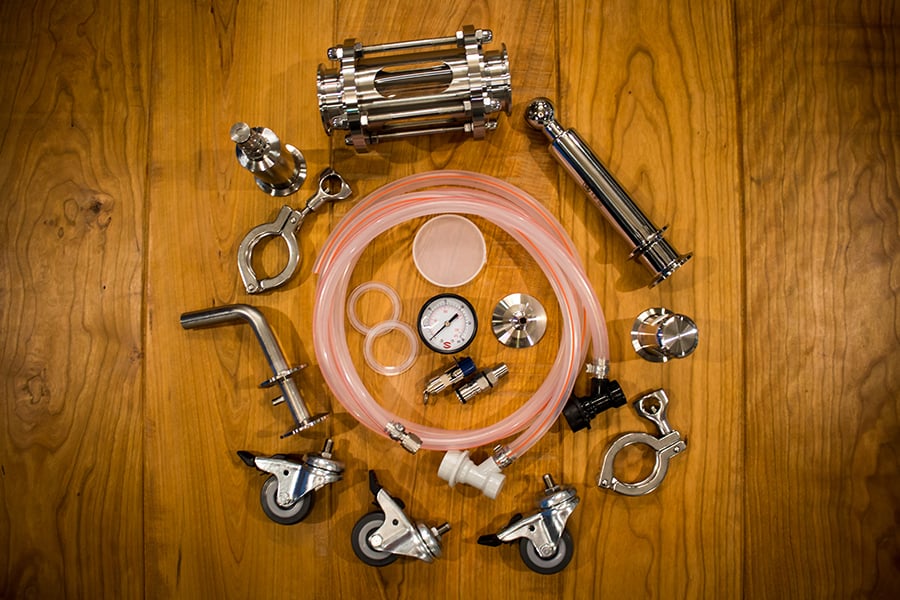 01 / 06
Endless Accessories
With over 25 accessories available, there's no limit to what your Conical Fermenter can do! All accessories come "a la carte" so you can outfit your Conical exactly how you want. It doesn't make sense for us to guess how you'll be brewing and charge for accessories you don't need. Want to pressure transfer to a beer keg? We can help with that! Want to add wheels to move your Conical? Sounds good. Want to… you get the point.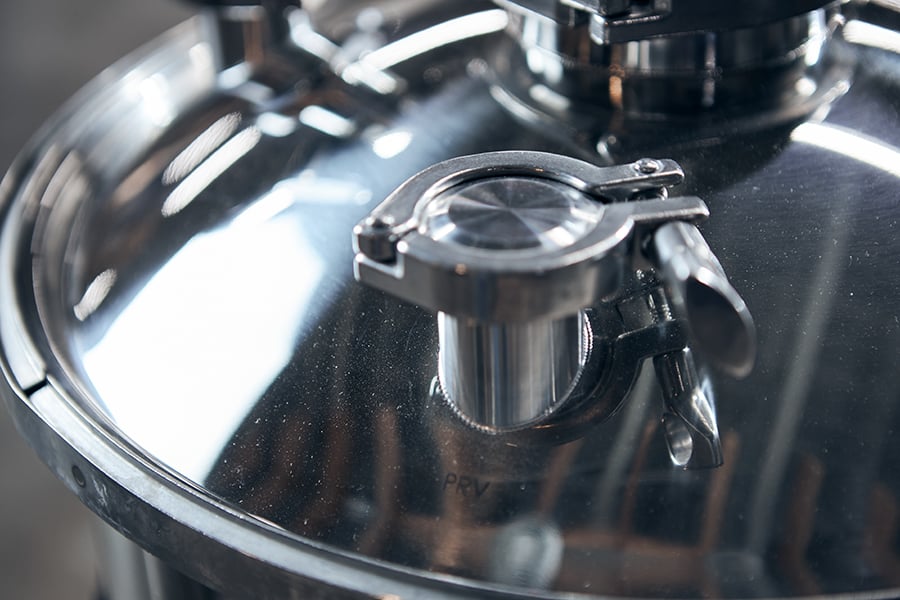 02 / 06
Tri-Clamp Fittings
The CF line uses tri-clamp fittings. A tri-clamp fitting uses a gasket and clamp to make a sanitary connection. It is the only connection you'll find at a professional brewery. They're easy to use, never leak and are considered a standard connection, so almost any accessory can be attached.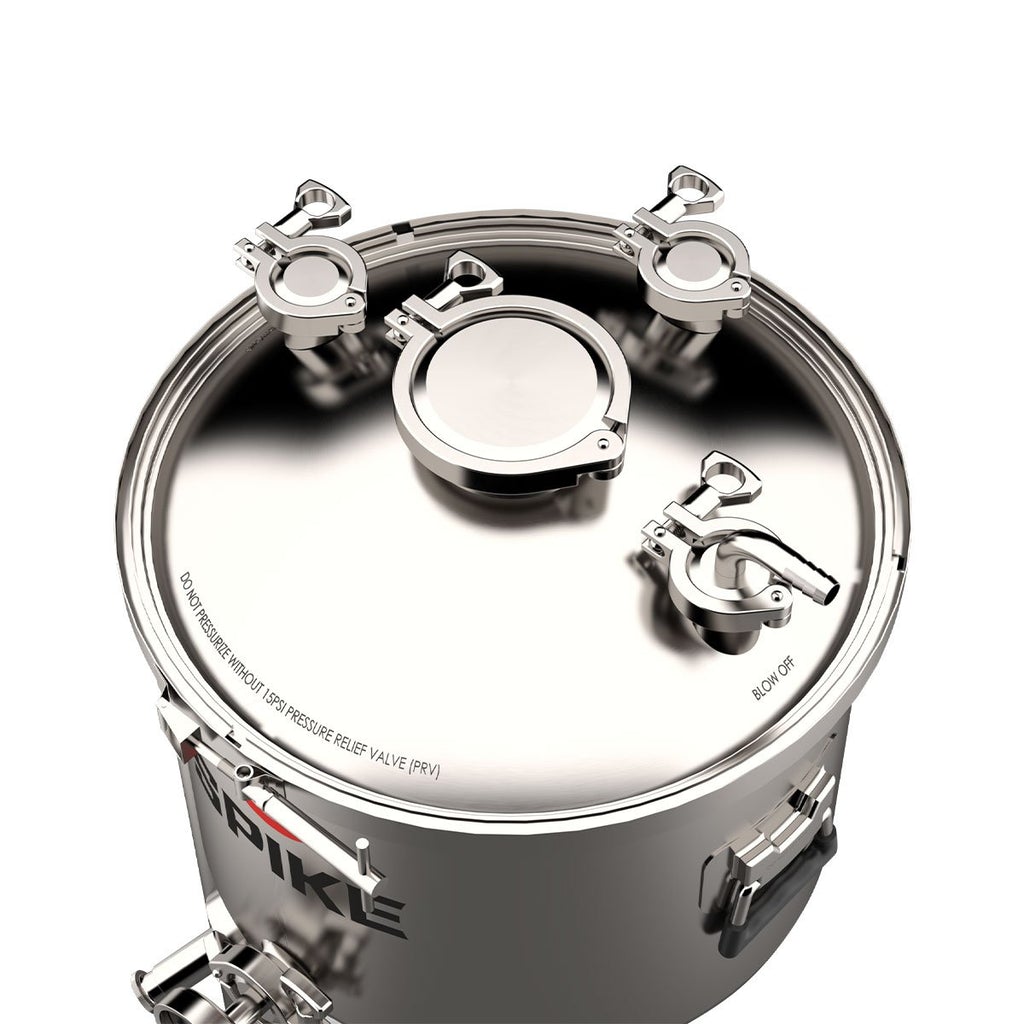 03 / 06
Removeable Lid
The entire lid is easily removable so you can keep the inside (and outside!) squeaky clean.


04 / 06
Half Batch Capable
The racking port, sample port and thermometer port are all low enough to be able to do a full volume batch as well as a half batch. All accessories like the temperature control coil, heating pad, etc., are designed to work with a half batch as well.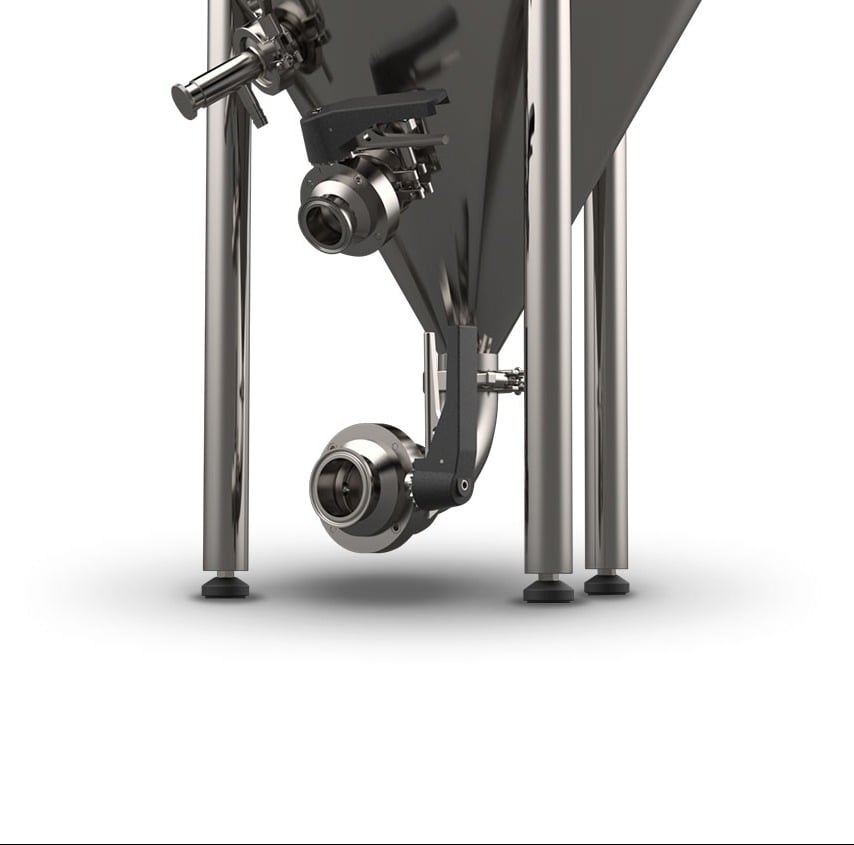 05 / 06
Oversized Bottom Port
Our CF's have an oversized (but arguably necessary) 2" tri-clamp bottom dump port. Due to the pressure being exerted, the odds that this port gets clogged are slim to none.


06 / 06
CIP Capable
Add our optional CIP ball to the 1.5" tri-clamp port on your lid and connect that to a brew pump. The pump will spin the ball and power wash your CF, making hand scrubbing a thing of the past!