Spike Solo System
Brew beer at home! The Spike Solo system is simple to use and turnkey right out of the box. Whether you're a brewer looking to upgrade your current setup or a 20-year veteran looking to downsize, the Solo is for you.
All Solo system's come with a standard lid. If you would like to switch out the standard lid for a CIP Lid, select that add-on below and this will ship instead of the standard lid.
Please expect a 3 week lead time for all Solo Systems.
Learn More

$285.00

Add-On - Spike Flow
Add-On Benefits
Hardware needed to use with the Spike Solo included.
$325.00

Wort Chiller + Bracket - TC
Wort Chiller + Bracket Benefits
Quickly cool your wort with a counterflow wort chiller plus table bracket.
$480.00

$40.00
Estimated Total
$1,595.00
Free Shipping for orders over $150
Take Our Quiz
Still not sure what brewing system is right for you? Take our Quiz to find out!
Learn More
Take Quiz
Overview
The Solo was designed for new and experienced brewers alike! It's made with the highest quality materials, versatile and has straightforward usability. It took two years to develop this system because we really wanted to design a turnkey system that actually works for you
One of the biggest considerations in brewing is space. The Solo has a compact footprint and is able to be stowed away nicely when Brew Day is done. A kitchen, basement, garage or even a back patio will all work for your home brewery!

When it comes to the actual brewing process the Solo can't be beat. You'll be able to make commercial quality beer in only 6 simple steps: heat water, add grains, filter, boil, whirlpool and chill. Yeah, it's that easy.
Note: Pump and chiller sold separately.
Features:
The Spike Solo features tri-clamp fittings.
10 gallon system, 2.5 to 5 gallon batches
Uses only solid 304 stainless steel, no bags or mesh that can tear
Sanitary welded coupler design (done at our facility in Milwaukee, WI)
1.2mm thick kettle walls
Thick stainless-steel hooks on basket easily holds wet grain on the kettle lip during vorlauf or while the basket drains
Bottom of the basket features precision-laser slits matching the false bottoms on our commercial brewing systems
Basket has tapered design to promote good flow through the grain bed
Heated using a powerful 120V heating element
Includes 6 foot power cord and 6 foot heating element cord
Reviews
Customer Reviews
Write a Review
Ask a Question
Game Changer
This system is amazing! Hits temps quick, great recirculation, great whirlpool. Cleaning is east with the CIP Ball (glad I bought the steam condensing lid). Easy to operate!
Game Changer
This system is amazing! Hits temps quick, great recirculation, great whirlpool. Cleaning is east with the CIP Ball (glad I bought the steam condensing lid). Easy to operate!
06/25/2022
Lance C.

United States
01/08/2022
Rob B.

United States
Great system overall
I purchased a Spike Solo+ system a little over 1 month ago and brewed my 1st batch on it about 2 weeks ago (what will be a coconut porter, if anyone is interested). I did order the pump but not the wort chiller and I also ordered the steam condenser lid. My criteria for picking an all-in-one system were: 1. It needed to help reduce the amount of lifting that I was doing with my outside propane system 2. Reduce, to some degree, the overall time in my brew day 3. Eliminate a number of pieces of equipment that I continually had to take out and then put away for each brew day 4. Be a true BIAB system to eliminate the added step and equipment needs for heating additional water. So, how did brew day #1 on this new system go? Overall, I was very pleased with the results. Going from a system that had zero automation to using pumps, as many brewers already know, makes a huge difference. I also no longer need to pull out several large pots, a propane burner, and a tank of propane. Plus, as it turned out, my 1st brew on the system happened to take place on a very cold and rainy December day, which in the past meant that I would have been on my back patio shivering. Criteria #1 and #3 satisfied. For criteria #2, my brew day was only a bit shorter than my standard propane brew days. However, I attribute this to getting used to this new system, and I identified areas in which I can make process changes moving forward. For instance, my 13-plus lbs of grain drained A LOT slower than I had anticipated. This could be remedied in the future by adding a higher percentage of rice hulls to the grist. Also, I need to hone my process for clean-up. I had a specific routine when working outdoors and this system is large and takes a bit of time to clean. The clean-in-place ball (CIP) might help but you still have to get in there and scrub the pot and the element to really have it be clean at the end. So I expect my cleaning times to be reduced as I move forward. For criteria #4, I was very satisfied. It was great to put in my total amount of water at the outset and not have to worry about adding anymore for the rest of the brew. One-and-done and no additional equipment. Suggestions: 1. Definitely wire in a 240 volt GFCI breaker in your electric panel. If you can't do it yourself safely, have an electrician do it. What you pay an electrician is far less than threatening your life by working with high voltage electricity and water. 2. Use a finer grain crush and more rice hulls than you think you would ever need. The Solo+ 15 gallon system has a deadspace of about 6 gallons, so your mash may be thicker than you expect. Recirculation during the mash really helps with efficiency. 3. Using the pump to vorlauf worked really well and I used a stainless steel collapsible vegetable steamer to spread the wort over the grain bed (coming from pump) to avoid some channeling that recirculating can cause in the grain bed. 4. Steam lid worked well (separate review). 5. I felt the wort chiller offered with the system was prohibitively expensive for my budget, so I opted to keep my stainless immersion chiller and work with that. I quickly realized that that might be a bit of a challenge because you obviously can't set the chiller in the pot on top of the heating element. My workaround was to place the cleaned grain basket back in that at the end of the boil (which sits above the element) and place the wort chiller in that. Then, I recirculated the cooling wort over the exposed parts of the chiller which enhanced the cooling efficiency. 6. DO THE AUTO-TUNE PROCESS BEFORE YOU BREW (INSTRUCTIONS INCLUDED) In all, I was very impressed with this system. It is definitely not as hands off as a table-top brewing system but it is a nice bridge between the physical and logistical demands of all-grain brewing and automated simplicity. Pros: - REALLY solid and well-constructed! This is pro material! -Packaging was outstanding- not a scratch -Temperature control was spot-on Cons: - The logic controller is not as straightforward as on a Grainfather Connect+ bluetooth system or the like, but the online process manuel instructions help and it's not too hard to figure out. - A bit pricey compared to other systems (but the quality construction and customer support mean that you will be able to use this for a lifetime of brewing). - Not overly easy to clean and it's big (in the case of the 15 and 20 gallon sizes), so fitting them in a utility sink or even lifting them around could be a bit of a chore compared to smaller systems. Happy brewing and thank you Spike Brewing!
12/06/2021
Daniel H.

United States
Solo 20g
Blown away by the ease of use so far. I had been using the brewzilla 35l and they're not even In the same ballpark. Pid controller is dead on, fast heat up rates, quality construction. I was originally concerned that the mesh size in the bottom of the basket would allow lots of grain pass through but whatever is there is negligible. As for negatives, since it is built like a tank and with the tri clamp fittings protruding out of the side of the kettle it would be nice if it had short legs to accommodate a sloped bottom and center drain for easy clean up since it is cumbersome to lay over to dump out trub and water from the weight and fittings. Would also like to see a built in sight glass to help prevent uncovering the heating element during mash. 90 degree quick connect fittings should also be included to prevent kinking of the hoses at the connections.other than the short wish list this rig runs flawlessly. Should've gotten one sooner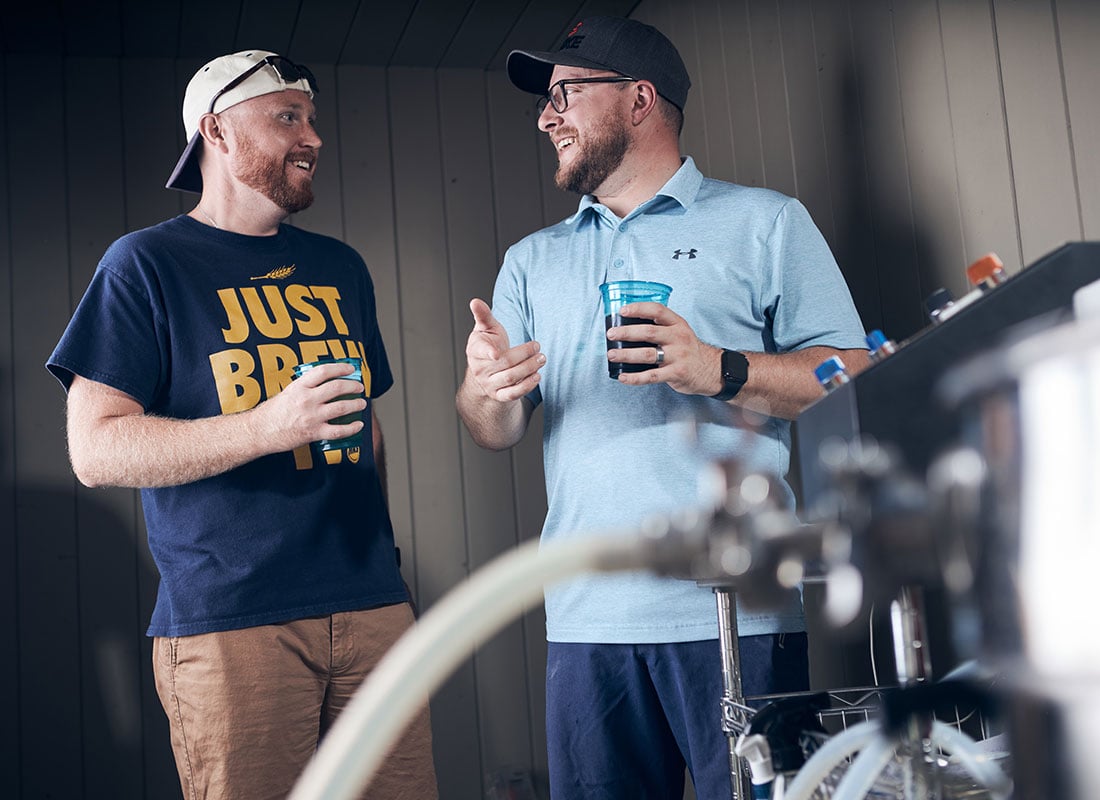 Simplify Your Brew Day
A Solo Brew Day has 6 simple steps. Get wort into your fermenter faster and more efficiently than anything else on the market!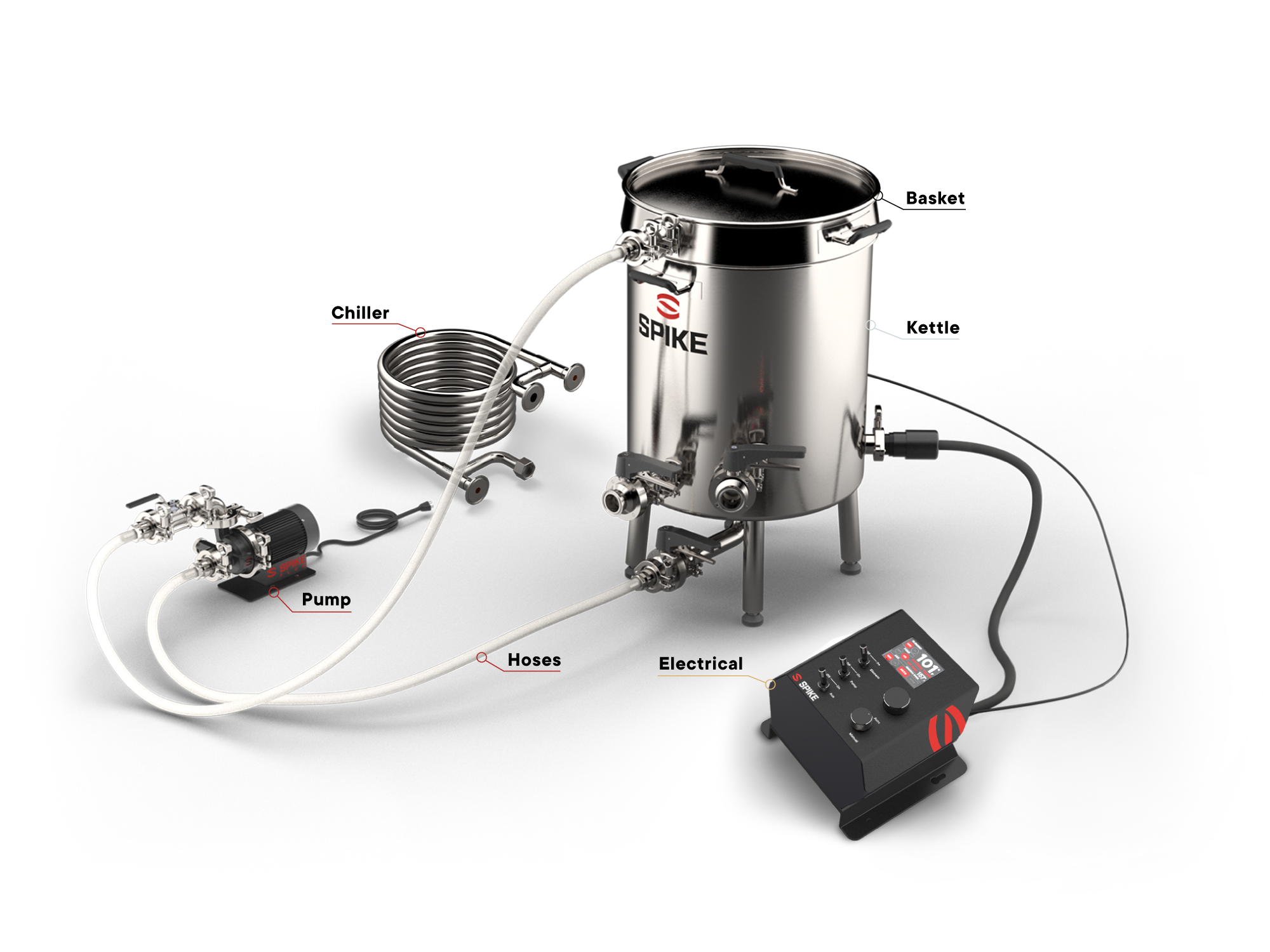 Turnkey
The Solo comes with everything needed to brew right out of the box.
Note: Pump and chiller sold separately.
Compact Footprint
The Solo will easily fit in any kitchen, garage or basement. If you have access to a proper electrical outlet, you're good to go. When Brew Day is complete, stow it away nicely until next time.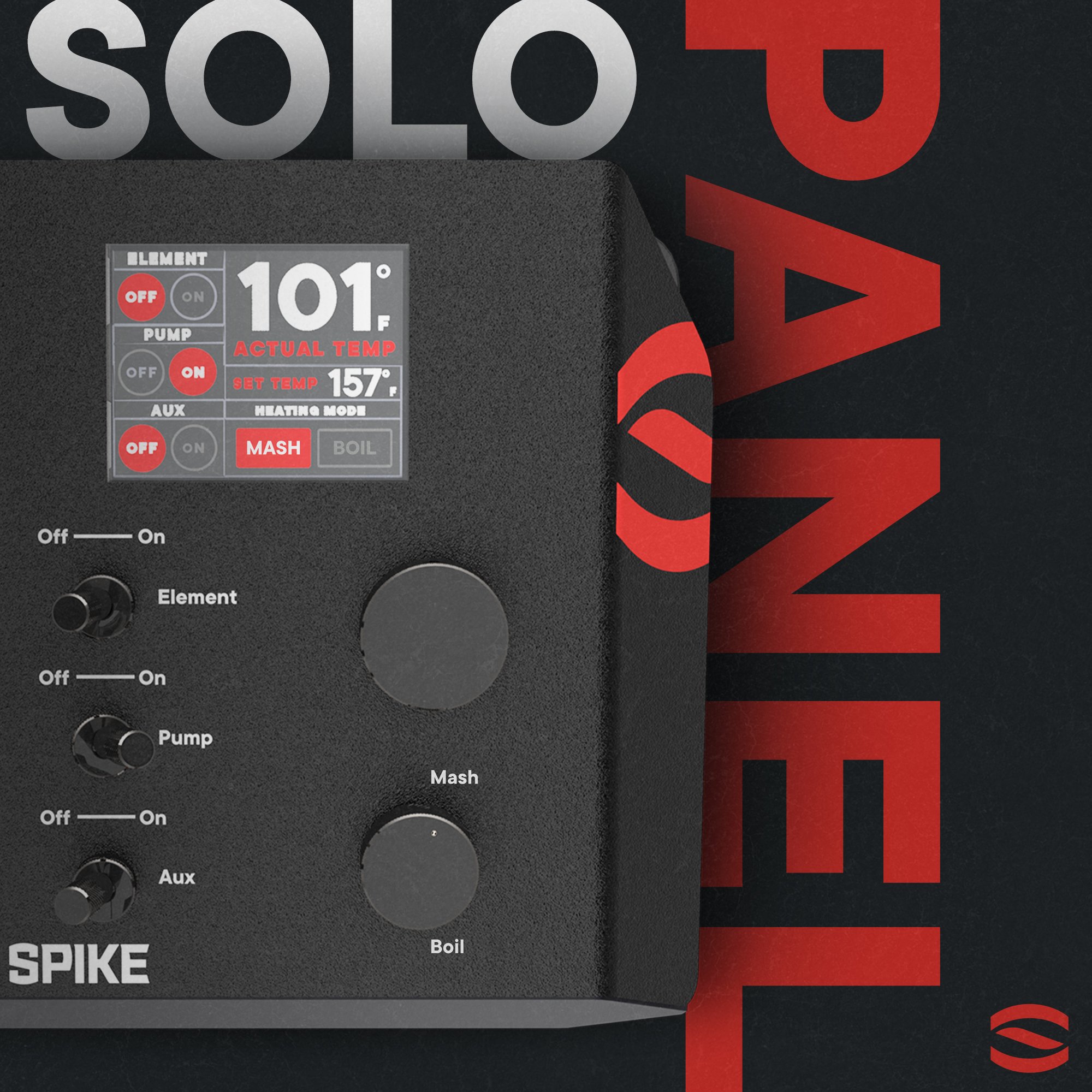 Electric
There's two main ways to heat your brewing system—gas or electric. It's the difference between Fred Flintstone and Elon Musk. Electric is safer (there isn't a hot flame giving off dangerous gases like carbon monoxide), less expensive (a tank of propane is about $20 while a Solo Brew Day costs about $2) and offers more control. With the touch of a button or flip of a switch, you can control everything from temperature to pumps.


Solo Panel Engineering Q&A
The Spike Solo Panel is so easy to use your 90-year old grandma can brew with it. We know because we designed it that way. Watch as Josh and Adam walk you through the ins, outs and all the engineering speak in-between.
Spike Solo Brew Day
Watch as homebrewer Zach makes a delicious IPA on his Spike Solo System.
01 / 04
Robust Basket Design
The Solo basket is 100% stainless steel. It's strong enough to lift even when full and tough enough where even the most overserved brewer can't damage it. Unlike other options, the Spike Solo basket will stand up to our motto of "Your Liver Will Fail Before Our Equipment Does."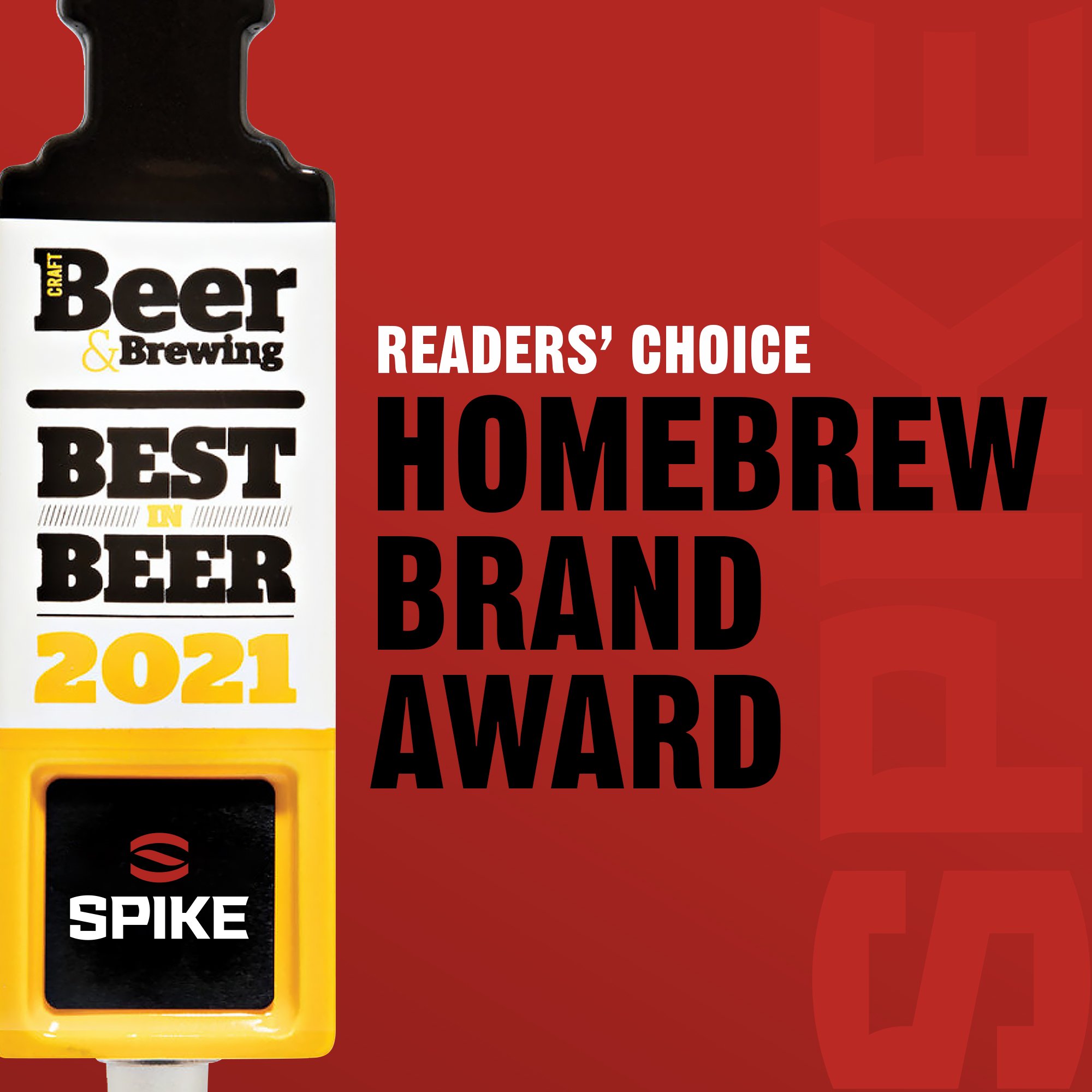 02 / 04
Not Cheaper. Just Better.
We have built our reputation on quality products. Every year, we send a survey to our customers asking why they chose to buy equipment from us. Year after year, the answer remains the same: quality.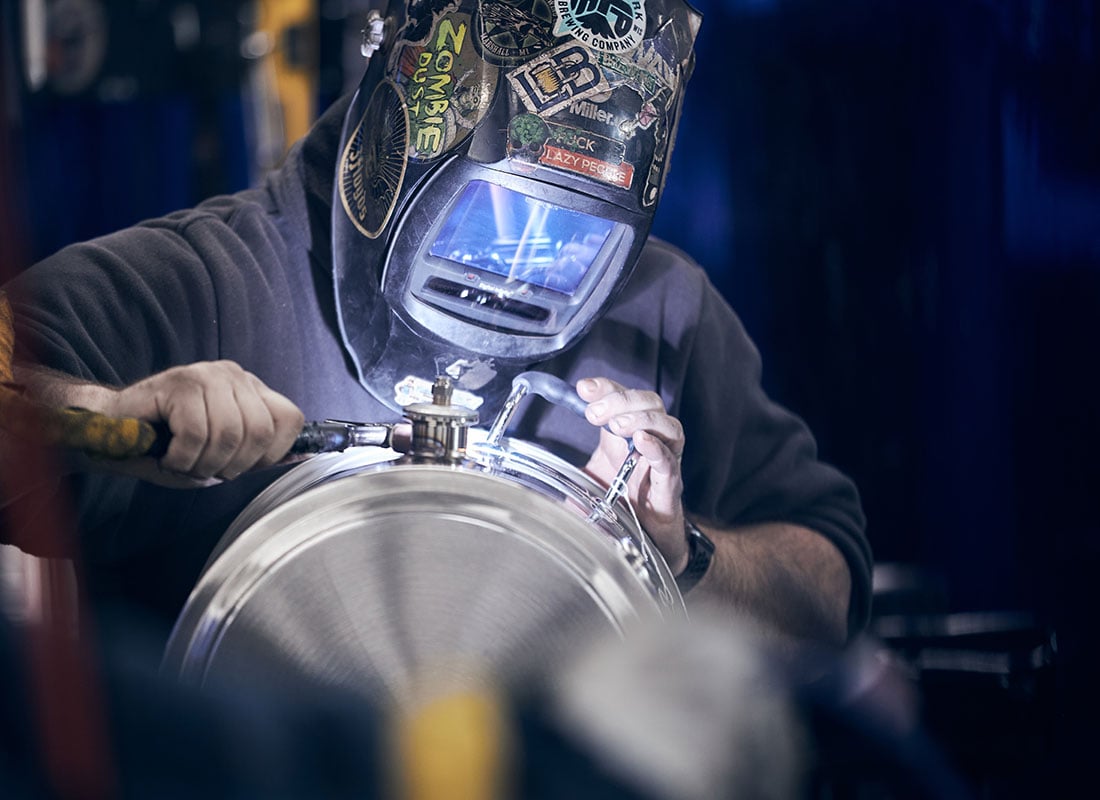 03 / 04
Welded Fittings
Welding is what we do. Our fittings are the strongest and most sanitary connection available.


04 / 04
Optional Steam Condensing Lid
Brewing indoors is awesome; however, the new battle then becomes steam. While boiling, you can boil off over 1 gallon of wort. Best case, your walls are now coated in wort. Worst case, that steam gets in your walls and causes mold issues. The SCL captures that steam by using a misting nozzle to convert that steam back into liquid. The SCL will work with the Solo without any modifications to your system.
The Steam Condensing Lid does not come with the standard Solo system. But, it's a great accessory to grab to elevate your Brew Day!