The Spike Mill
( Sold Out )
Launching Late 2023/Early 2024
Beer may be from The Middle Ages, but that doesn't mean your mill needs to look like it's from then, too. Designed with the help and expertise of Briess Malt, this grain mill was uniquely and specifically made so homebrewers and pro brewers alike could get the best and fastest grain crush on the market—and look cool doing it. The sleek, lightweight and compact design of the NEW Spike Mill features an integrated motor, tool-less gap setting, optimal hopper size, cord wrap and (wait for it...) an integrated funnel for dust mitigation.
Spike Home - $499
Spike Pro - $999
Learn More
Free Shipping for orders over $150
Overview
The NEW Spike Mill is the latest innovation coming out of the Spike Workshop. We mean it when we say our engi-nerds thought of everything. Here's a snapshot:
Tool-less Gap Setting: Simply turn the dial to the gap setting you want.
Integrated Motor: It's time to put the hand drill down.
Offset Driven Rollers: The rollers are turned at different speeds (1.3:1) as this helps to shear the grain husk rather than crushing it and producing excess flour and dust.
Optimal Hopper Size: Fill, but not overflow a 5-gallon bucket on the Home and add a full 50 lb bag on the Pro.
Dust Mitigation: We got lots of feedback about dust. So we incorporated a dust mitigation funnel to help contain and reduce the amount of dust that ends up in your brewery.
Light and Compact: Coming in at

25

lbs, the Home Mill is literally half the weight of competitor mills. Your back already says, "Thank you!"
Hardened Steel Rollers: With the expertise of Briess

Malt

behind us, our team developed hardened 1144 steel (Rockwell 45C) rollers featuring a unique helical machined flute design which delivers the best crush available
Chain Driven: Smooth and strong, the chain won't stretch or slip like a belt, or create wear shavings like gears. Both rollers are chain driven so there's zero chance of a jam.
Stay tuned for more details because something special is coming this Summer! You may be able to purchase this sooner than you think...
The Spike Mill Home: $499
Home Specs:
Integrated 1/3hp motor
3" diameter by 4" long hardened steel rollers
Offset driven roller (1.3:1 ratio)
5lb/min throughput
15lb hopper capacity
Weight: 25lb
9" wide x 15" long x 15" tall w/hopper
6' power cord w/ cord wrap
The Spike Mill Pro: $999
Pro Specs:
Integrated 1/2hp motor
3" diameter by 8" long hardened steel rollers
Offset driven roller (1.3:1 ratio)
12lb/min throughput
60lb hopper capacity
Weight: 40lb
21" wide x 17" long x 19" tall w/hopper
6' power cord w/cord wrap
Tool-less Gap Setting
No tools, feeler gauges or any other crazy contraption required—simply turn the dial to the gap setting you want.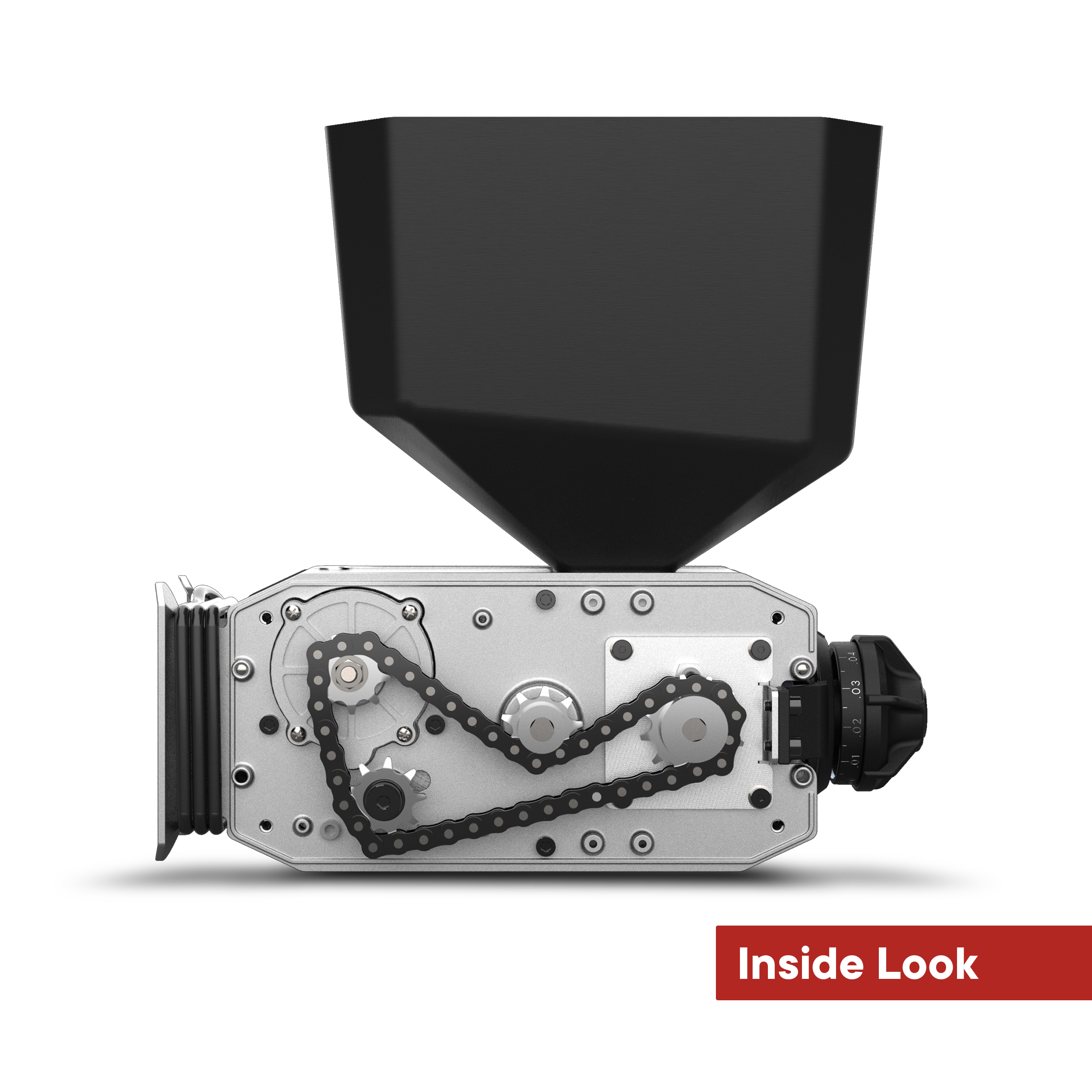 Integrated Motor
Featuring an integrated motor that saves you time and headaches! You can finally put that hand drill away and step up to a purpose built all-in-one mill.
Best Grain Crush
In order to be the best, we had to partner with the best, which is why we collaborated with Briess Malt on the design of our new mill. Features like the hardened steel rollers, offset chain driven design for a better shearing action and helical machined flutes are all unique features only found on the Spike Mill. Better crush = better beer.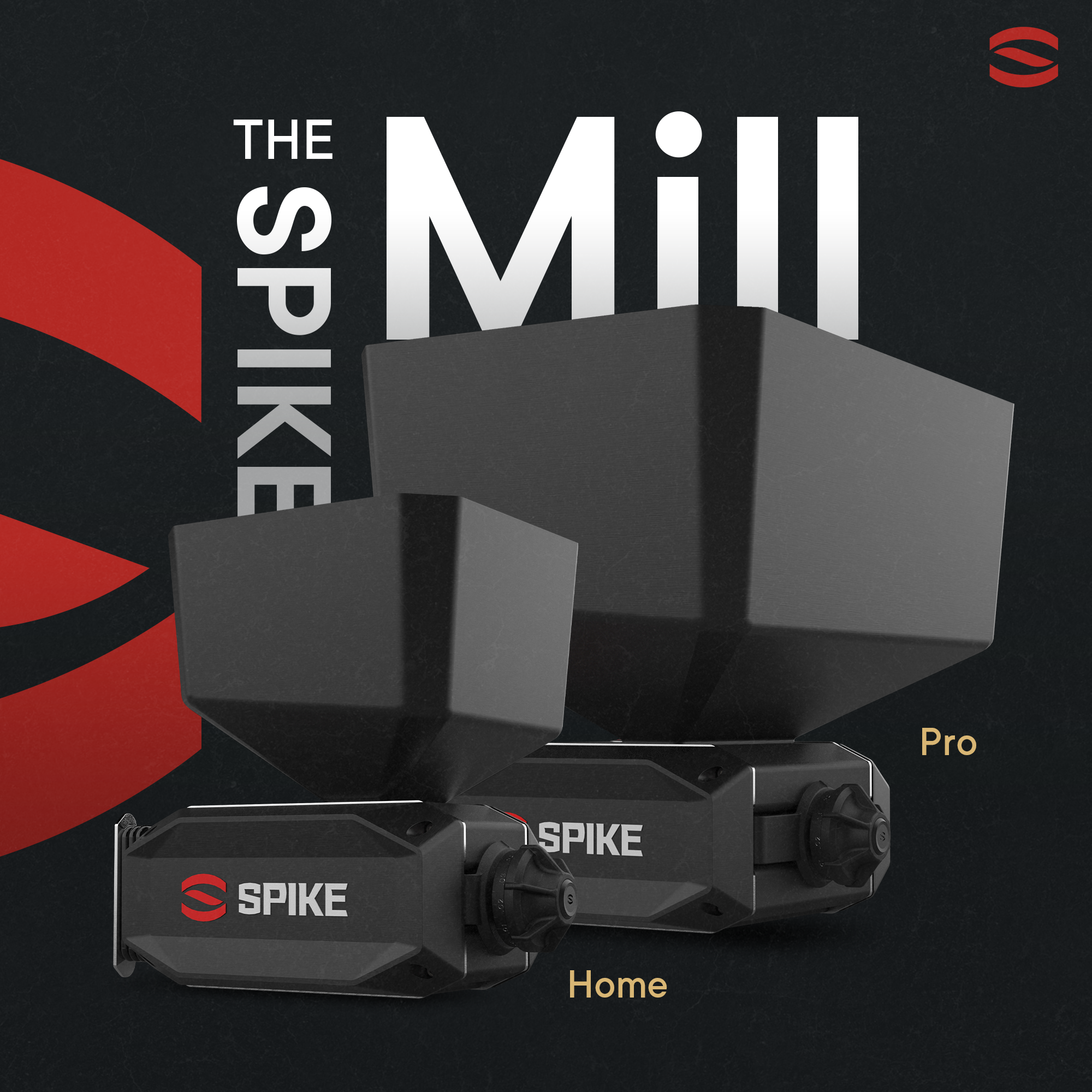 2 Sizes
We've said it before and we'll say it again, we don't believe in a "one size fits all model" when it comes to certain aspects of brewing. Which is why we came up with a Home and a Pro grain mill. So no matter if you're brewing in a basement or a commercial brewhouse, you're getting the best, fastest and most precise crush for your brewing system.