Spike Glycol Chiller
KICKSTARTER 9.7 - 10.10
The NEW Spike Glycol Chiller makes stabilizing and cooling your fermenter temperatures a breeze. We included must-have features like an integrated glycol drain port, quick connecting fittings for glycol lines, splash proof lid, locking casters and even a glycol sight glass to check glycol volumes. Oh, did we mention how good it looks? It's a class act.
**All Kickstarter orders will ship January 2024

Learn More
Propylene Glycol (2.5gal)
Propylene Glycol (2.5gal) Benefits
Used with the Glycol Chiller to cool your beer.
$106.25
Free Shipping for orders over $150
Overview
The NEW Spike Glycol Chiller was designed to be super user friendly. Want to increase your temperature? Press the up button. No more complicated parameters to setup; we've already done that hard work for you. The unit has a small footprint, moves around your brewery easily thanks to the included casters and can chill up to four fermenters!
This beast has a large reservoir which provides plenty of cooling power and with quick connect glycol lines, it's easy to add all those fermenters with just a push of the tube.
Lagering Temps Capability:
(2) 1bbl fermenters
(4) Flex, CF5, CF10 or CF15's
Fermentation Temperature Control Capability:
(4) 1bbl fermenters
(4) Flex, CF5, CF10 or CF15's
**All Kickstarter orders will ship January 2024
Specs:
1/2 HP (2,300 BTU/hr) cooling capacity
120V 3 prong plug
5.5A maximum current
7 gallon glycol tank
19" L x 19" W x 25" H
Environmentally friendly R290 refrigerant
Capacity for up to 4 fermenters
User friendly controller
1.5" locking casters included
Splash proof lid
Integrated glycol drain port
Integrated quick connect fittings for glycol lines
Glycol level sight glass
Built in cord routing for pumps
Compatible with Spike Flex, Flex+, Conicals and most competitor fermenters with the correct fittings
Recommended glycol ratio is 2:1 (2gal of water for every 1gal of glycol)
**TC-100 kit with pumps sold separately
Power
Industry leading performance with a powerful motor to make cooling and stabilizing temps a breeze.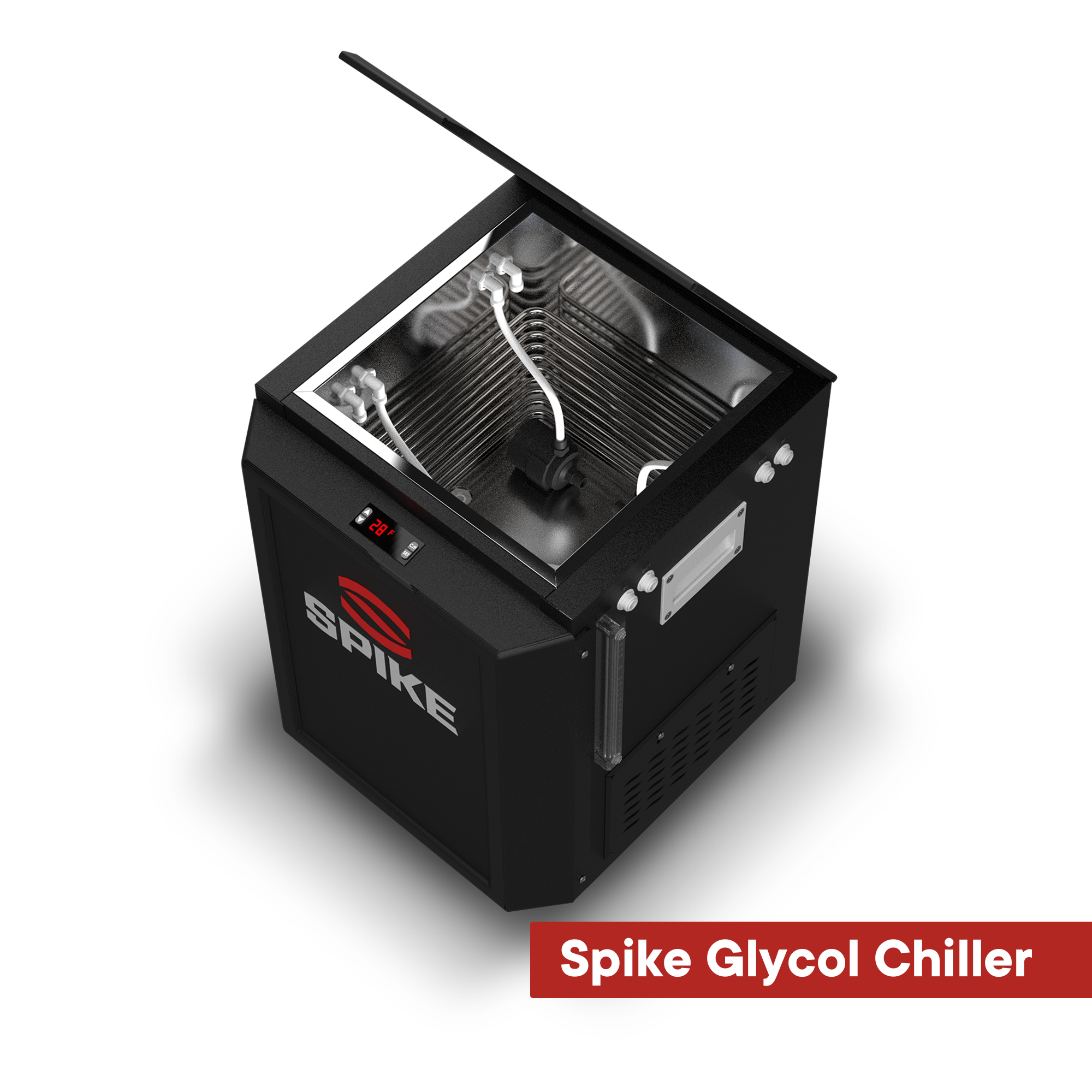 Capacity
A 7-gallon capacity reservoir gives plenty of cooling power to all (up to four) of your fermenters. And with quick connecting glycol lines, it's easy to add all those fermenters with just the push of a tube.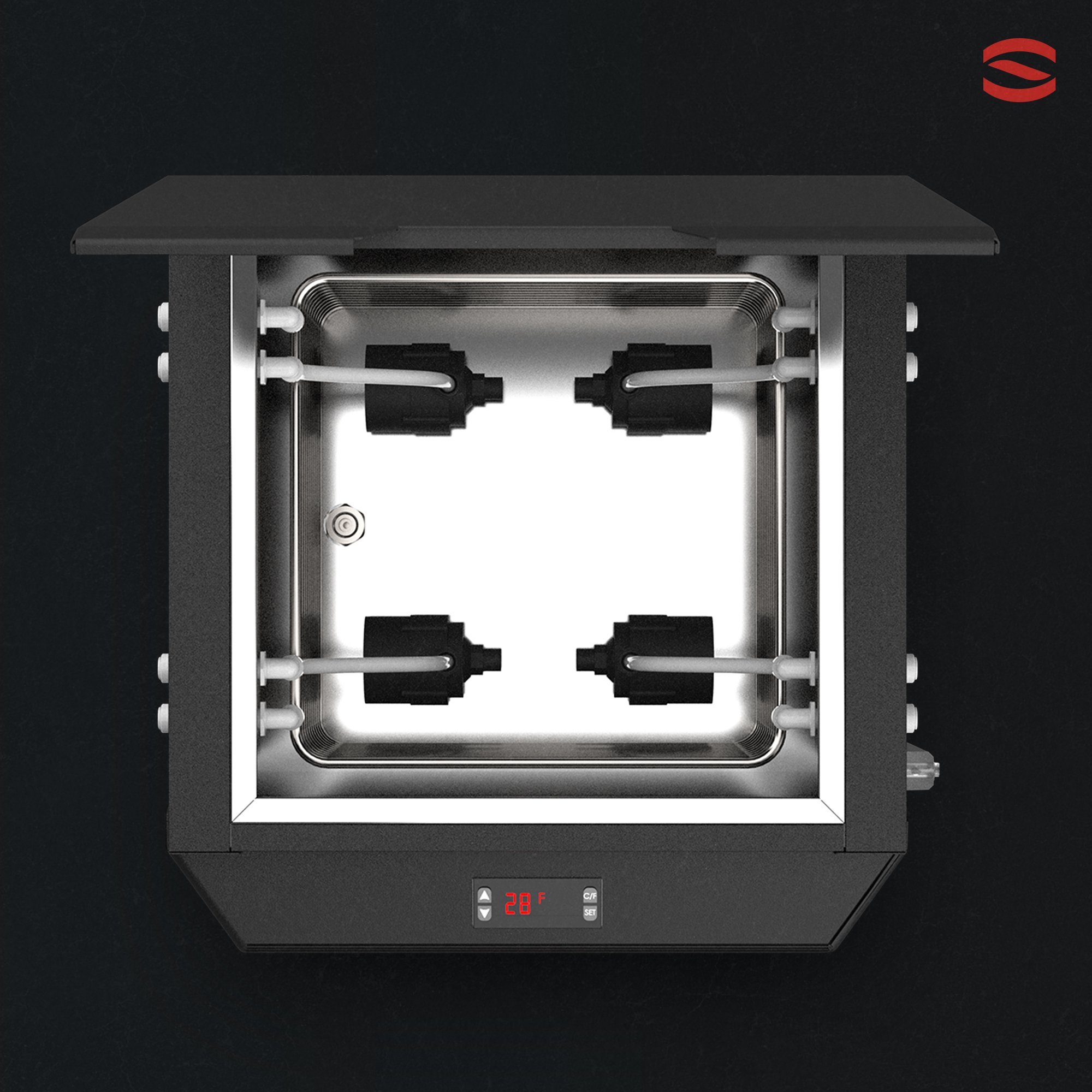 Easy to Use
You need the temperature to go up? Press up. Need the temp to go down? Press down. Change from Celsius to Fahrenheit with just the push of a button. No complicated compressor delay, calibration or complex settings. We figured out all that for you and programmed it into the backend.
Design
We think it's safe to say this is the best looking glycol chiller out there! Like all of our products, we specifically engineered and styled this to look good in your brewing space—not stand out like a giant sore thumb, look like a cheap washing machine or have the inside "guts" showing. This chiller is a class act.
Spike Glycol Chiller AMA
The latest and greatest out of the Spike Workshop. Caleb, Adam and Taylor walk you through all your deep, dark and burning questions about the Spike Glycol Chiller. Let's get into it...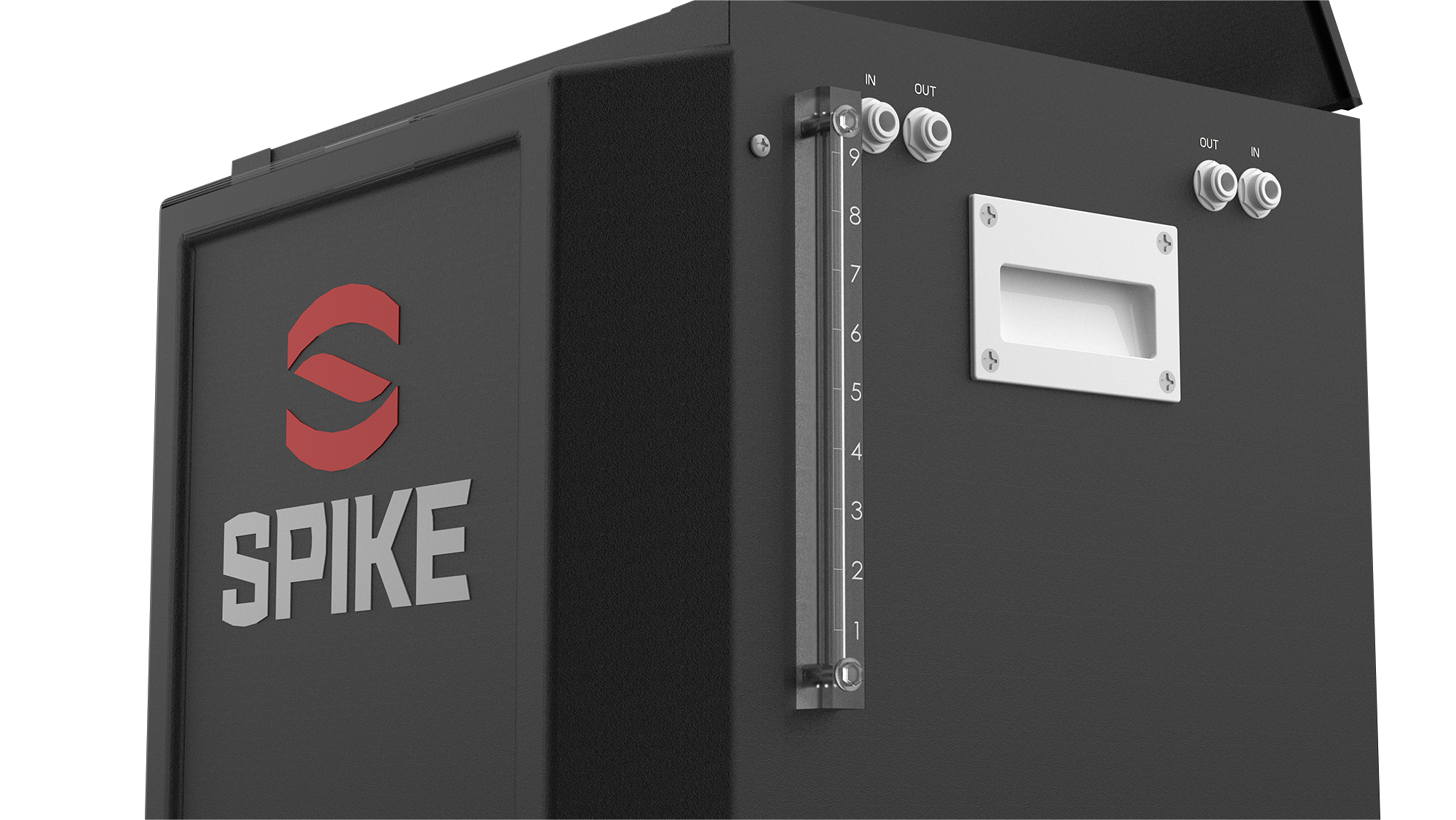 01 / 02
Glycol Sight Glass
Ever look at your chiller and wonder what your glycol level is? Not anymore with the integrated sight glass!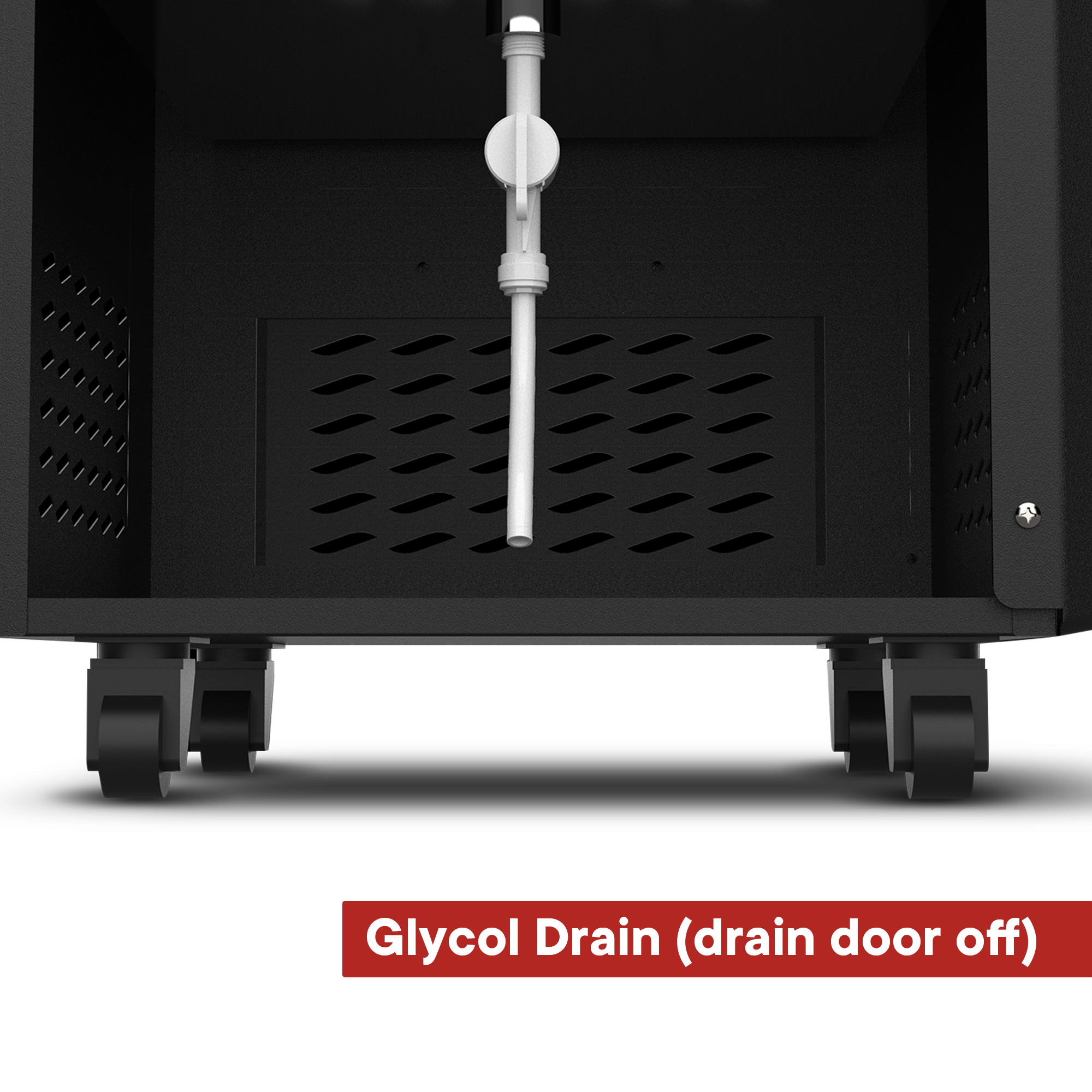 02 / 02
Drain Port
Need to adjust your glycol mix or do a yearly refresh? Easy. Remove the access panel, open the drain port valve and just like that you can drain your reservoir. No more scooping liquid out or trying to tip over an extremely heavy chiller.