Spike Flow
It's time to go with the (higher) Flow. With features like an Air Relief Valve (ARV), 6-vane impeller design, stainless steel precision machined casting and an integrated impeller shaft and thrust bearing, the Flow is the newest and most badass pump to hit the market.
Learn More
Free Shipping for orders over $150
Overview
Higher Pressure & Flow-What's more important? Moving your wort quickly or a powerful CIP? The Spike Flow is leading at both. No compromises here.
Air Relief Valve-Air in your lines creating headaches? The Flow features an ARV bleed system. Problem solved.
Clog Proof Impeller-With the built-in chopping tines on the impeller, you'll never have to stop mid-Brew Day because of a clogged pump head.
Quietest on the Market-The Flow is for brewers who prefer listening to their brewing playlist or the game on TV rather than a loud pump.
Specs:
• Best-in-class 9GPM (gallons/minute) flow rate
• Best-in-class 9.5 PSI of pressure
• Air Relief Valve (ARV) makes priming easy and convenient
• Built in 1/2" drain barb
• 6-vane impeller design optimized for performance and durability
• 304 stainless steel precision machined casting with maximized inlet and outlet ports
• Integrated chopping tines to prevent clogging
• Black anodized motor shell and shot-blasted housing
• Easy disassembly, cleaning and reassembly
• Ultra-quiet, fan enclosed motor: 120v, 60 Hz, 1.5A
• 6 foot power cord
• 9" length x 5" width x 7" height
• Continuous use rated
Reviews
Customer Reviews
Write a Review
Ask a Question
03/18/2023
Martin G.

United States
Perfect
No issues - quality workmanship. Ultra quiet and powerful. Great value.
03/17/2023
Nick S.

United States
As Good As It Gets
I've been home brewing for many years and have put together a setup I'm happy with, but this pump is my favorite piece of equipment. It's everything, and then some, you could ask for in a pump.
03/05/2023
Douglas F.

United States
Spike Flow
EXCELLENT. Well worth wait
02/24/2023
Paul B.

United States
Spike Flow
The pump arrived with some issues on manufacturing which I contacted spike and they stated it would be OK to use. Then when I finally plugged it in to clean and test the pump made grinding noises. After watching YouTube I saw how to fix the issue as the magnetic head needs to be adjusted to a quarter and two nickels tolerance. I did that but still makes slight grinding noise. Will adjust one more time and see if the grinding noise stops. I know it is a new pump but my other pumps did not have these issues.
02/24/2023
Mark A.

United States
Flow review
I absolutely love the Flow pump. I would highly recommend it to any homebrewer!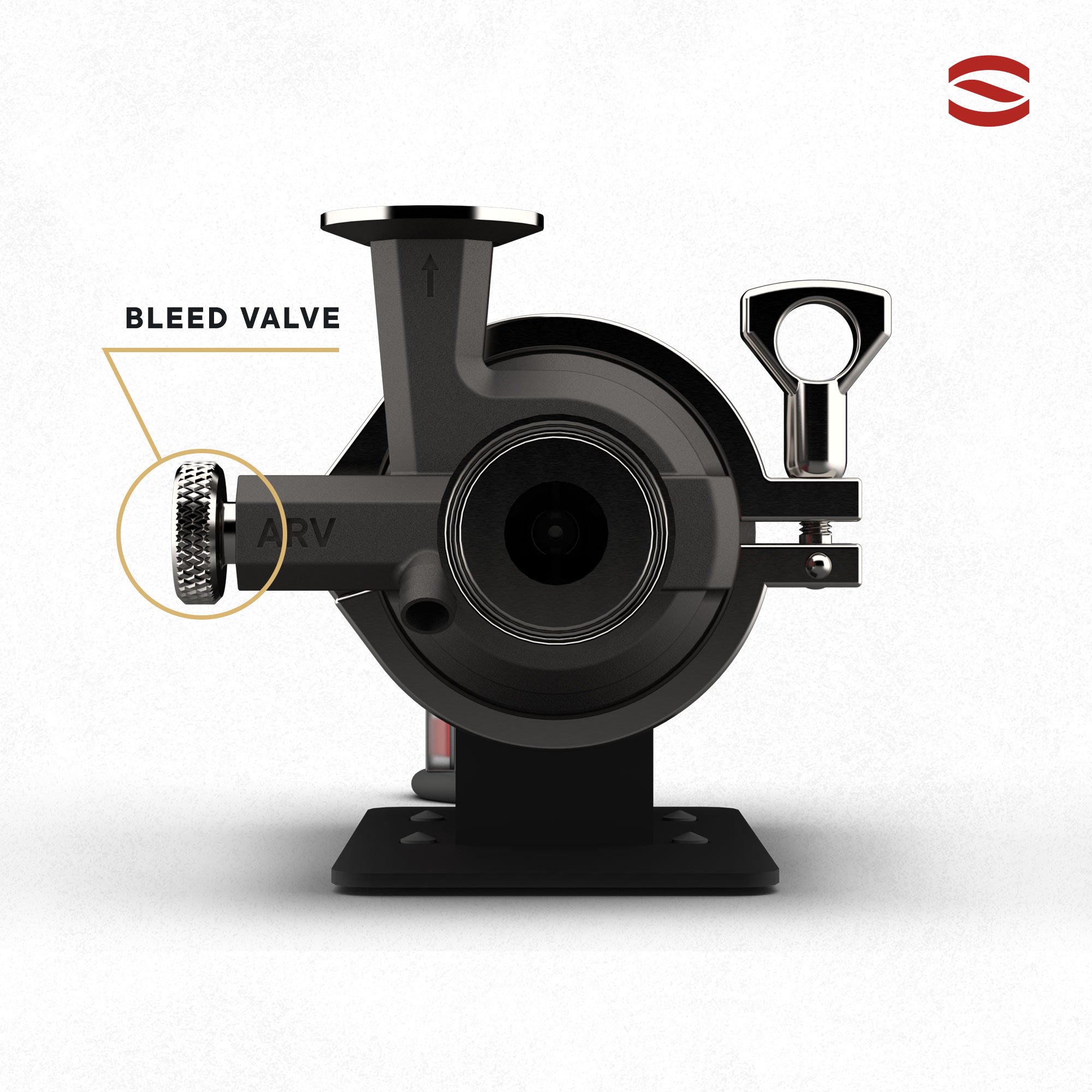 Air Relief Valve
Placing a purge valve on the inlet side of the pump provides the best way of getting air out of your pump head and hoses. Just twist the easy to grip knurled knob, then water and air start to flow through the ARV outlet.

We even placed a little barb in the pump head casting that faces front and center, so it's easy to collect fluid out of the barb and dump it back into your kettle. Since the inlet of the pump doesn't produce any pressure, the valve can be open even when the pump is flowing and you won't get sprayed.
Higher Pressure
Why is higher pressure better? Well, high pressure makes for better cleaning when using a CIP ball. It also helps give a better whirlpool when running through a chiller. It helps move your wort quickly when pumping through hoses, which ultimately shortens your Brew Day.
Higher Flow
7,874 feet of 3D printer filament and almost 100 pump prototypes designs...that's what was required as part of developing the Spike Flow pump head. The was crucial for achieving our industry-leading performance goals. We invested in further techniques such as clear SLS prints (so we could see and visualize the water and air flow through the housing) and CNC machined parts to be able to run hot water and wort testing before our casting tools were ready for prime time.
How to Use the Spike Flow Brew Pump
Walk through how to use the Spike Flow brew pump. Learn how to easily prime with the ARV (air release valve) and how the removable tri-clamp head results in a quicker clean up!
Spike Flow | Engineering AMA
What makes the Spike Flow the best brew pump on the market? Well, Adam, Ryan and Michelle from our engineering team help answer questions from Instagram, the Spike User Group and ones that came in via email.
Spike vs. Competition | Spike Flow
Watch as we show off the newest and most badass brew pump on the market in this latest edition of Spike vs. the Competition. Ben (Owner of Spike) and Adam (Head Engineer at Spike) walk you through the benefits of the new Spike Flow and also discuss the pros and cons of other brew pumps on the market.
01 / 04
Clog Proof Impeller
Ever deal with a clogged pump on Brew Day? The Flow features integrated chopping tines on the impeller, which chops up solids like hops, grain and trub to prevent clogging.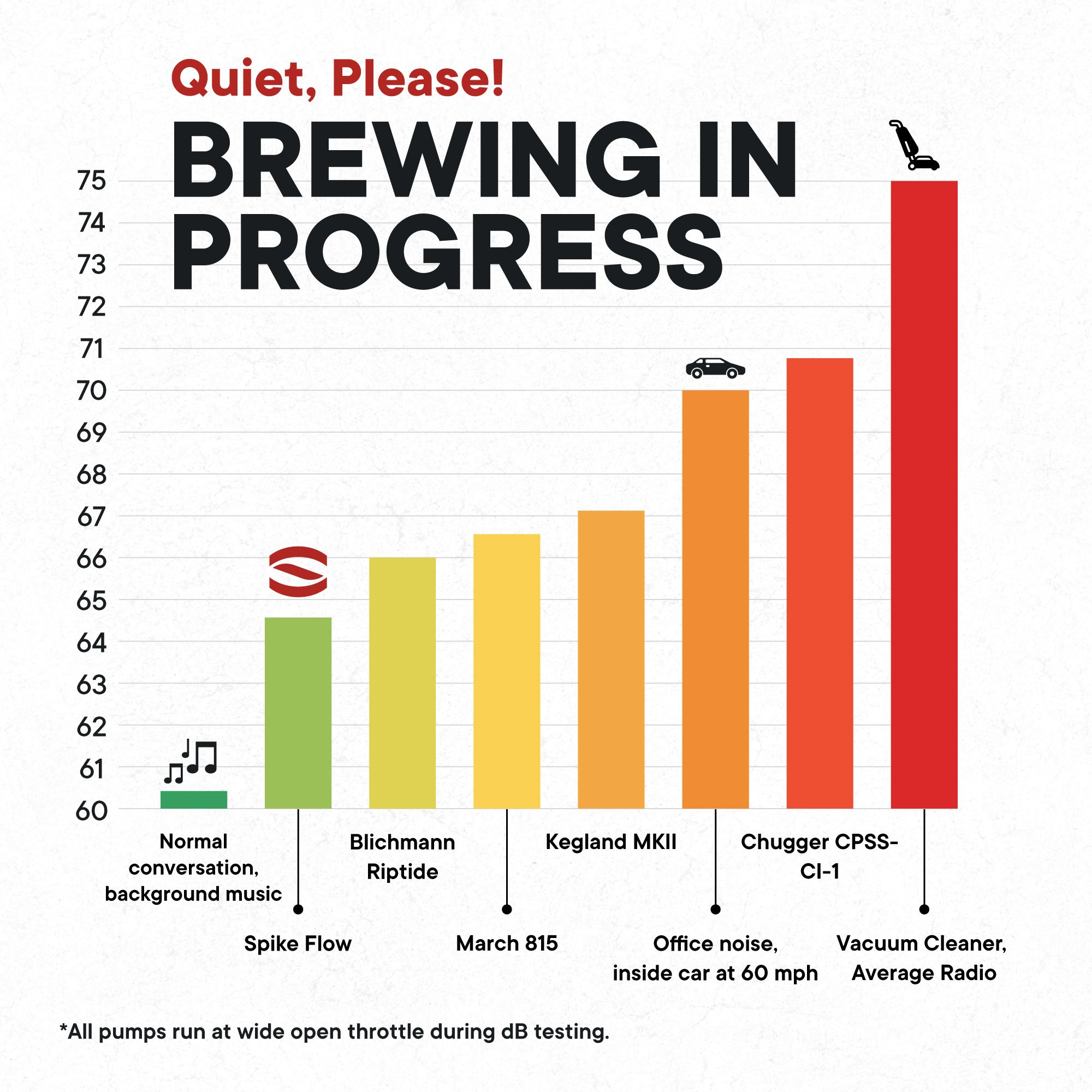 02 / 04
Quietest
Shhh, brewing in progress. Due to the optimized pump head flow path design, coupled with a totally enclosed motor, utilizing roller bearings, we've been able to achieve the quietest brew pump on the market.
03 / 04
Tri-Clamp Attaching
Gone are the days where you need a screwdriver to take apart the four or more screws to open up your pump head. We borrowed the tri-clamp attaching design that commercial brewery pumps have been using for decades and made it available for the homebrewing community. Taking apart your brew pump to give it a good soak now takes 10 seconds or less.
04 / 04
Looks Damn Fine
Design isn't an afterthought for us. The Spike Flow was designed to perform and look best in class. It features a black anodized motor shell, shot-blasted housing and 304 stainless steel precision machined casting with maximized inlet and outlet ports.