Wort Chiller
Speed up your Brew Day with the Spike counterflow wort chiller. The hot wort flows through the inner convoluted copper tubing, while cold water flows in the opposite direction through the stainless steel outer tubing. This unique design offers cooling speeds 4x quicker than our previous chiller!
Learn More

Essentials Kit - TC
Essentials Kit Benefits
All the fittings needed to outfit your wort chiller.
$125.00
Free Shipping for orders over $150
Overview
A wort chiller is essential for any homebrewer looking to make delicious beer! The Spike Wort Chiller has counterflow technology, which is the most efficient way to cool your batch without the need for refrigeration. While most wort chillers have a copper outside, we decided to make the outside 304 stainless steel so it's easier to clean, more sanitary and looks super sexy.
Specs:
1/2" inner high efficiency copper convoluted tubing
3/4" outer stainless-steel shell
16' total length
(3) 1.5" tri-clamp fittings for wort in, wort out and water out
(1) standard garden hose fitting for water in
6.3" tall x 10.5" wide
TC Wort Chiller Essential Add-On Parts Include:
1.3" MQC Fitting (x3)
TC Probe
1.5" TC Clamp and Gasket (x5)
TC Tee Fitting
Reviews
Customer Reviews
Write a Review
Ask a Question
TC Wort Chiller - Rocks!
I mounted the TC Wort Chiller on the lower shelf under the Spike Solo, having the mounting bracket is a nice feature. I have owned several chillers (including the hydra) - this one blows them away with speed and performance! Chills very quickly. I added a thermometer to watch the temp drop. I also front ended "wort in" connection to the chiller with a filter. My only issue is the mess, when disconnecting the connections and extra time to clean up. I'm going to place a large tray under just to let everything drain to one spot. If Spike has a best practice for cleaning the wort chiller that would be helpful!
09/15/2023
John K.

United States
just got back from vacation. i will review as soon as i brew with it.
08/12/2023
John K.

United States
Think i got a lemmon
I left a message on your phone line. Right now through trouble shooting I believe therenis a blockage on the wort side. Please make be wrong but i feel like this is coming back to you. I tried 2 different pumps, which wgen I hooked them up from the pump outlet back to the hot liquor tank ,flowed perfectly. Both pumps same re sults. So being i did have PBW inside of the chiller I hooked up water kines to the wort side. Same results. I tried low flow revwrse flush same. In fact if I went over 25% throttle i started getting I startedgetting a baloon in my silicone hoses...both directions. I left my name and number on the recording. Hope to talk soon. Thanks John.
07/14/2023
Damian H.

United States
Fast cooling!
This chiller is superb. I have already used it twice and easily chilled 6 gallons to pitching temps in about 5 minutes. It is well designed and compact, and fit my brew stand perfectly. Congrats Spike on another great product!
07/05/2023
Michael Q.

United States
4x Cooling Speed
Speed up Brew Day! This unique design offers cooling speeds 4x faster than our previous chillers. This beast will chill 10-gallons of wort in only 5 mins! It's true—we tested it.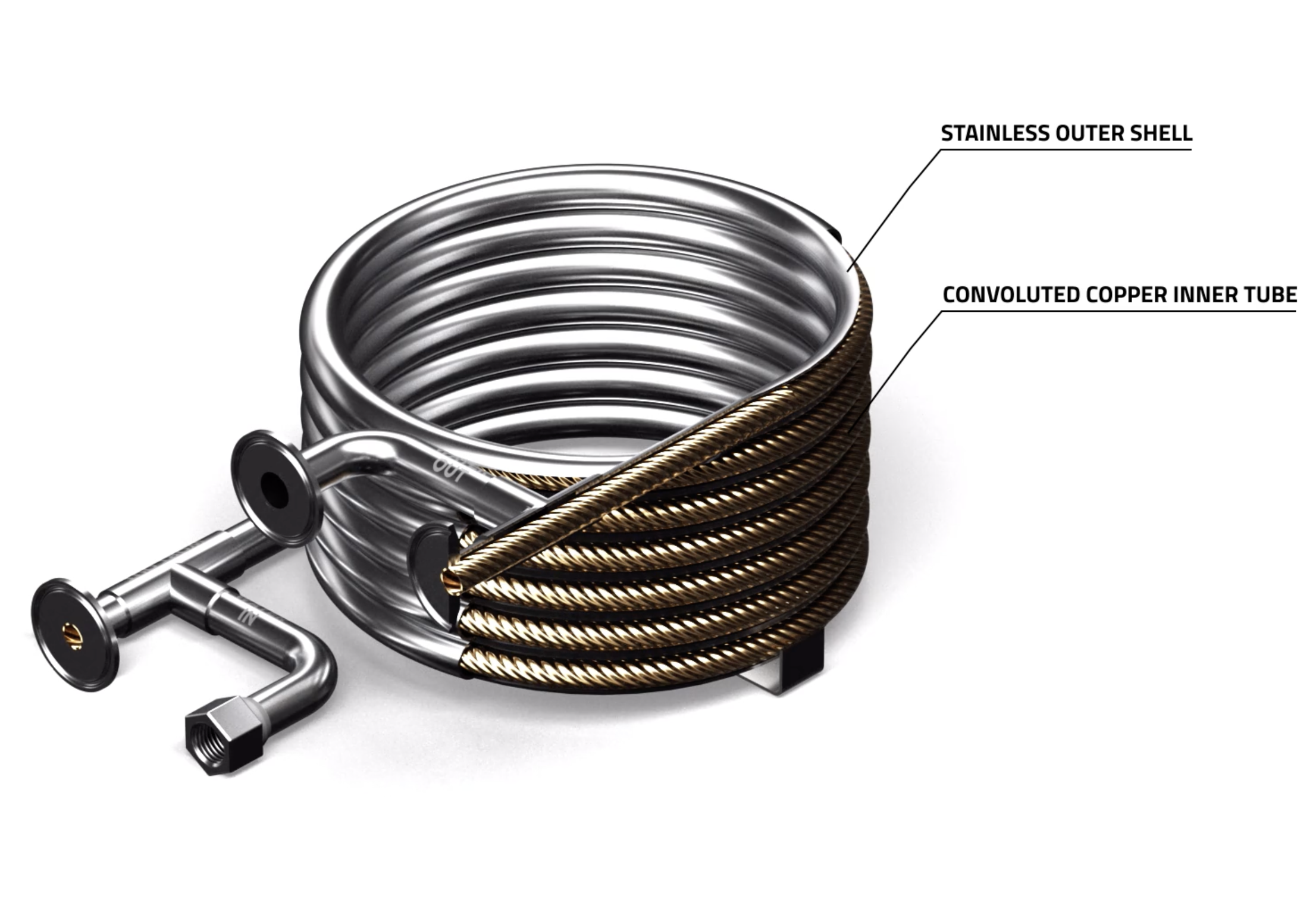 Convoluted Copper Tubing
The inside convoluted copper tubing gives the highest possible heat transfer rate. Copper is about 30 times more thermally conductive than stainless steel, thus giving the best chilling times. The convoluted, or twisted design, creates a more turbulent flow, which also greatly increases the rate the chiller can cool wort. All this combined means you can get to yeast pitch temps faster than ever before.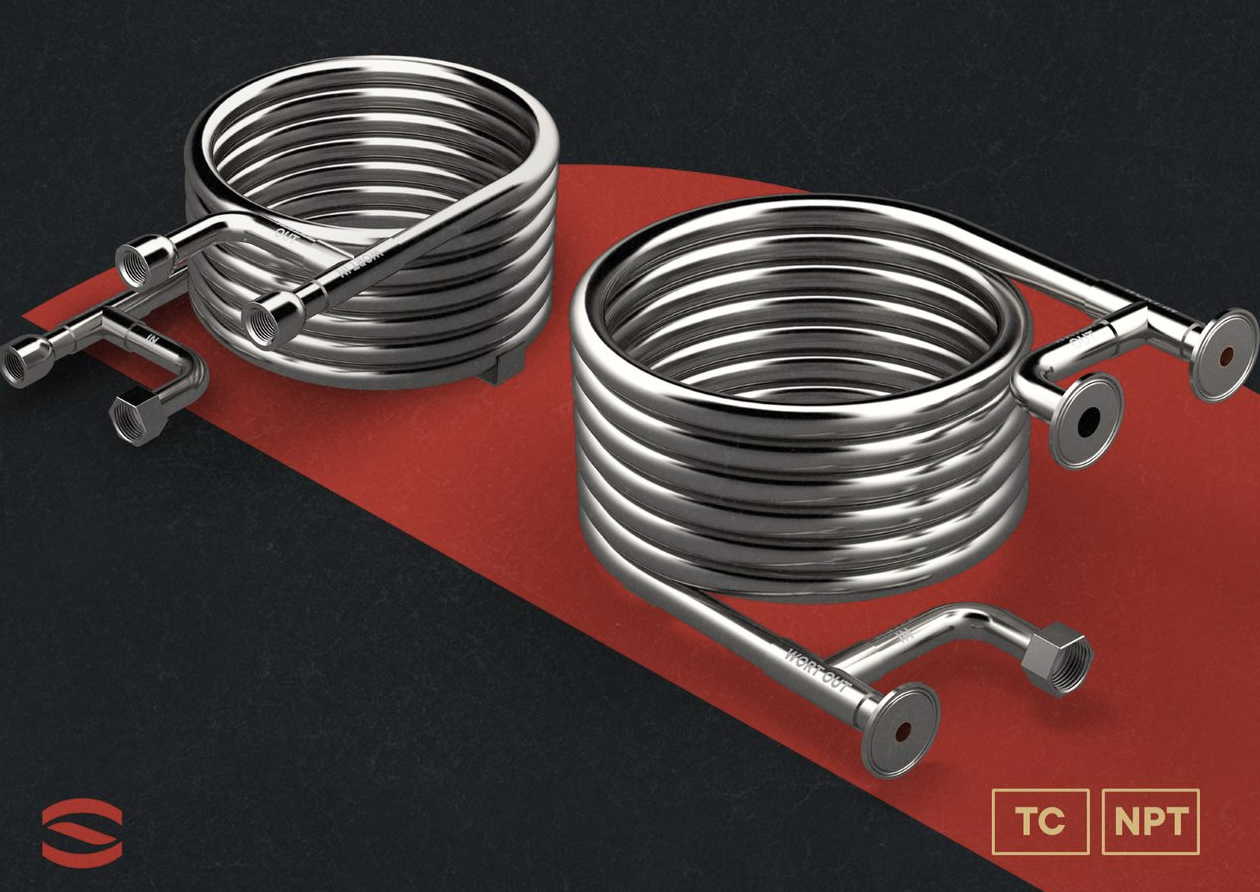 Sexy Durable Stainless
Why stainless? Stainless steel is much tougher than copper and can easily handle the wear and tear that is the life of a piece of brewing equipment. Since stainless is not thermally conductive, it works as an insulator for the cool water running through the inside. Stronger and more efficient makes this a win-win chiller.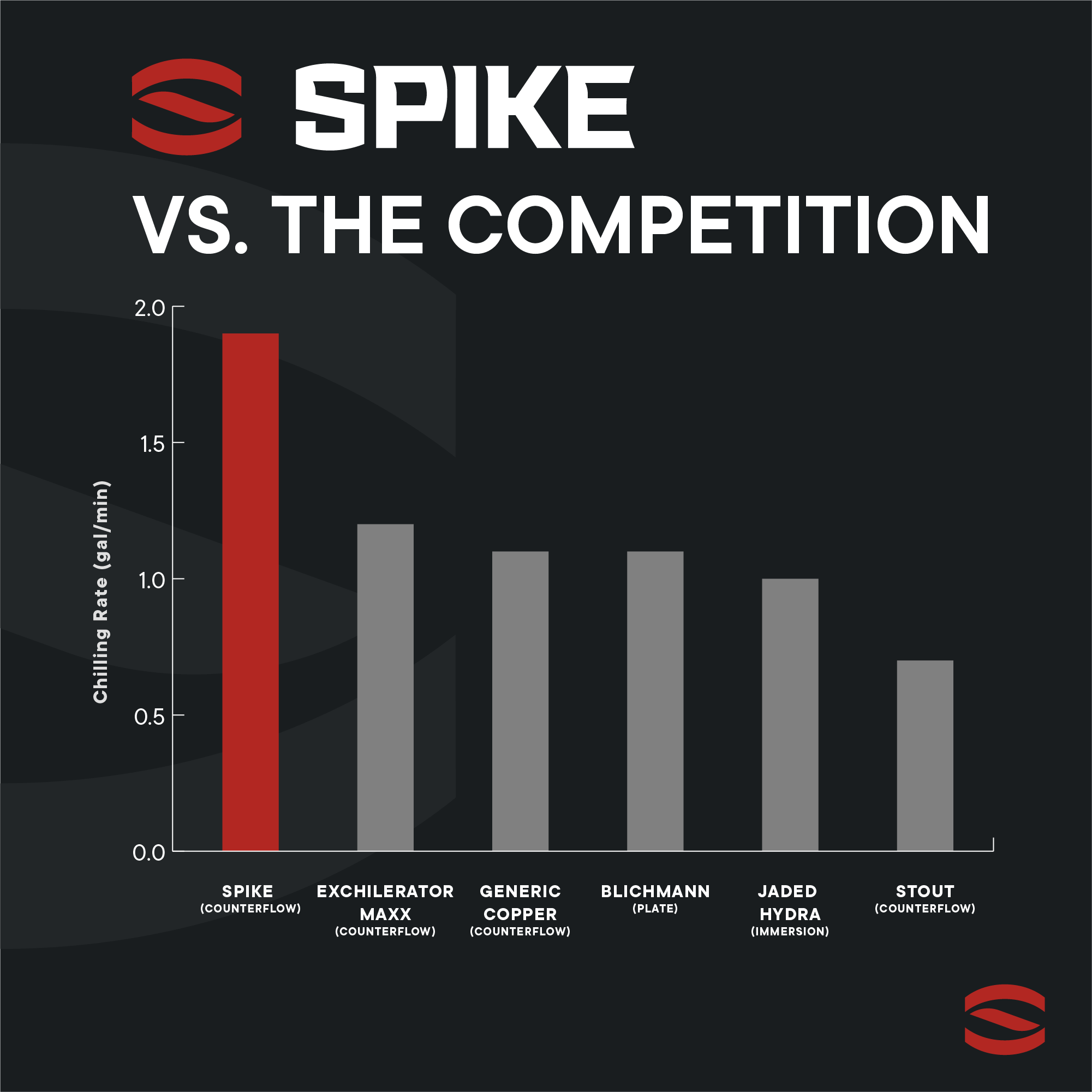 Best Heat Transfer
When we say this chiller is the fastest and most efficient on the market, we really mean it. It can cool wort from boil to yeast pitching temps at a rate of 2 gallons per minute. That means a 5-gallon batch will only take 2.5 minutes to cool! See how Spike stacks up against the rest of the competition.
Wort Chiller Showdown
There are a lot of chillers out there, but when we say our Counterflow Wort Chiller is the best in class and show—we mean it. Watch as Ryan and Adam chat about heat transfer rate, cooling speed, stainless steel, copper, plastic and so much more!