FLEX+
The Flex+ is the big brother to the standard Flex. Out of the box, it features an upgraded tri-clamp racking arm, tri-clamp butterfly valve and upgraded high pressure lid and clamp that can handle up to 15psi.
Note: Current lead times on Flex+ is 4 weeks.
Learn More
Free Shipping for orders over $150
Overview
The Flex+ was designed to be the most versatile, upgradable and longest lasting small batch fermenter on the market. With over 25 accessories (and counting!) you'll never run out of pieces to customize your Flex+ with.

Out of the box, it features an upgraded tri-clamp racking arm, tri-clamp butterfly valve and upgraded high pressure lid and clamp that can handle up to 15psi. The higher-pressure rating allows you to carbonate and ferment in the same vessel. Now, you can carbonate your beer in a little over 24 hours as opposed to seven days!


Features:
304 stainless steel; 1.2mm (18ga)
All sanitary welded ports (no-weldless fittings)
Designed for 2.5 to 6 gallon batches -7 gallon total capacity
15psi working pressure, great for pressure transferring, carbonating, or using as a brite tank.
Etched volume markings
Fully polished finish
15" wide by 21" tall (to top of 4" TC)
Lid Features:
Stainless band clamp for simple lid installation

Completely removable lid for easy cleaning

4" TC modular top port

Allows for hop additions, temp control coil, top sight glass, etc

(3) 1.5" TC ports which allow for:

Blow Off Port – Dedicated port for an airlock or blow off tube
Hop Port – Dedicated port for adding hops
PRV Port – Dedicated port for your pressure relief valve (PRV)
Body Features
1.5" TC racking port with rotating racking arm
1.5" TC secondary port for thermometer, sample valve, etc.
Reviews
Customer Reviews
Write a Review
Ask a Question
Outstanding piece of equipment
I purchased the Spike Flex+ as an entry-level homebrewer and have performed two fermentations with it. The tank is solidly built with a great selection of add-ons for customization. Easy to setup, use, and clean.
Bestest Little Big
The Flex+ is literally the best little big fermenter on the market! I only brew 5 gallon batches. I really did not have an interest in larger conical fermenter. I just really thought they would be much more than I needed. The flex+ give you all of the functionality of the larger unitanks (aside from a dumping port) w/ a muncher smaller footprint and matching price tag. I have 2 and absolutely love them!! R2DDH and Bob Barley are the heart of my fermentation!!
12/01/2022
Alan F.

United States
where is it?
you keep sending me e-mails but I dont even know how to check on my order
10/23/2022
Deonne J.

United States
nice piece of equipment...
my son is going to start the first batch for Christmas... the piece of equipment is amazing offers every feature you could think of...
06/04/2022
jim b.

United States
Love the new equipment
While I have not yet used the equipment I am looking foward to it as my small scale winemaking equipment,it is well made and the components will cross over quite nicely!!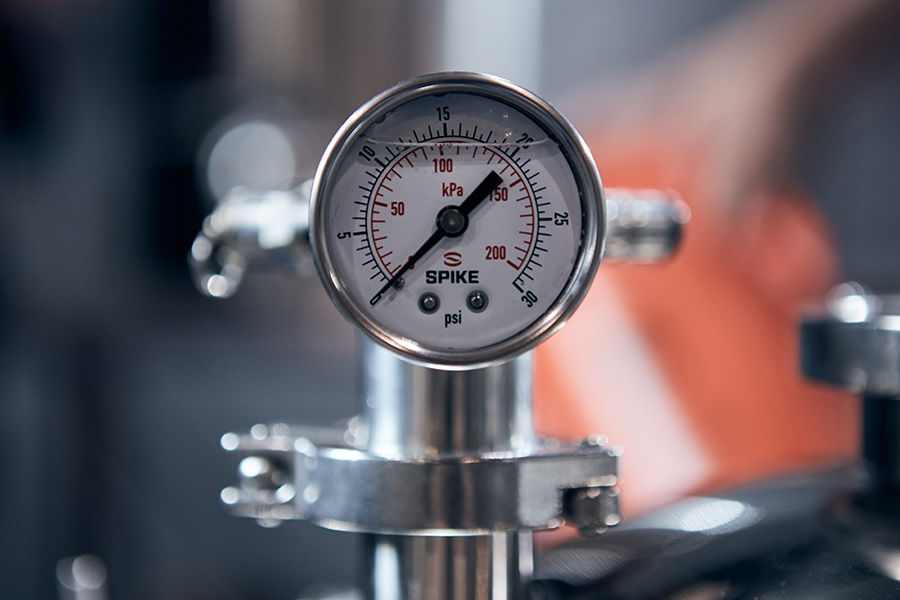 Pressure Capable
The main selling point of the Flex+ over the standard Flex is the ability to pressurize up to 15psi compared to the Flex's 2psi capabilities. What does this mean? Pressure capable means you can carbonate beer inside your fermenter (as opposed to bottles or kegs) in a little over 24 hours as opposed to a week. You can also pressure transfer your beer directly into a keg or bottles, eliminating any oxygen exposure.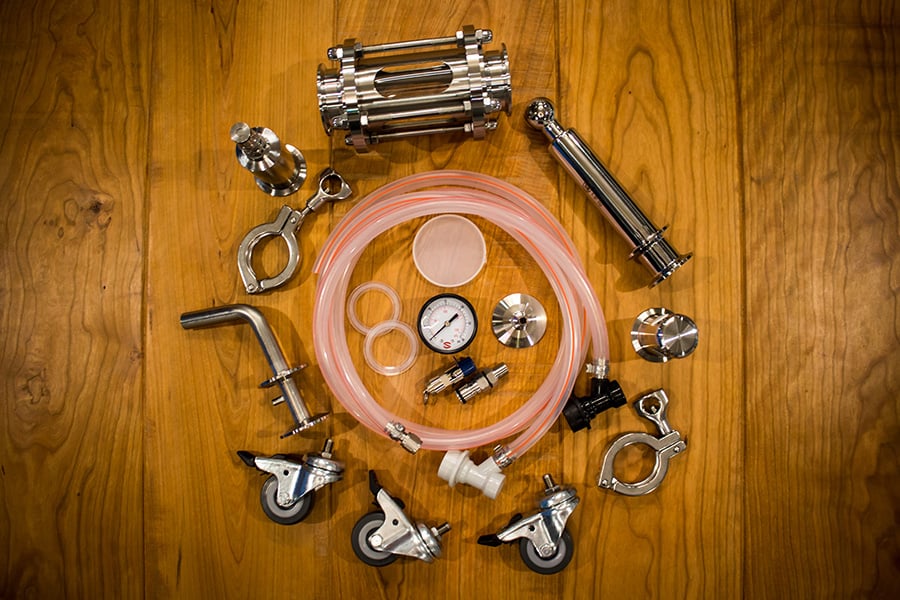 Upgradable
With over 25 accessories available there's no limit to what this fermenter can do! Want to add a thermometer or sight glass? It has ports for attaching those. Want to add wheels or leg extensions to transfer directly into a keg? It can do that.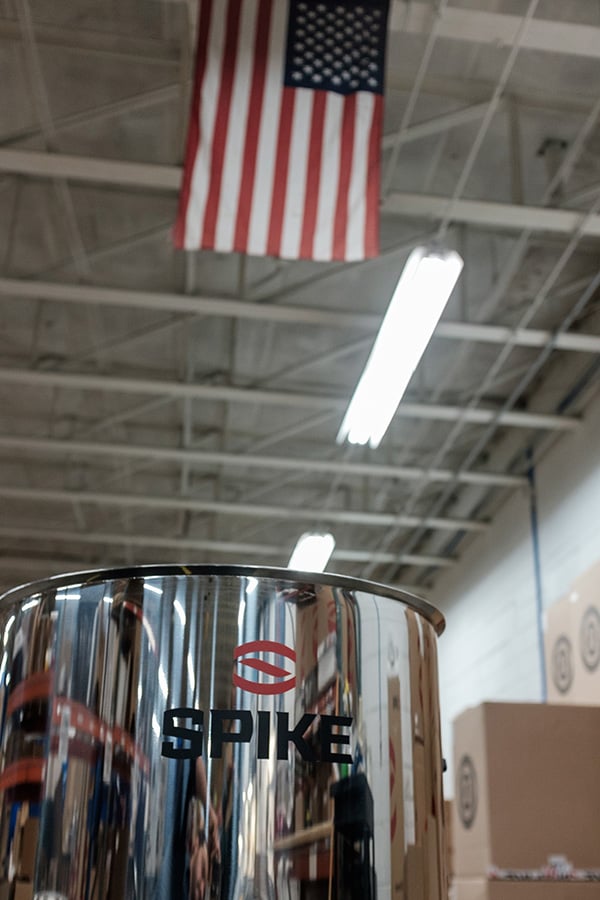 Stainless Steel
We all start with glass carboys or plastic buckets, but the day you graduate to stainless is the day brewing gets extra fun. 304 stainless steel is professional grade, easy to clean, scratch resistant and will last a lifetime.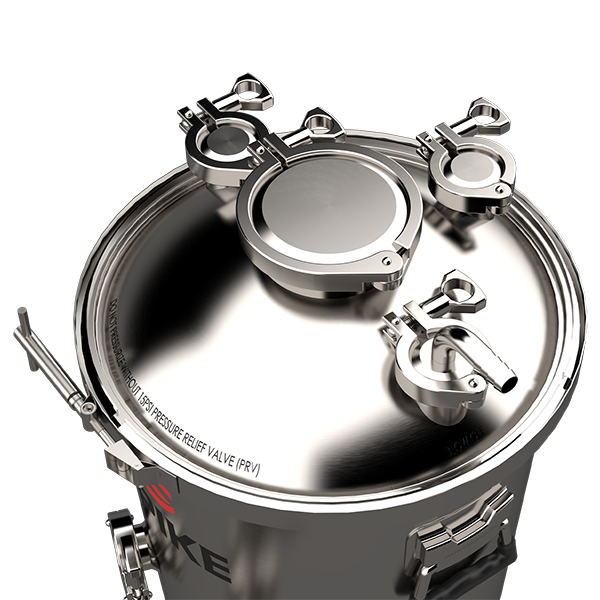 Removable Lid
To remove the lid, simply pop off all five clips around the side. That way, you can get your entire arm in the fermenter to clean and sanitize it.


01 / 06
3-Port Lid
The Flex+ comes standard with the 3-Port Lid. This lid and clamp combo are designed to hold up to 15psi and offers even more "Flex-ability" over the standard Flex. The lid has three 1.5" tri-clamp ports. These ports are specifically designed for a blow off (vents the CO2 gas that is produced during fermentation), hop additions port (so you don't have to take off the entire lid or remove another accessory on the lid) and a pressure relief valve (PRV port) so you can stay safe when your Flex+ is under pressure.

*The 3-Port Lid will also fit the standard Flex.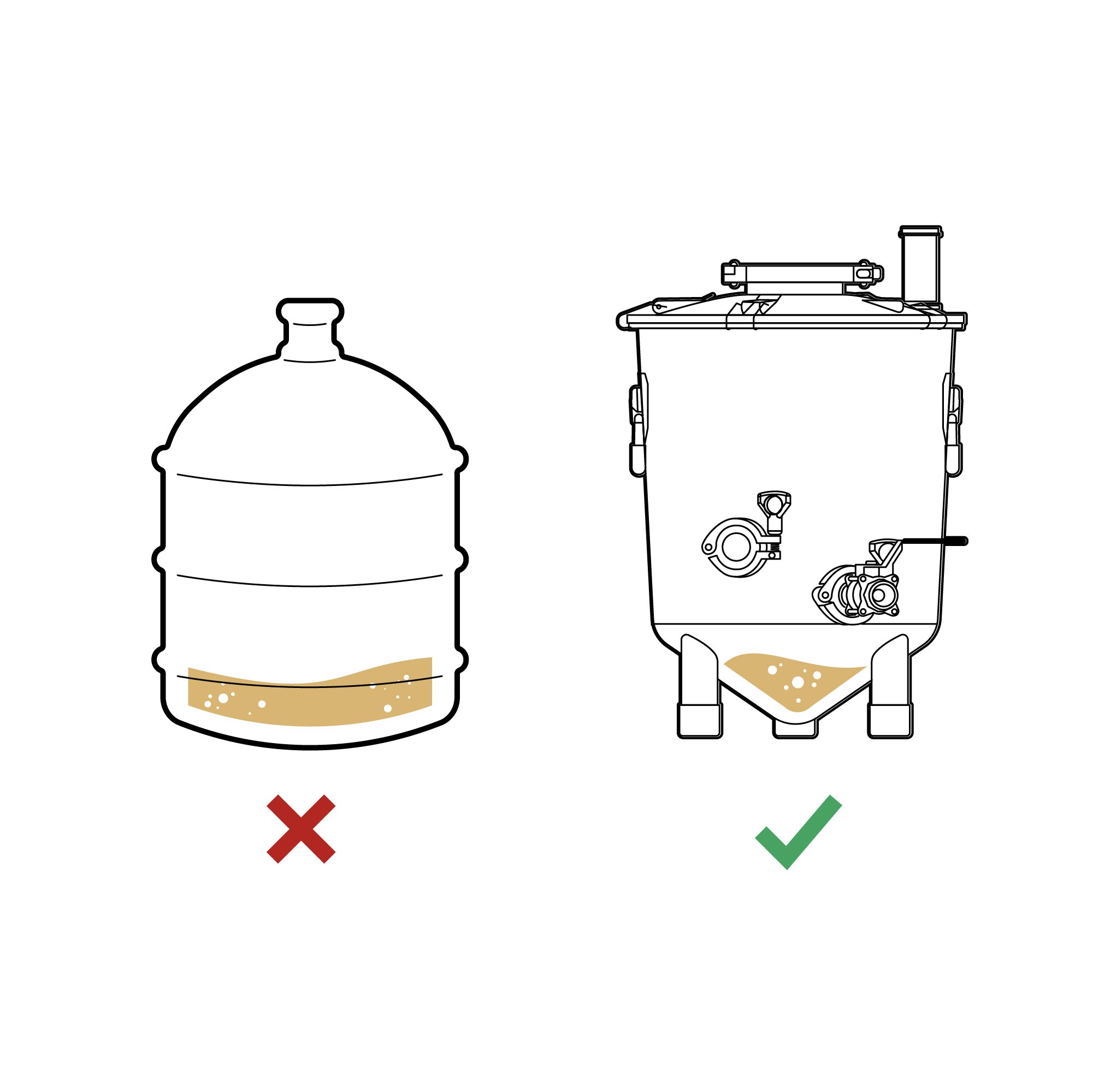 02 / 06
Cone Shape
Commerical fermenters are cone shaped to reduce the amount of surface area the beer and dead yeast have to interact with. A flat bottom fermenter spreads yeast out along the entire bottom. A cone shaped fermenter reduces the contact surface area by over 50%.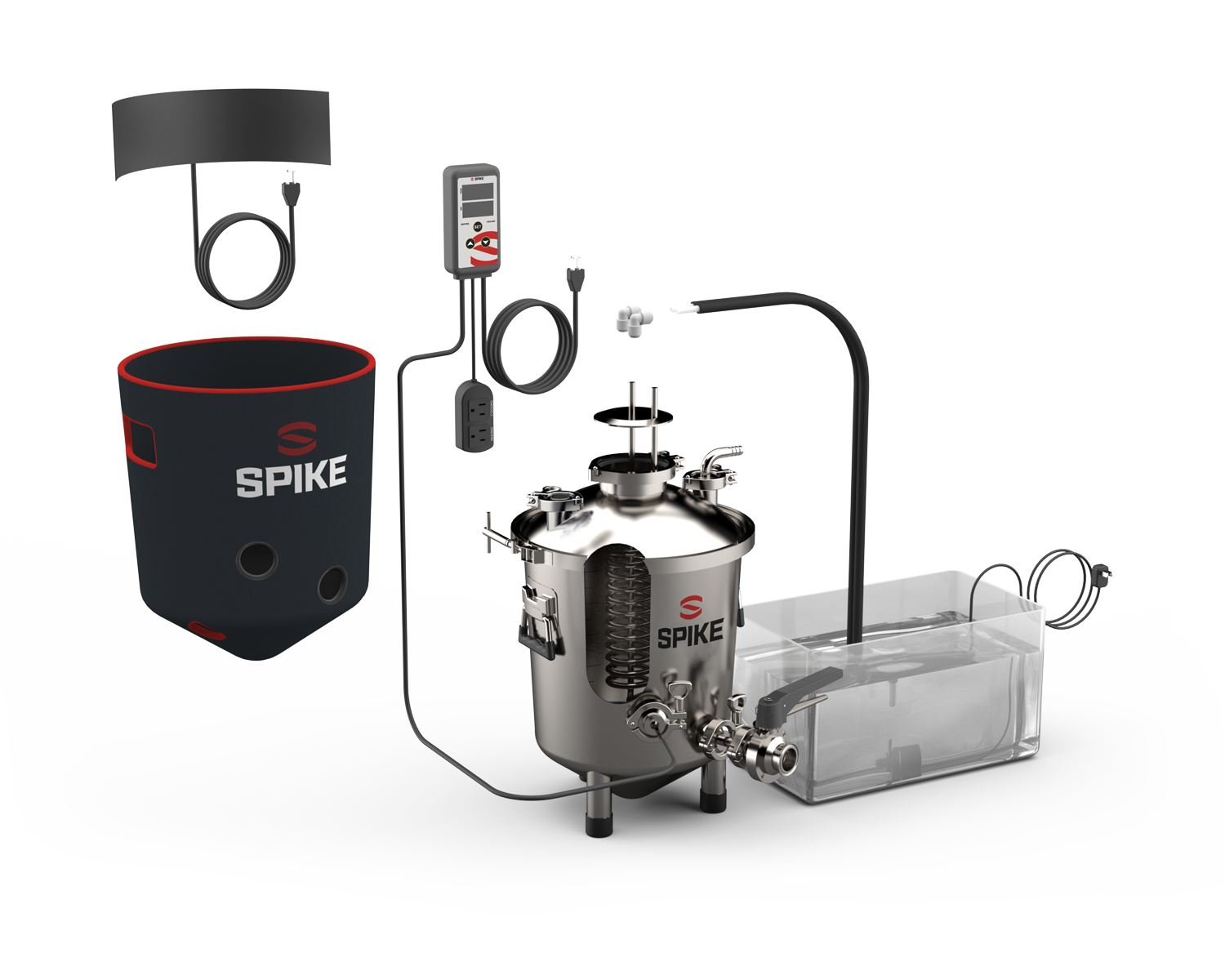 03 / 06
Temperature Control
We can only brew so many styles of beer at room temperature. The Flex+ has a specially designed temperature control system called the TC-100, which will keep your beer within 1 degree of whatever your target fermentation temperature is!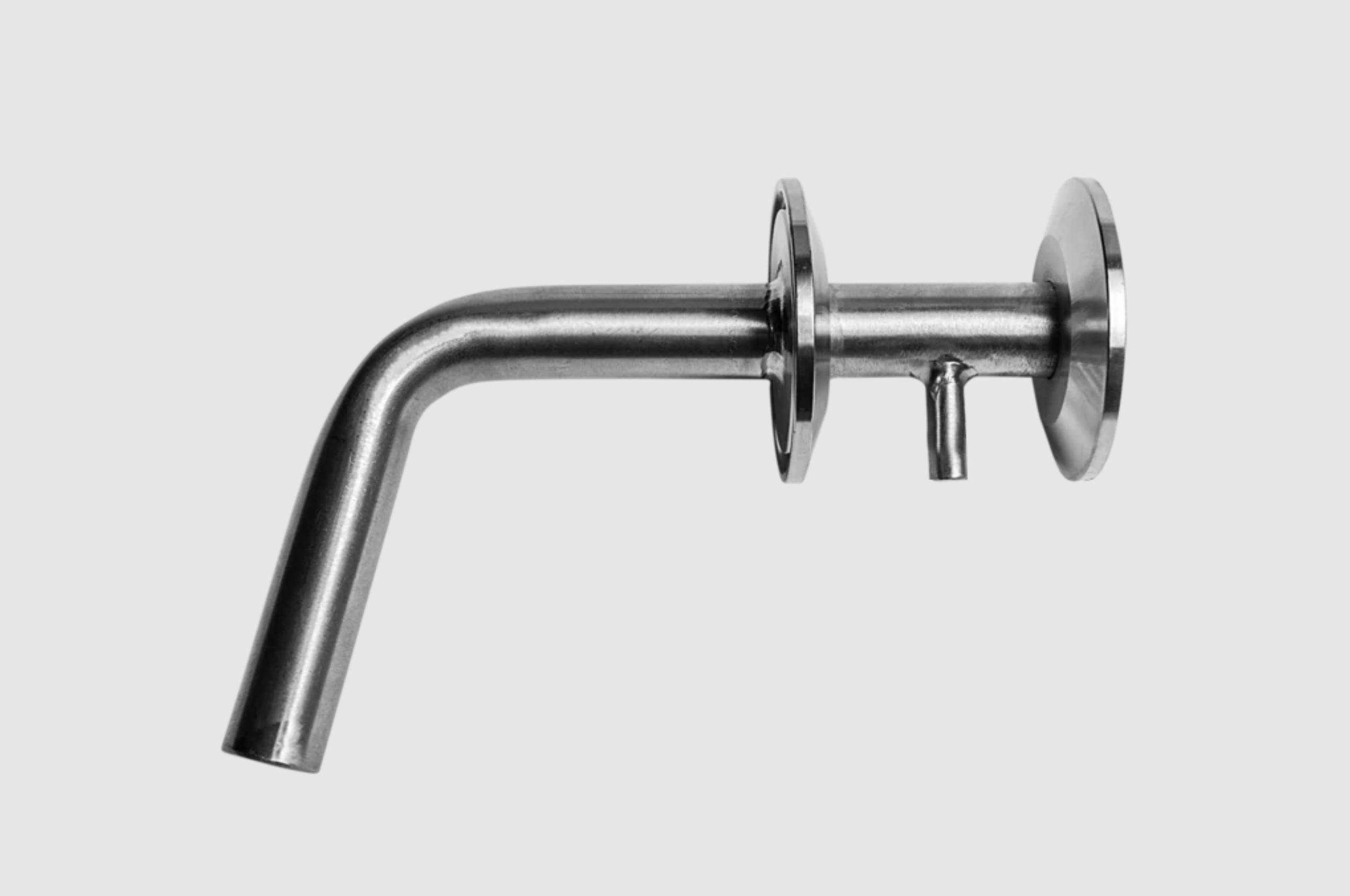 04 / 06
Racking Arm
Racking is when you move your beer from the fermenter to a serving vessel. The Flex+ has a dedicated racking port, which is the lowest port with a valve. On the inside of the valve, the racking arm can be attached and rotated so you can drain the fermenter without sucking up all the dead yeast and trub that has accumulated in the cone. A racking arm comes standard with all Flex+ orders.
05 / 06
Tri-Clamp Ports
...two of them to be more specific. We added these connections to give you endless "Flex-ability" when you brew. Add a sample valve to pull those delicious samples or a sight glass to watch the clear beer drain out.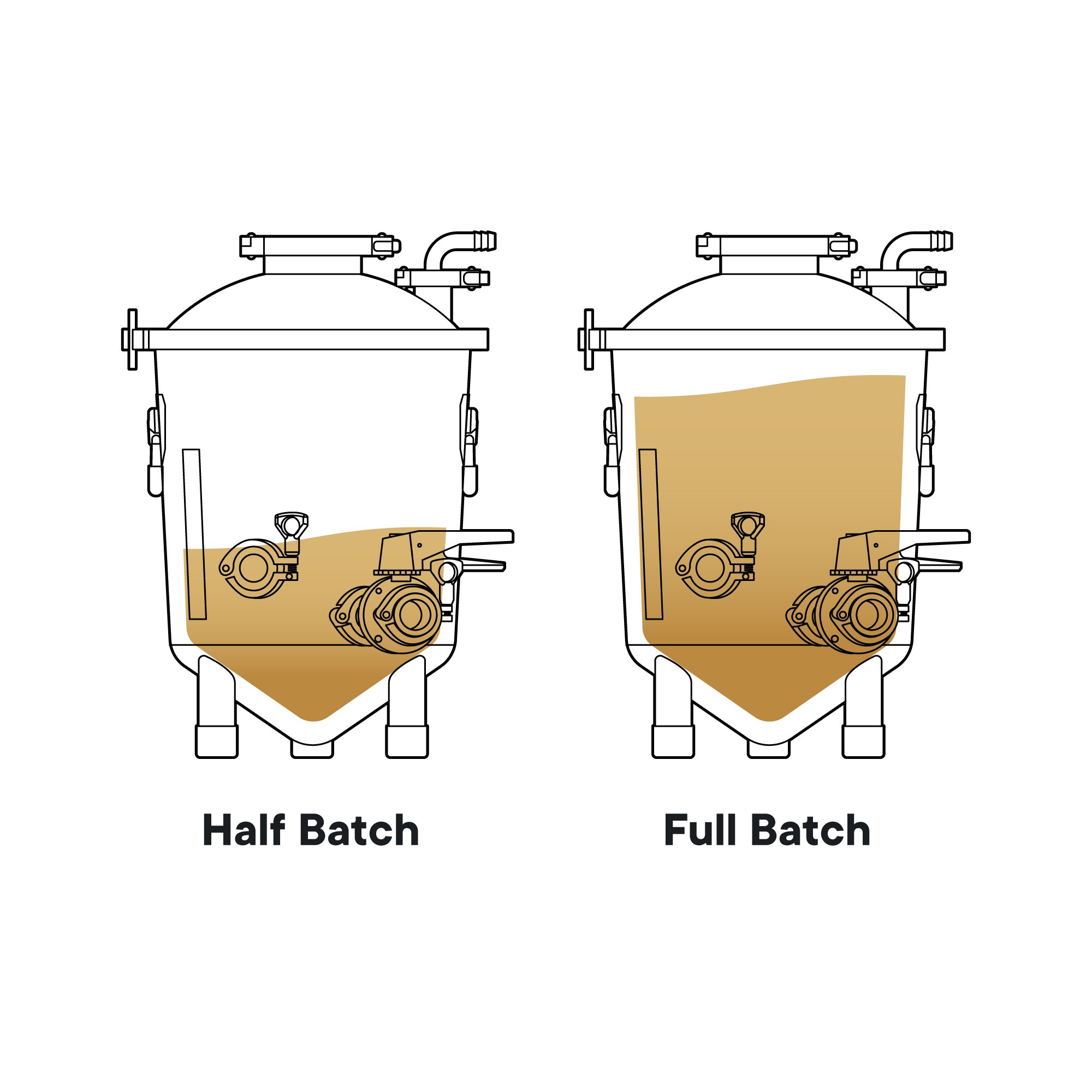 06 / 06
Half Batch Capable
The Flex+ can ferment up to 6 gallons of beer, but you don't have to be committed to that amount every time. The Flex was designed to easily ferment a 2.5 gallon batch as well. Drink as much or as little as you want!