Spike Trio System
No matter if you're honing your brewing skills to eventually go pro or you just want the best of the best, the commercially inspired Trio System is for you. With a dedicated hot liquor tank, mash tun and boil kettle, you'll sharpen your skills just like the pros and quickly create the place to be for you and your friends every weekend.
NEW Trio Table
Perfect for flat or bottom drain systems, this new table is lower for better accessibility, has adjustable leveling feet and a raised lip to help contain spills. Just check the box to add below! Please note: table is only sold with Trio orders and not sold separately.
Note: Current lead times on all Trio Systems is roughly 3-4 weeks.
Learn More

New System Table - NEW 72"
New System Table Benefits
Give your system a sturdy base with a stainless table.
$600.00

Wort Chiller - Bundle - Tri-clamp
$480.00
Estimated Total
$6,475.00
Free Shipping for orders over $150
Take Our Quiz
Still not sure what brewing system is right for you? Take our Quiz to find out!
Learn More
Take Quiz
Overview
The Trio is an electric HERMS system, meaning that the heat exchanger, located inside the HLT, is used to heat the mash tun. This gives precise control of mash temps and prevents any scorching of the grain. Used by both home and professional brewers alike, the ease of use, repeatability and temperature control of the Trio will make your Brew Day a breeze.


Features:
Steam Condensing Lid
5 to 11 gallon batch size
All tri-clamp connections; 0 threaded connections
(3) 15gal brewing tanks; HLT, MT and BK
30a (240v) PID controlled brewing panel

Controls the 2 heating elements (1 tank at a time) and pumps
All electrical cords included
Only (1) 240v outlet required; compared to 3 outlets with other systems

(2) 5500w tri-clamp integrated ULWD heating elements (also available in 208v)
50' x 1/2" 304SS HERMS coil with quick connect fittings
All valves, pickup tubes, false bottom, etc are included
FDA approved food grade Silicone tubing and quick connect fittings
(2) Food grade Spike Flow brew pumps; stainless steel head with custom tri-clamp heads
Shipping Note:
If purchasing the optional brew table the shipment will need to be shipped via freight. Shipping is free!
Reviews
Customer Reviews
Write a Review
Ask a Question
01/06/2023
Jon M.

United States
Blurring the lines between home brewing and pro
I've been longing for a professional brewing setup that could also roll away into a guest room and the new Spike Trio System with bottom drains delivered! The flexibility of brewing 5G > 10G batch using the 15G system has been super helpful. The build quality, like all Spike products, is super solid. The control panel is very easy to use, all the PIDs and cables are thoughtfully designed. It's definitely on the pricey side for a home brew setup but would highly recommend if you're looking to upgrade.
11/14/2022
John G.

United States
Good System, but has its flaws
Setup was easy, boil is quick and efficient. Very high quality components and quality welds. I am an experienced brewer and operational flow is that of what I would expect. Condensation Lid is a great addition but ended up purchasing extra tubing as managing the output with a 5 gallon bucket is time consuming. For the cold water intake I would suggest a constant supply of water as it uses 25-30 gallons per boil. Severely underpowered pumps is my biggest issues with the system. CIP is nearly impossible on the boil kettle as the pumps do not have enough power. Priming the HERMS coil is difficult due to the lack of power. Boil and HLT loose suction with about 1.5 gallons of liquid in the bottom. Having to spend $500 on better pumps after such a big investment is disappointing. CIP will also not work on the fermenters with these pumps, had to purchase leg extenders to get enough drop to recirculate.
05/18/2022
Mark B.

United States
I love everything about this system!
This is just a great, well-designed system that works as advertised, and the customer service is fantastic!
05/14/2022
David C.

United States
Major Upgrade
I bought this system to take my brewing to the next level with consistency as my #1 goal. This system is flawless and easy to use. The double batch panel makes back to back brews or setup for cleaning easy and efficient. I did have one minor issue but Spike was all over it and corrected immediately. Thrilled with their customer service and the quality of the system. No more worrying about variables in my equipment, just allows me to focus on recipes and repeating them consistently
05/08/2022
Stéphane G.

United States
As good as expected.
Superb quality, good client services. Certainly a life time beer equipment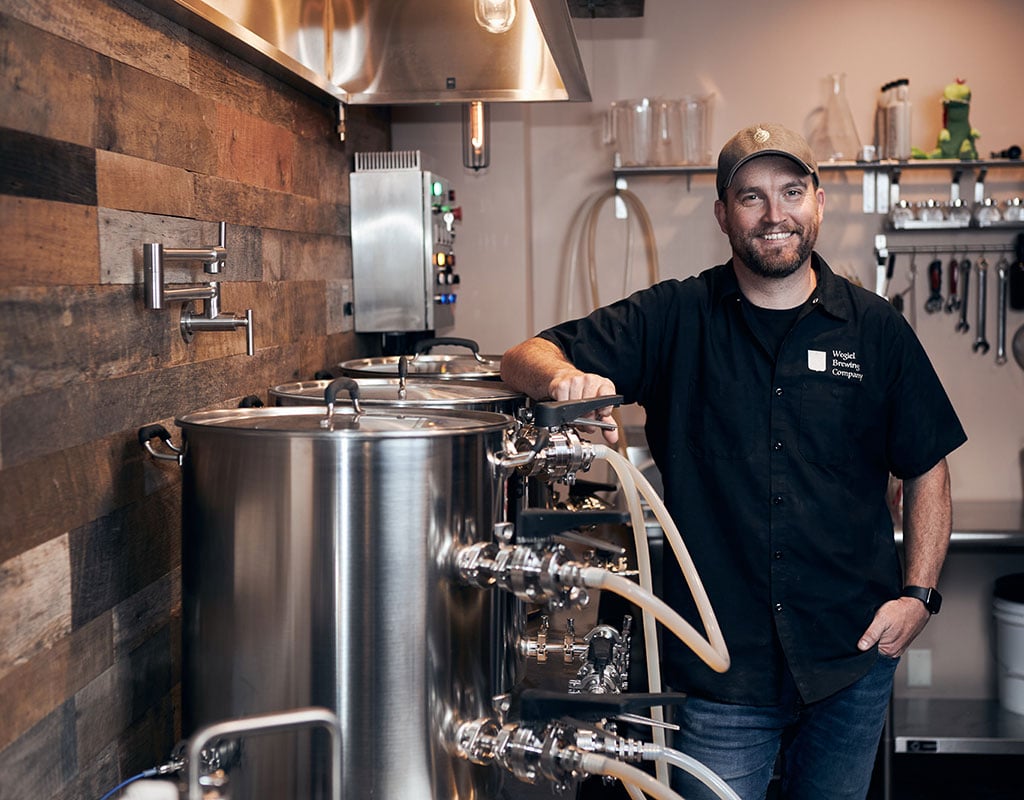 The Best of the Best
Used by both home and professional brewers alike, the ease of use, repeatability and temperature control of the Spike Trio will make your Brew Days a breeze!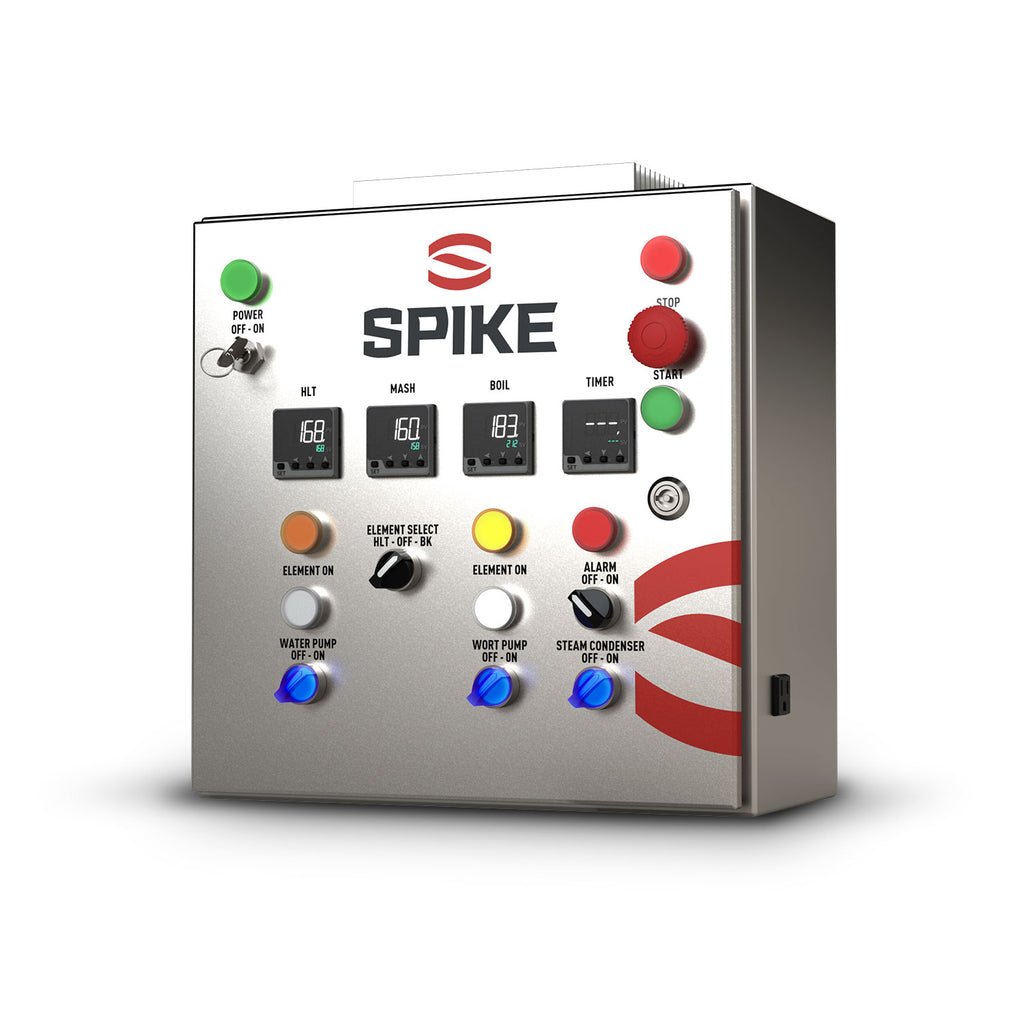 Single Control Panel
Your entire brewery at your fingertips! The Trio uses a single commercial control panel so temperature control, elements, pumps, Steam Condensing Lid, etc. are all in one spot. You won't find a small touchscreen that makes simple changes impossible in brewing gloves and there's no software, WiFi or Bluetooth required. And the best part is, our panel requires only one 240v electrical feed. Other systems on the market require two or more. No hidden electrician costs here!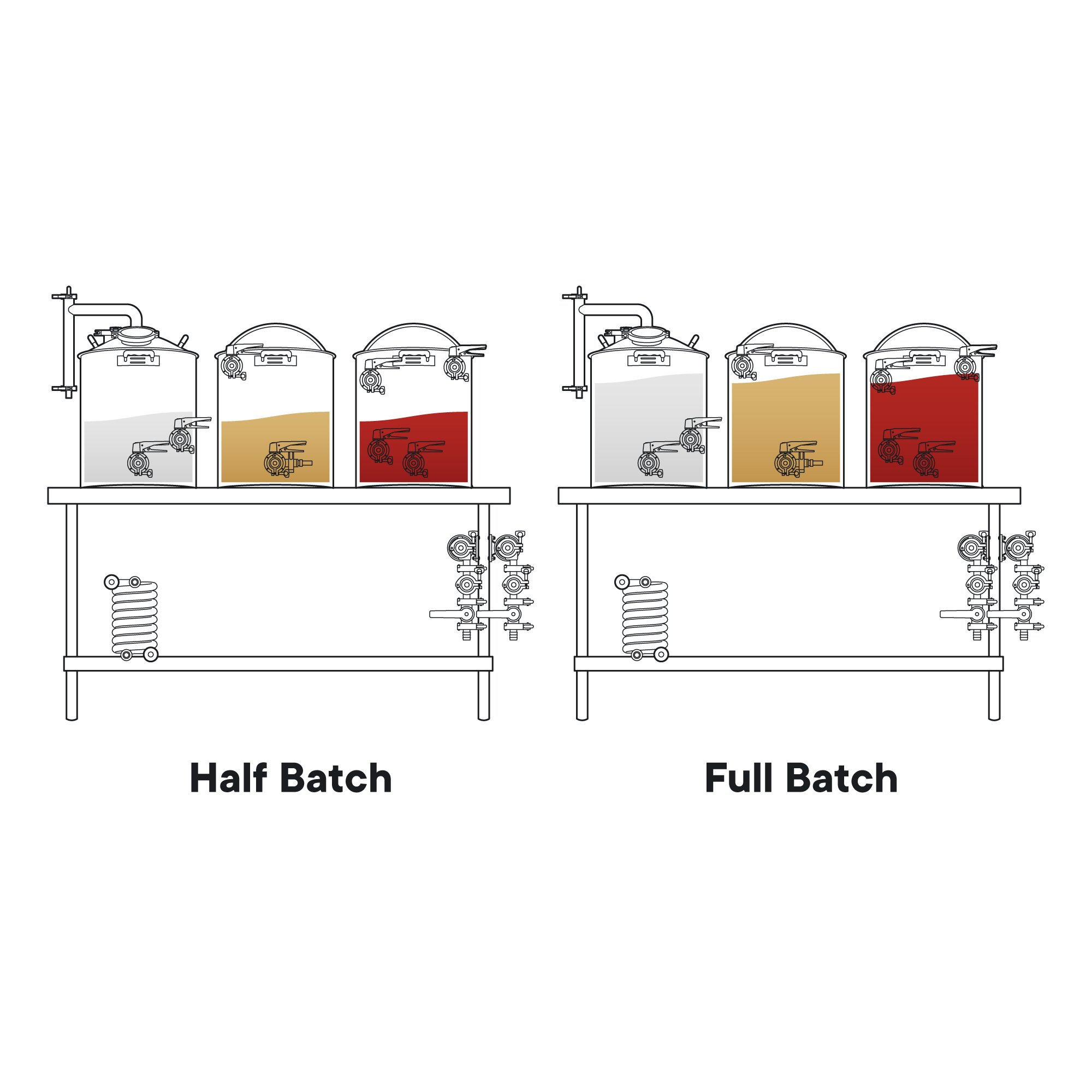 Half Batch Capable
We get constant feedback from our customers that they like brewing a full batch, but they also like the flexibility to brew a half batch as well. Whether you want to try a new recipe or brew for a large party, the Trio accommodates all.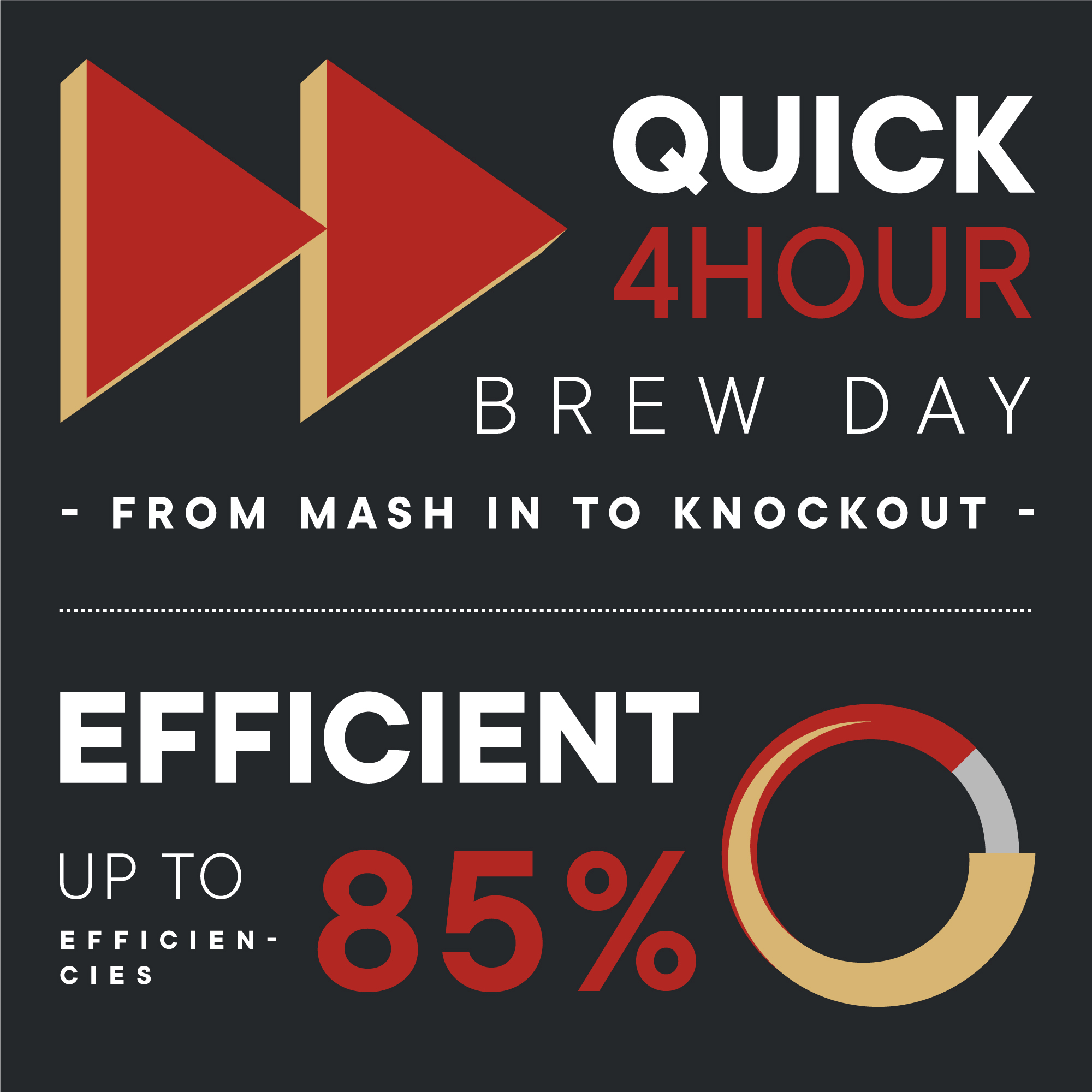 4 Hour Brew Day
Go from mash in to knock out in 4 hours! Fast, efficient and electric, it's the all-star of brewing systems. Our customers consistently see 85%+ mash efficiencies, which is an industry-leading percentage.


Tank Trio Walkthrough
Sit back, relax and enjoy a full walkthrough of the Spike Tank Trio brought to you by one of our favorite brewers, Ryan Michael Carter.
Spike Trio | Turnkey Homebrewing System
With a dedicated hot liquor tank, mash tun and boil kettle, you'll sharpen your skills just like the pros and quickly create the place to be for you and your friends every weekend.
Brew Day on the Spike Trio System
Interested in how the Spike System is used? Henry, from MobCraft Brewing, walks you through, step-by-step, of a typical Brew Day using their pilot Spike Trio System.
01 / 07
Steam Condensing Lid
Brewing indoors is awesome; however, the new battle then becomes steam. While boiling, you can boil off over 1 gallon of wort. Best case, your walls are now coated in wort. Worst case, that steam gets in your walls and causes mold issues. The SCL captures that steam by using a misting nozzle to convert that steam back into liquid. The SCL comes standard with any size Trio.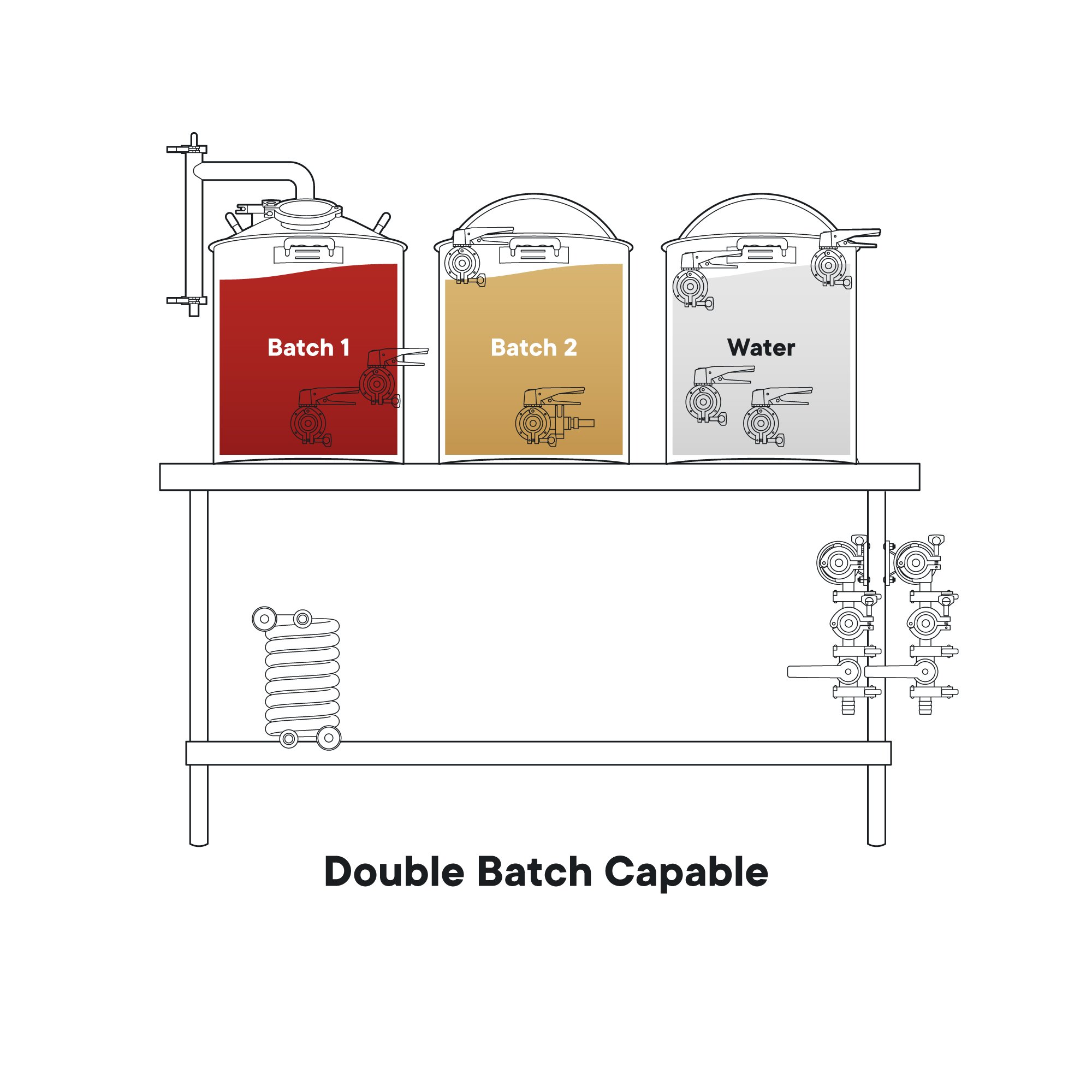 02 / 07
Double Batch Capable
Most systems can only heat one kettle at a time, but with the upgraded double batch panel, you can heat up the HLT and BK at the same time, so you can brew consecutive batches in one day. For the double batch electrical requirments check out the link here.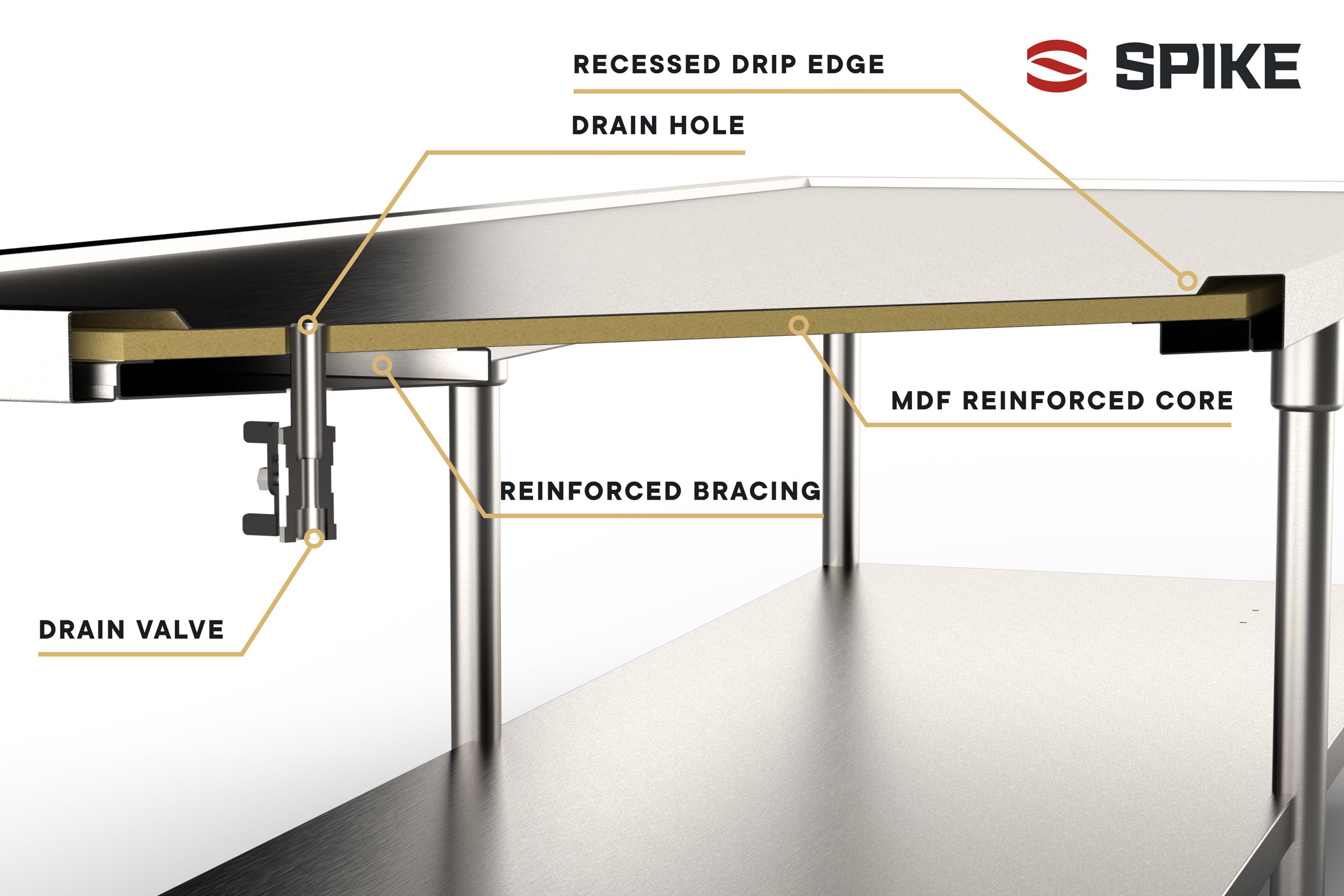 03 / 07
Table Talk
The rumors are true! We came out with a brand new and improved Trio table. Made for flat or bottom drain systems, the table has features like a drip tray, reinforced core and a drain valve.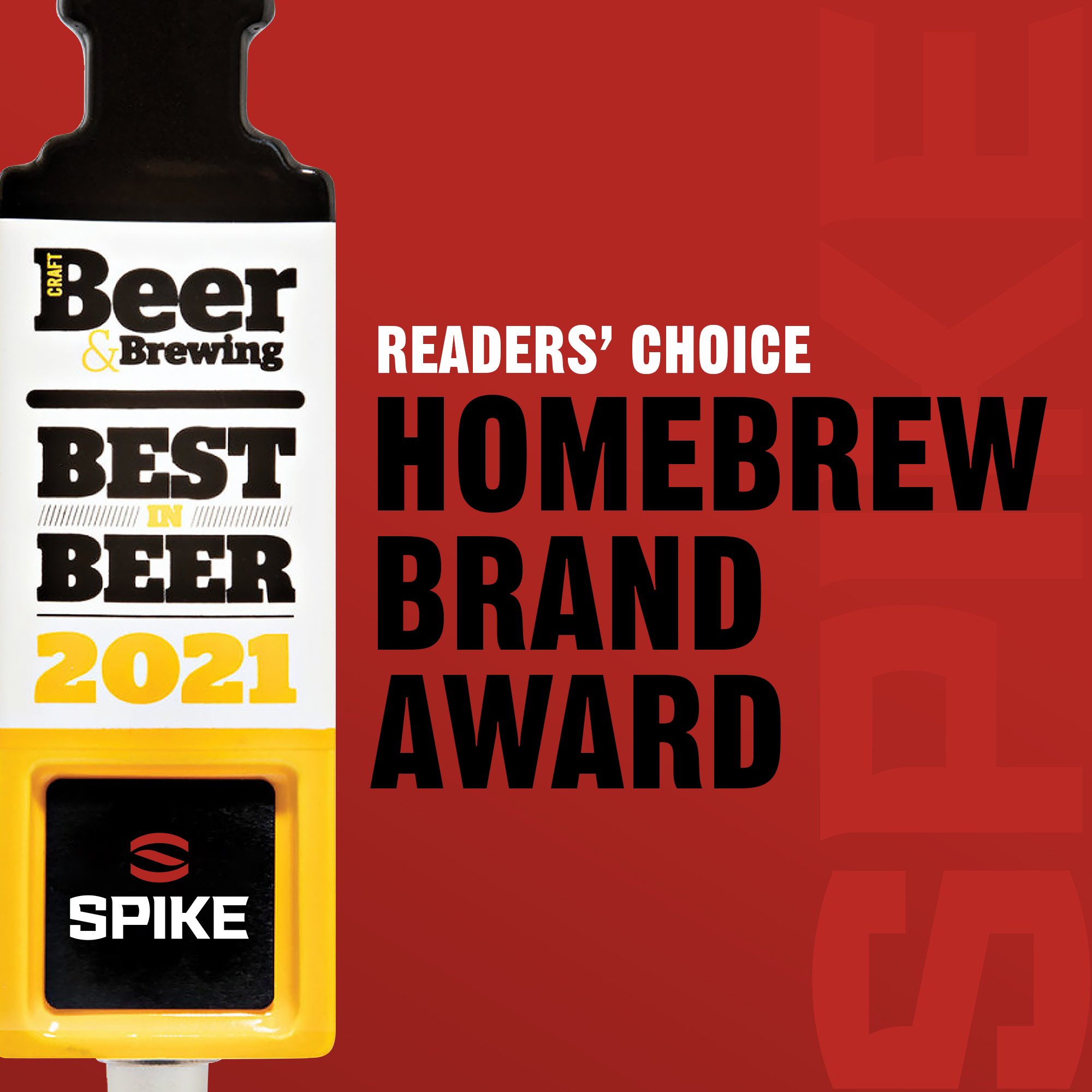 04 / 07
Not Cheaper. Just Better.
We have built our reputation on quality products. Every year, we send a survey to our customers asking why they chose to purchase equipment from us. Year after year, the answer remains the same: Quality.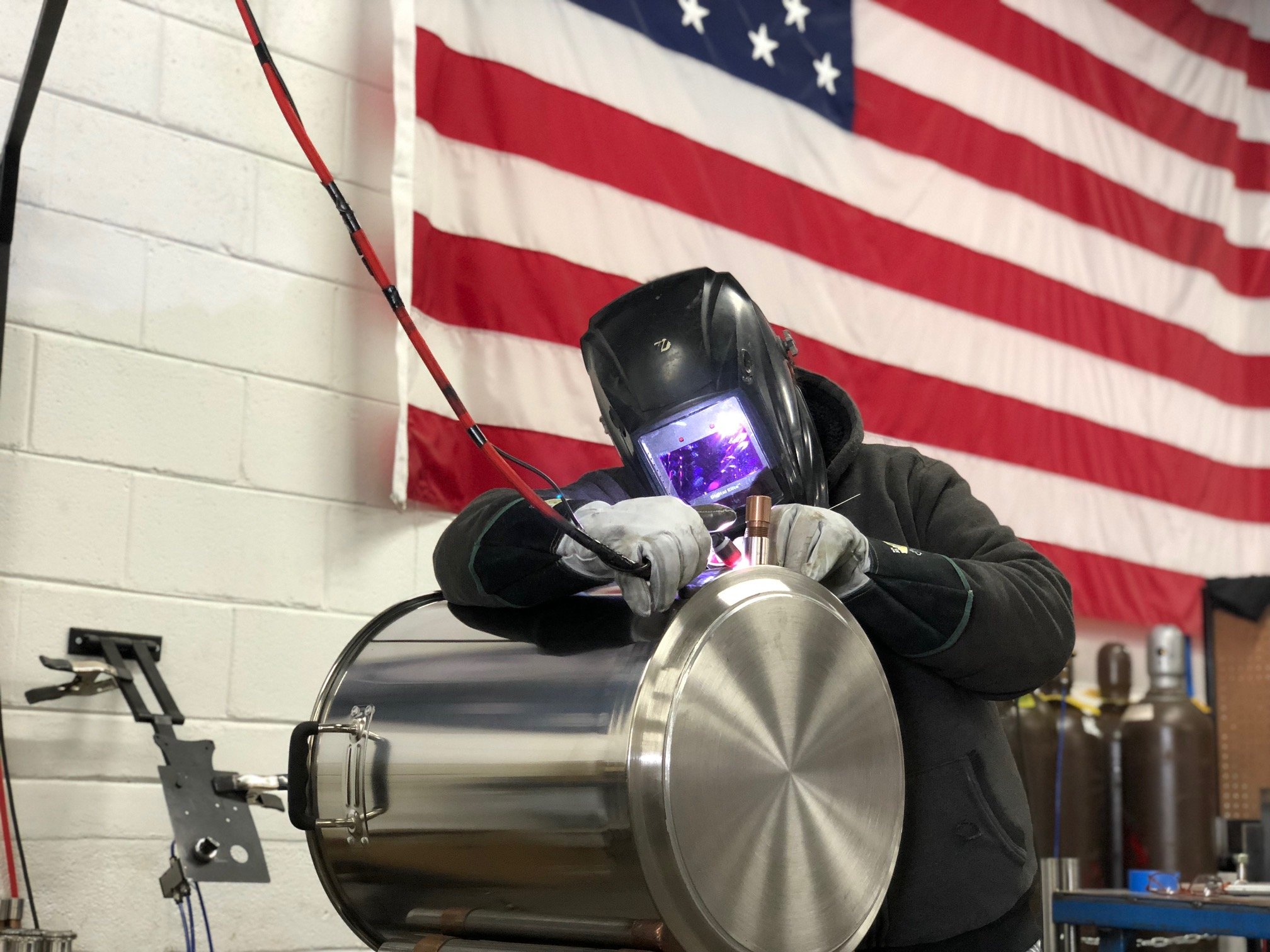 05 / 07
Welded Fittings
Welding is what we do. Our fittings are the strongest and most sanitary connection available.


06 / 07
CIP Capable
Add our optional CIP ball to the 1.5" tri-clamp port on your lid and connect that to your brew pump. The pump will spin the ball and power wash your kettle, making hand scrubbing a thing of the past!
07 / 07
HERMS System
HERMS stands for Heat Exchange Recirculating Mash System. In a HERMS system, the wort is gently and precisely heated using a stainless coil which is submerged in the hot liquor tank (HLT). Ultimately, a HERMS system provides quick heating without sacrificing precision or control.