All-In-One PRV
The Spike All-In-One Pressure Relief Valve (PRV) puts your safety first without compromising on features or functionality. And when you're dealing with pressure, that's pretty damn important.
Learn More
Free Shipping for orders over $150
Overview
When dealing with pressure, our motto is: Safety First, Beer Second. Which is why we created a unique piece of equipment that has all the features that you could possibly need. When it comes to brewing, you don't want to skimp on safety.
Specs:
Adjustable pressure relief from 0-15psi
Built in vacuum release
1.5" tri-clamp connection
(2) 1/4" NPT connections for gas post and pressure gauge
6.25" total height
Pressure gauge and ball lock gas post included
Sanitizer cup with drain port
Quick pressure relief plunger
For use on up to 3bbl fermenters


Reviews
Customer Reviews
Write a Review
Ask a Question
02/22/2023
RON D.

United States
Only used once so far, but it works great
Overall, great experience and it does exactly what it says it should do. There are a few things I would have liked to have seen added, though: 1) Arrows on the top dial to show which way is more/less psi. 2) OR psi markings on the dial itself. Right now, if I want to set it at 10 psi, I have to pressurize the fermenter with the PRV fully closed, then back it out to 10 psi. It would be nice to be able to set it at 10 psi without having to pressurize it first - which would require knowing where to set the dial. 3) A mini valve on the cup drainage barb. I'd like to hook up a tube, but the sanitizer starts draining out as soon as I slide the cover off, resulting in some spillage across the lid and down the side. It would be nice to be able to pull the cover off, attach the tubing, then switch the valve open (like the little valves you see on CO2 regulators). All that said, this is a nice piece of equipment.
01/28/2023
Greg S.

United States
Awesome
Works as advertised. Love it
01/10/2023
curtis g.

United States
awsome!!!!!!
I have 3 prvs and they work great, right-now i have one sitting on my 1bb fermenter and its doing great!!!!
01/09/2023
CHRIS M.

United States
Game Changer
Straight forward operations with flawless performance. Have used to pressure ferment and as an airlock for regular fermentation without any issues what so ever.
01/08/2023
Mark K.

United States
PRV Kooz Brew
Very good so far. I removed blow off came after 5 days and added PRV. Purged it, and watched pressure built to about 10 PSI. I am still fermenting my first batch. As always, Spike product is well built.
Adjustable
The All-In-One PRV is fully adjustable from 0-15psi. Simply twist the top adjustment knob to increase or decrease the pressure inside your fermenter. This allows for use with everything from pressure fermenting, spunding, carbonating or even pressure transfers to kegs. Brew smarter, not harder.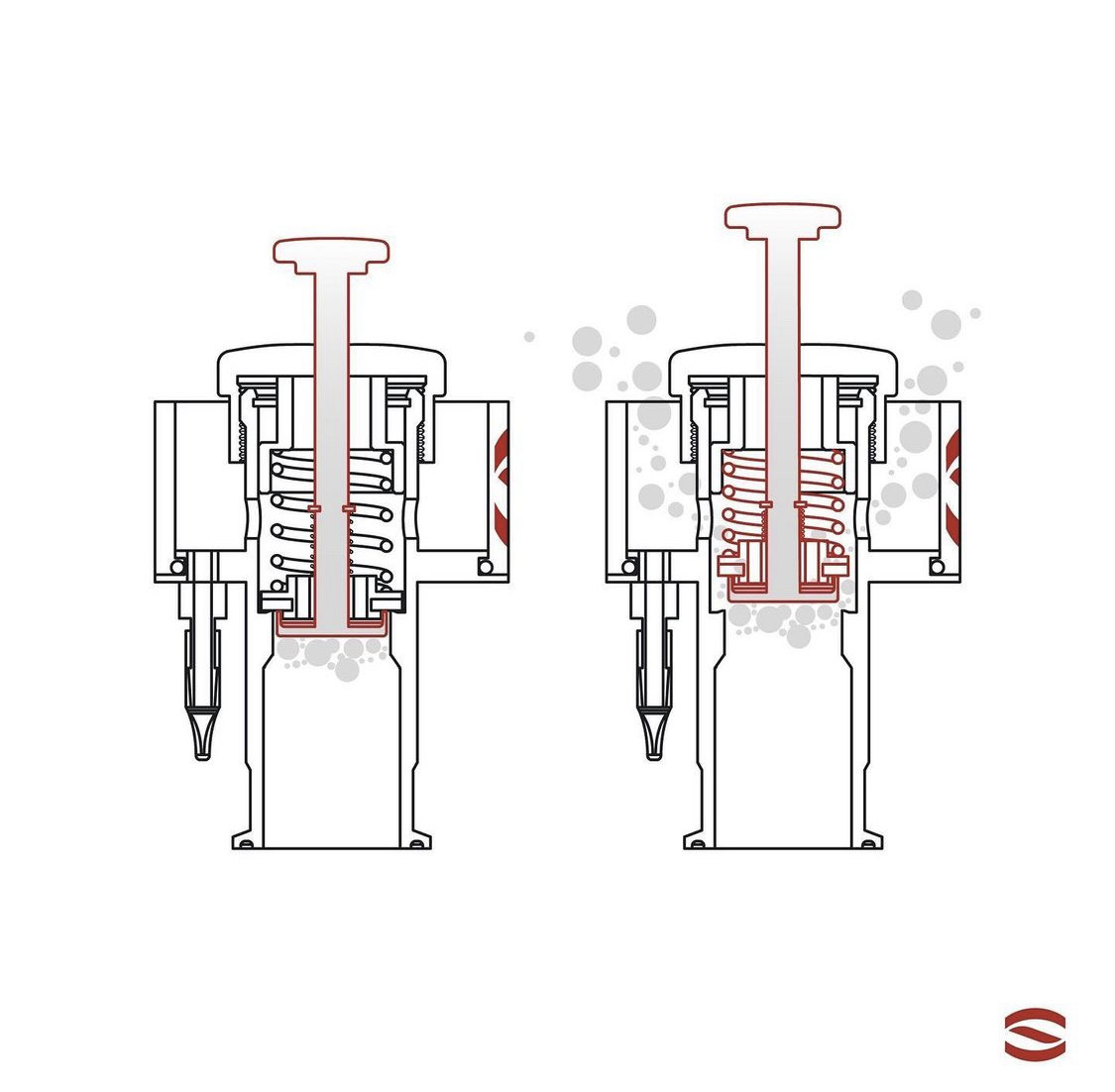 Safety First, Beer Second
CO2 produced by yeast must be handled carefully, otherwise the vessel can become over pressurized, making it very dangerous. This is why a large-port robust PRV is so important. A PRV is designed to automatically vent CO2 gas from inside your fermenter at a set pressure. Since Spike fermenters are designed for 15psi, that's what the All-In-One PRV is designed to release at. The seal and spring lifts to allow it to escape or "bubble out."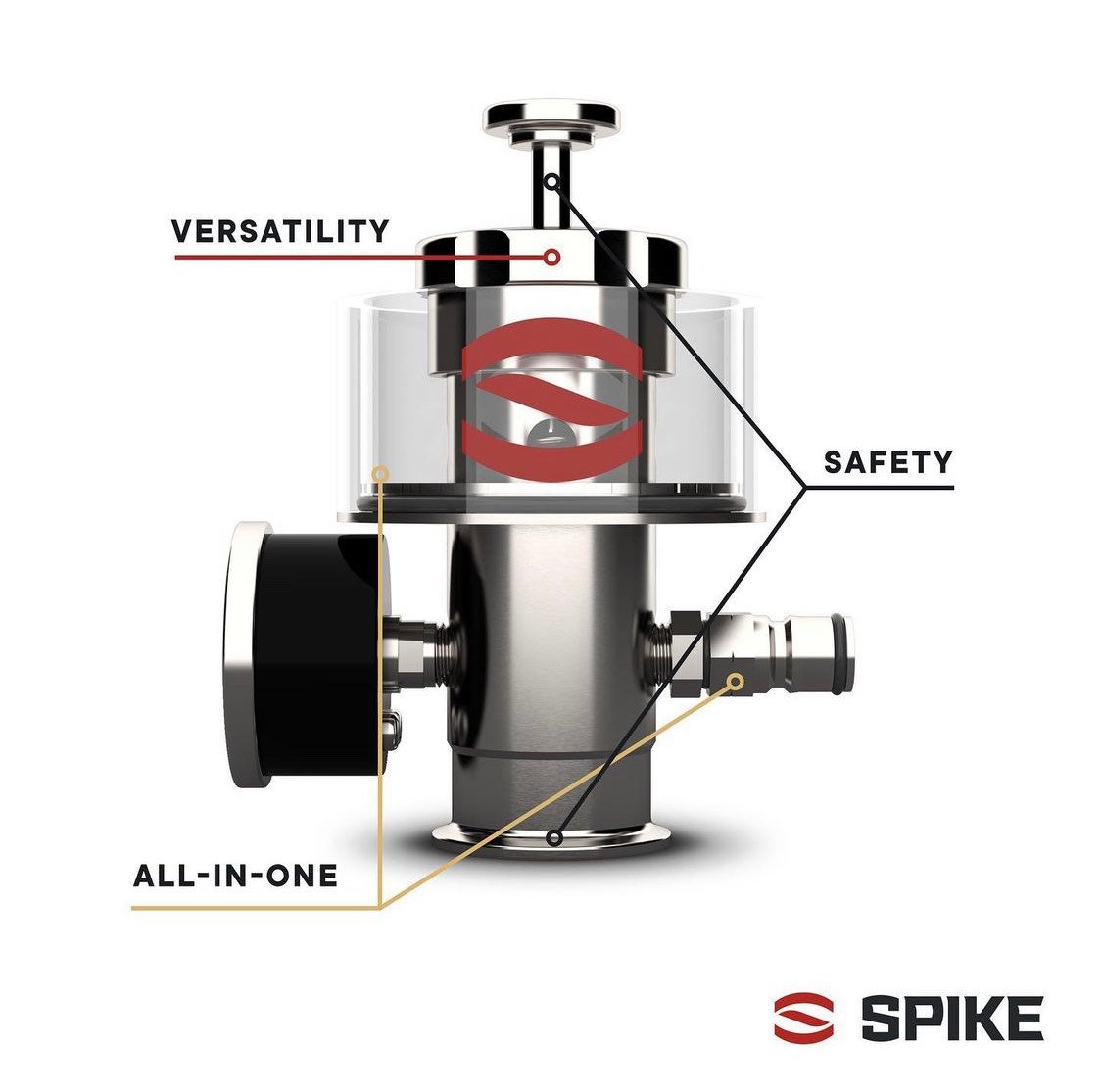 All-In-One
There's a lot of PRV options out there, but the Spike All-In-One PRV combines all those features and then some in one sleek design. It has an adjustable pressure release knob, pressure gauge, gas post, quick release plunger and sanitizer cup with drain.
Spike All-In-One PRV | How to Use
Set up your PRV in just a few minutes with this easy tutorial.
Spike All-In-One PRV | AMA
With any new product, there's going to be loads of questions. Which is great, because we have answers!
Spike vs Competition | All-In-One PRV
We built the best All-In-One PRV on the market. Watch as we go through the pros and cons of this fermentation must have.
Spike All-In-One PRV | AMA Bloopers
Three engineers and three beers? What could go wrong...
01 / 03
Pressure and Vacuum Release
Not only does the All-In-One have an adjustable pressure release but it also has a 1psi vacuum release and quick pressure release! Done fermenting or need to bleed off pressure? Simply lightly push down on the top plunger to bleed off the desired amount of pressure from your fermenter.
02 / 03
Sanitizer Cup
During development, the number one request from BETA testers was to add a sanitizer cup. The sanitizer cup acts as an airlock to let gas escape but doesn't let air back in which can cause an infection. The cup also has a built-in quick drain barb so you can quickly and easily drain the sanitizer before depressurizing so you don't end up getting a sanitizer shower.
03 / 03
1.5" Universal Fitting
We've said it before and we'll say it again—when it comes to safety, bigger is better! The All-In-One PRV uses a huge 1.5" TC fitting, which virtually eliminates the chances of it ever getting clogged. Many competitor PRVs have much smaller openings, which can get clogged with hops or krausen.