Overview
The heart of the Nano system is a commercial grade UL approved panel – available in single and double-batch configurations – that provides up to 27,000 watts of heating power. The Nano's process is intuitive, too. The absence of hard piping and a complex valve tree means the system is both easy to clean and easy to operate. Plus, 90% of the Nano's parts are locally sourced and manufactured in the U.S. We'll even personalize the system by featuring your logo on a custom name plate.

Investing in your Nano also includes access to a full-service support team, wholly immersed in the system's features and functions. If you'd like to ask a question, please contact our Customer Experience team here.
Features:
Steam Condensing Lid
Capable of both ½ barrel and 1-barrel batches
55 Gallon HLT, MT and BK
UL Rated Electrical Panel

Controls heating elements in each kettle
Controls pumps
Controls condensing lid
Hard-wired to your breaker box

(2) 6000w tri-clamp integrated ULWD heating elements in BK and HLT
(1) 3000w tri-clamp integrated ULWD heating elements in MT
All valves, pickup tubes, false bottom, manway door, etc are included
FDA approved food grade, silicone tubing and quick connecting fittings
(2)

Food grade Spike Flow brew pumps

, stainless steel heads
Plate Chiller included
Shipping
All Nano Systems will ship freight, free of charge.
Reviews
Customer Reviews
Write a Review
Ask a Question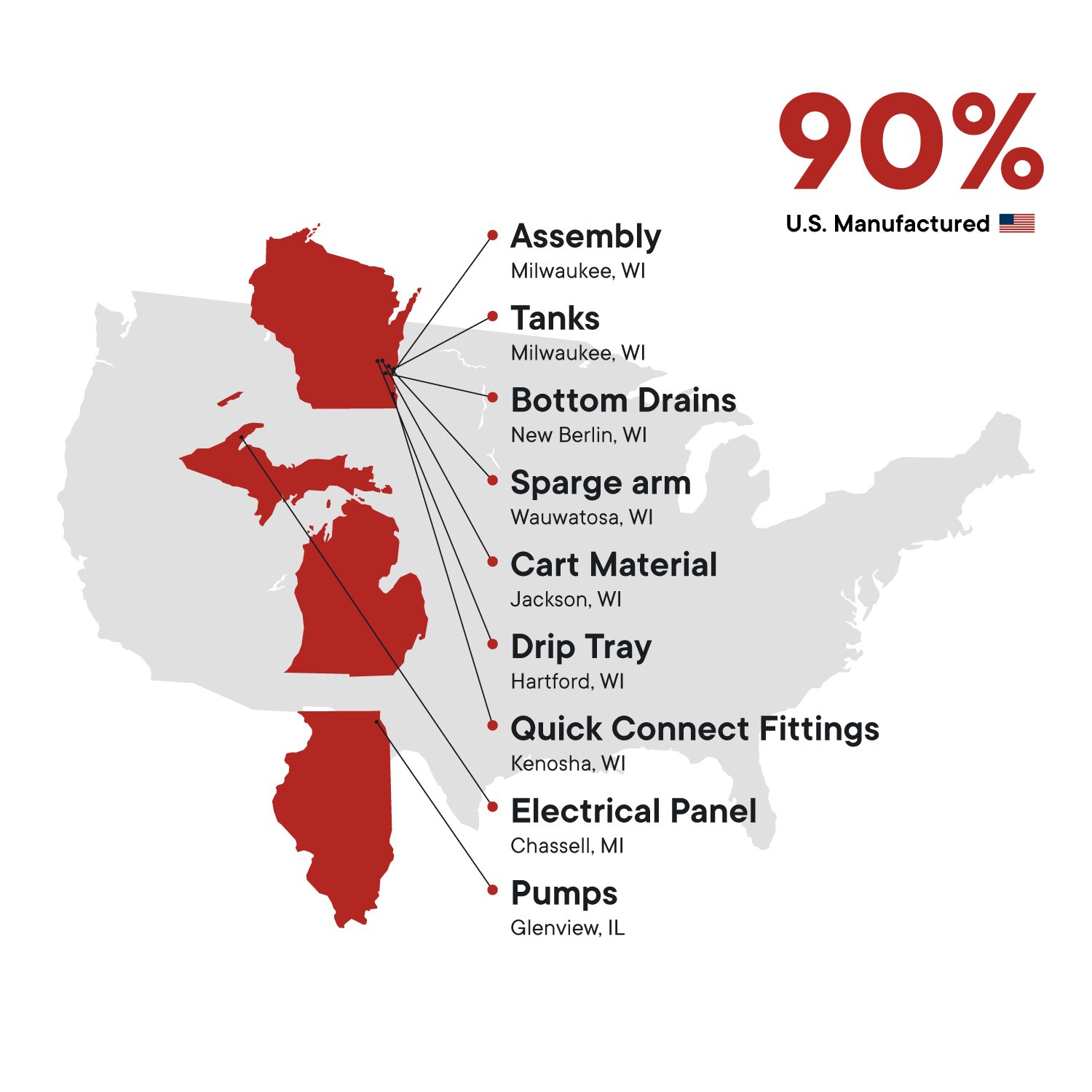 90% U.S. Made
The Spike Nano is 90% locally sourced and manufactured in the U.S., with the finishing touches handcrafted in Milwaukee, WI. Spike is currently the only company making a commercial 1bbl system here in the States. True story, we checked.
Simplified Brew Day
We commonly get asked if we offer a hard piped system. The answer is simply, "No." While the extra stainless looks cool, it has some downsides. Hard piping is more difficult to clean, more expensive and it greatly increases the skill level needed to brew. We designed the system so even a novice can brew, which frees up time for you to work on your business, not in it.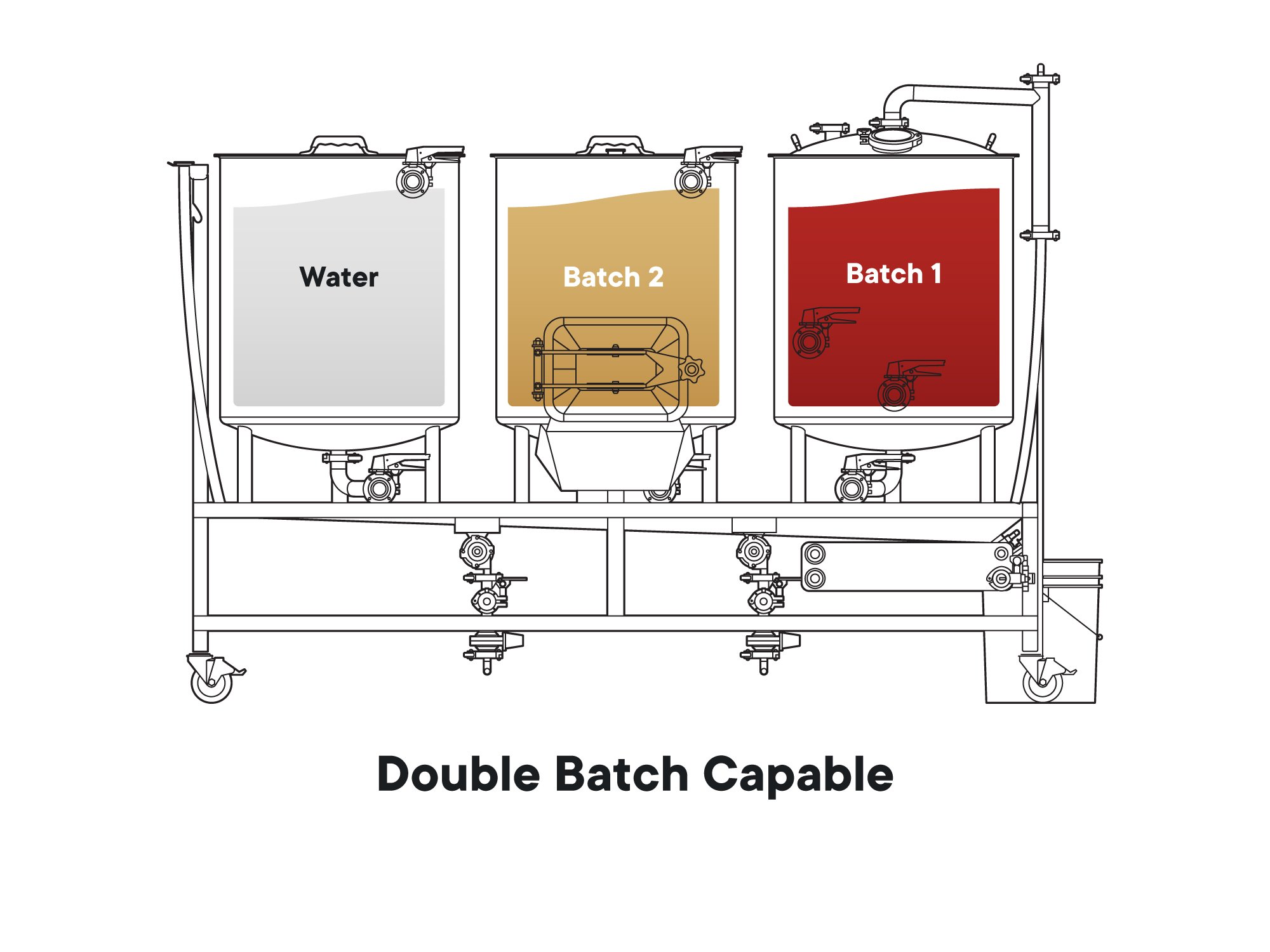 Half & Double Batch Capable
Our Nano customers love that they can brew consecutive batches in one day and make a half batch the next. Plus, having double batch capability easily turns your 1bbl brewhouse into a 2bbl for a fraction of the cost!
A Brew Day Story
Every brewer's journey starts with the passion to create. And for one college in Western Kentucky, that meant turning a passion into a profession.
Nano Brew Day
Ben (owner of Spike) and Bernard (owner of The Runaway Brewery) discuss starting a nano brewery and walk through a brew day on Runaway's Spike Nano system.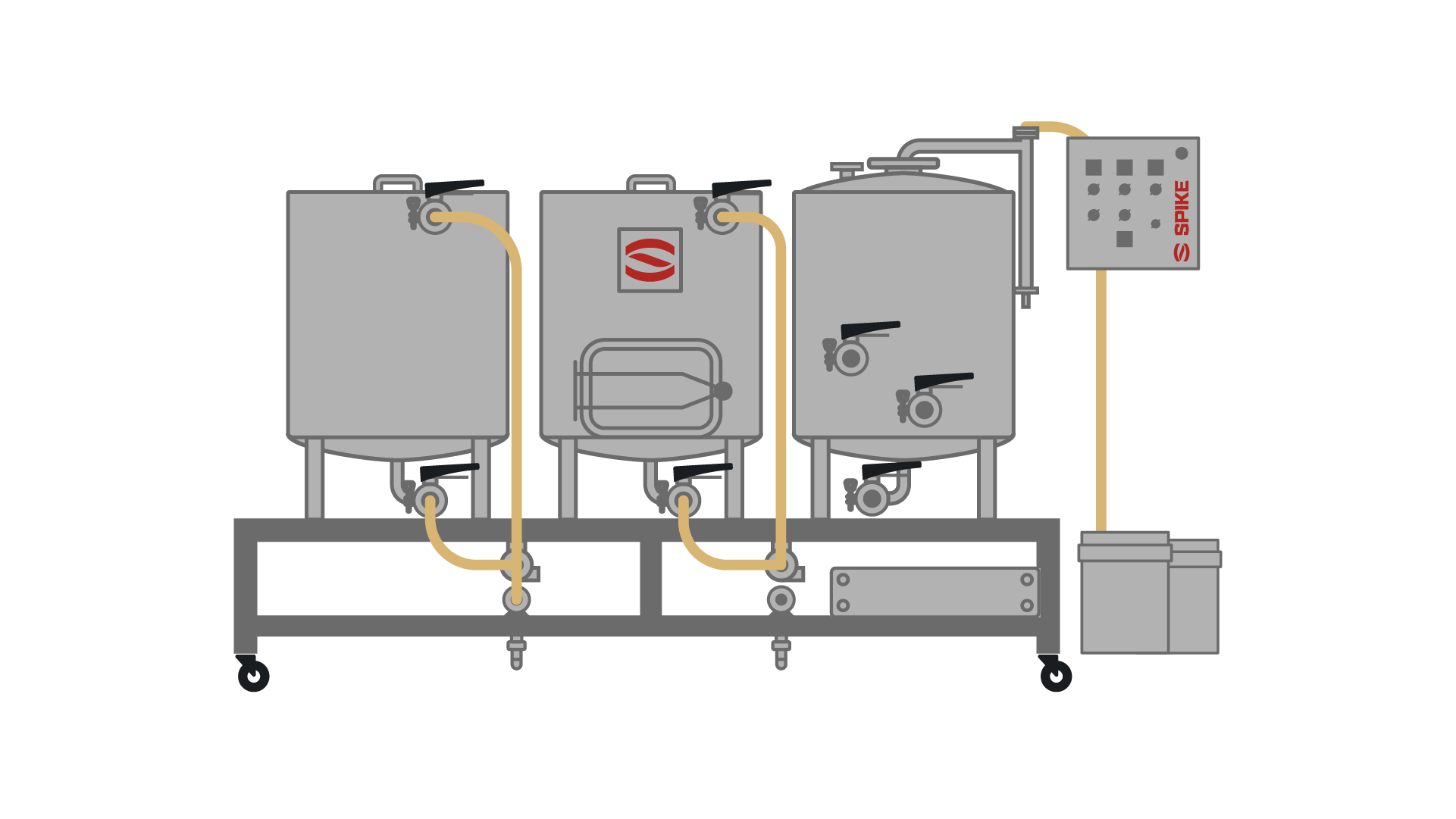 01 / 09
Bottom Drain Kettles
Bottom drain kettles have a rounded bottom with a port in the middle, which means they can be fully rinsed out without turning them upside down. This also allows for your system to be fully CIP'd (see next slide).


02 / 09
CIP Capable
Every Nano comes standard with a CIP ball, so you can easily clean your kettles without having to reach in there and scrub it out.


03 / 09
Grain Door
A common theme of the Nano is saving money and time. That's why it's essential to have a grain door on any commercial system. Our grain door is oversized and allows for easy removal of all your grain.


04 / 09
Steam Condensing Lid
The Steam Condensing Lid captures steam by using a misting nozzle to convert that steam back into liquid. The SCL comes standard with every Nano. No need to install an exhaust hood in your brewery, the SCL is more efficient, quieter and doesn't require a construction crew.


05 / 09
27,000 Watts of Power
With up to 27,000 watts of available power across the entire system, the Nano is an incredible time saver. You'll have 12,000 watts in both the BK and HLT and 3,000 watts to heat the MT. When brewing commercially, time is money. More power means quicker heating, quicker Brew Days and more time for you to grow your business.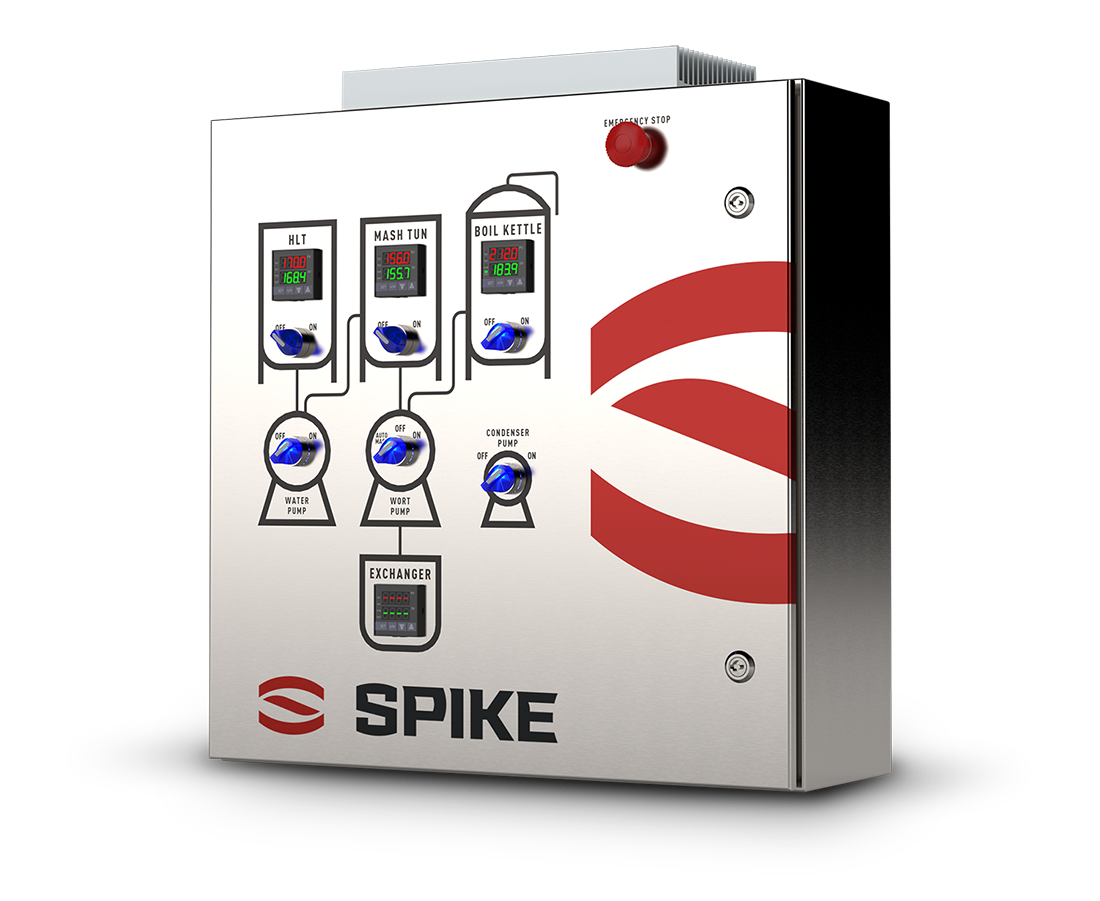 06 / 09
UL Panel
Most jurisdictions require UL electrical equipment. Not having this could cause an inspector to refuse to sign off on operating permits. Rolling the dice on a non-UL panel just isn't worth it.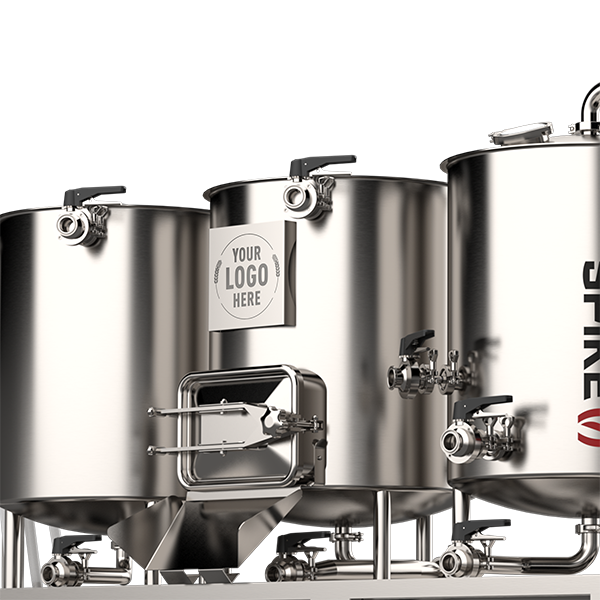 07 / 09
Custom Logo Plate
It might be Spike equipment, but it's your brewery! On each Nano, we weld on a logo plate which we custom laser engrave with your logo for no additional charge.
08 / 09
Drip Tray
Welded to the entire length of the brew cart is a drip tray. The drip tray is angled to one side with a tri-clamp fitting to easily drain all the liquids into a bucket or floor drain. It also prevents liquid from dripping onto your pump.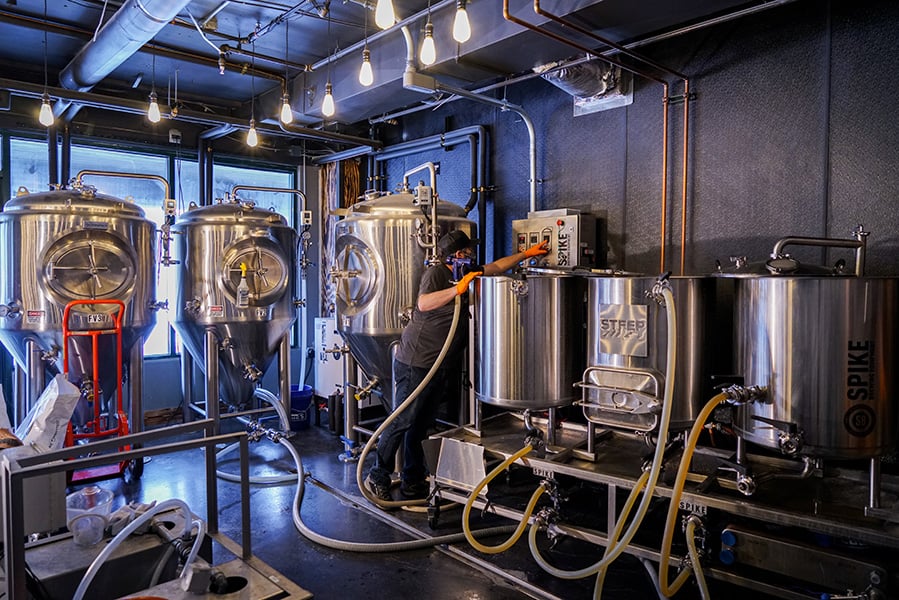 09 / 09
Compact Footprint
This system can fit in even the most compact spaces. Need to move it to a different spot? No problem. Just roll it on over using the Nano cart.