Flex Extended Bracing Shelf
Keep your Flex steady with the extended bracing shelf! This bracing shelf allows for extra stability, and it also has separate holes for your casters to ensure solid mobility.
Learn More
Free Shipping for orders over $150
Overview
Our custom Spike extended bracing shelf was a solution created based on customer feedback on our normal bracing shelf. The extended bracing shelf now widens the footprint of the Flex making it more stable. It is a recommended addition when going vertical with the leg extensions or mobile with casters.


304SS
Super thick 14ga material
Made in the USA
Welded support bars
Includes 3 bolts to affix the conical to the bracing shelf


Reviews
Customer Reviews
Write a Review
Ask a Question
01/26/2023
Andrew K.

United States
Just right
Exactly as described. I got this for my CF10 with leg extensions and casters. Even when full, the whole thing moves around easily and I never felt like it was unstable. I haven't experienced any leg bowing as described in another review. It works as a shelf for a blowoff vessel, and even fits a full 5 gallon bucket.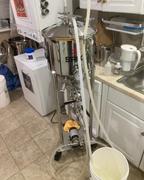 12/03/2022
Mike D.

United States
Should have been standard....
I had to pay extra to buy the extended bracing shelf after having paid for the standard one. I get why they did this--pretty tippy fermenter without it. But it's not clear to me why that wasn't standard to begin with. I paid for the standard bracing shelf only to find that I needed to spend an extra $70 to get what they should have had in the first place. Can't imagine why the standard shelf is still being offered--all it takes when rolling a full fermenter is to hit a small pebble or whatnot and over it goes. The extended shelf makes the unit much more stable, which is what it should have been at the outset. Anybody want to buy a used standard bracing shelf? I've got one that's doing me no good.
11/26/2022
Erik C.

United States
Conical fermenter
Not extremely difficult to put together but it would have been nice if there were printed directions included. It would also have been helpful if the rubber ring inside the lid was in place.
10/16/2022
Adam T.

United States
Must Have
These shelves look great and provide a lot of stability, especially in conjunction with casters. I have one for each of my CF15s.
10/16/2022
Doug H.

United States
Conical Bracing shelf
Definitely a must have with the three leg design. Almost lost a leg and my first batch in my 1/2 bbl conical before I got the shelf. I actually think this should be standard with the 1/2 bbl and up, the weight on the three legs is just too much.