Insulated Conical Jacket
The super sleek looking Spike insulated jacket uses high quality, extra thick yet flexible neoprene material to insulate your Conical from the worst ambient conditions— be it a hot garage or cold basement.


Learn More
Free Shipping for orders over $100
Overview
Each jacket is tailored to fit perfectly. The jacket was created by a former Lululemon designer, because if you're going to cover up shiny stainless steel, it better look just as good! We think she did the trick!
Reinforced stitching around all ports, legs and handles for extra strength
Helps maintain stable fermentation temps regardless of ambient conditions
Stops the tank from 'sweating' in warm weather
Interior Velcro for attaching the optional conical heater
Machine washable
Reviews
Customer Reviews
Write a Review
Ask a Question
01/20/2022
Mark F.

United States
Conical Jacket
No issues with the item. Since just like wearing a hat on your head that keeps the heat in, it would be great if you made an insulated cover for the lids. For those of us in the hotter climates, it would help my chiller be able to cold crash and maintain temp.
10/30/2021
Daniel K.

United States
Conical Jacket
The Conical Jacket works great. Just remember to put it on before the shelf and casters! Or you get to take the casters off and try again. Thank you Spike for an amazing, affordable conical.
09/18/2021
Barry A.

United States
Conical Jacket
Replaced my original grey conical jacket with the black. Love the new "clean" look
07/23/2021
Adam G.

United States
Needs a hat to match
Works well to keep the main body from being impacted by external temperatures. A bit thicker (1/4") would help even more. But, there needs to be a "hat" to go along with this to reduce thermal loss out of the top of the fermenter. I've made such an item for both of my CF10 units and it really does help more than you might think. I'm now able to maintain carbonation temperatures a lot easier than without it. Especially during the summer months. It also helps with maintaining fermentation temperatures for batches. I'm using 1/4" thick neoprene foam for this. I also cut a piece to go on top of the chill coil to help there.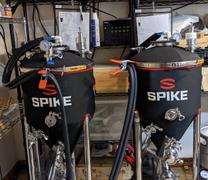 05/28/2021
Dean S.

United States
Keep It Cool Keep It Warm!
The replacement jacket fit perfectly with the heating pad right where it is supposed to be. Haven't checked the operation of the paid yet. But have an idea tomorrow will be the day!
Compare