Temp Control Coil
These USA made temp control coils are specifically designed for our fermenters and extend far enough into the fermenter to temperature control both full and half batches.
Learn More
Free Shipping for orders over $150
Overview
Used in conjunction with a temp controller our temp control coil will help manage your fermentation temps, allow for lagering and cold crashing.
Our temp coil simply drops through the top of the lid and quickly attaches with a standard TC clamp. This lid mounted design allows for half batching in all our fermenters as the coil reaches deep into the fermenter. This quick attaching method allows you to lift the coil up slightly to pitch yeast, add hops, etc. The coils are spaced with a sufficient gap for easy cleaning. Simply CIP the conical or soak in brewery wash to easily clean.
4" TC -304SS
3/8" tubing
Specifically designed for each size fermenter
Made in the USA


The temp coil is also a part of our new TC-100 Temp Control System that includes everything you need to control your fermentation temperatures!


Reviews
Customer Reviews
Write a Review
Ask a Question
05/17/2022
Paul A.

United States
Nice 4" TC chilling coil
I'm using my with a glycol machine. Fits perfect in my CF10. It goes a long way down so No problems chilling 5.5G batches. I also have the smaller one for the CF5 that i'm using in a 13.2g kegmenter. It has also been perfect.
04/18/2022
Mike J.

United States
I bought two - Temp Control Coils
I have a CF5 and a CF10 to hook up to my glycol chiller. The smaller temp control coil is very nice and the larger one has issues. The larger one has a few coils that are not uniformly spaced and several of the coils have "rough areas and ridges" on them. Coincidently, the non-uniform area and the rough area are one in the same. I have not used them for fermenting yet; however, I am afraid that the larger one may be harder to clean than the smaller one. I have tried a couple times, during cleaning, to "knock down or smooth off" the rough areas but I haven't been able to do that. In the picture, you can see the non uniform spacing and a few of the ridges and rough areas on the coils.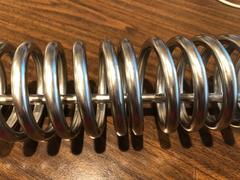 01/12/2022
Barry R.

United States
Got it for my son.
I do not know. Gift
12/29/2021
Steven

United States
Worth the buy
Extremely happy with this investment
05/14/2021
Eric M.

United States
Temp control coil
Does an excellent job controlling temps, and cold crashing. Using diy glycol chiller for cooling liquid. Crashed 10 gallons from 70 to 38 in 3 hours