All-In-One PRV
The Spike All-In-One Pressure Relief Valve (PRV) puts your safety first without compromising on features or functionality. And when you're dealing with pressure, that's pretty damn important.
Note: Due to high demand, please expect a 2-3 week lead time until item ships.
Learn More
Free Shipping for orders over $100
Overview
When dealing with pressure our motto is: Safety First, Beer Second. For a while now, we've seen some sketchy DIY set ups for pressure fermenting, spunding, etc. We listened to the market and created a unique piece of equipment that has all the features you could possibly need. When it comes to brewing, you don't want to skimp on your safety.
Specs:
Adjustable pressure relief from 0-15psi
Built in vacuum release
1.5" tri-clamp connection
(2) 1/4" NPT connections for gas post and pressure gauge
Pressure gauge and ball lock gas post included
Sanitizer cup with drain port
Quick pressure relief plunger
For use on up to 3bbl fermenters


Reviews
Customer Reviews
Write a Review
Ask a Question
06/13/2022
Tiago C.

United States
Works great! Only criticism is that the logo was placed in-between the two holes for the release valve and gauge.
06/04/2022
Kenneth S.

United States
Top Notch
This product is so much better than any other that I've used! I brewed a Lutra lager, put it in my flex fermentor with the PRV attached and with a little fine tuning was fermenting at 10 psi and it held for the entire fermentation. Not only is it functional but I feel much safer fermenting under pressure than I used to with my old sounding valve that looked like someone pieced it together in the hardware aisle of the local Home Depot. All and all this thing is top notch
06/03/2022
curtis g.

United States
Awesome prv!!!!!
Right now it's sitting on my 40gal fermenter doing a honey wheat and working great!!!!!!
06/01/2022
Kyle H.

United States
Convenient package
This little unit replaced the larger competition spunding valve setup. It was easy to dial in and worked. My only complain is that I wish it was possible to release pressure w/o having to remove the sanitized solution (or getting splashed). If there was a release value below the fluid container it would be possible and would allow for users to no longer need a dedicated PRV elsewhere. I can appreciate that having the PRV below could mean it gets clogged, but as this unit itself is a PRV that may not be a big deal.
05/31/2022
Brian J.

United States
PRV
the item is very well made and thought out.
Compare
Adjustable
The All-In-One PRV is fully adjustable from 0-15psi. Simply twist the top adjustment knob to increase or decrease the pressure inside your fermenter. This allows for use with everything from pressure fermenting, spunding, carbonating or even pressure transfers to kegs. Brew smarter, not harder.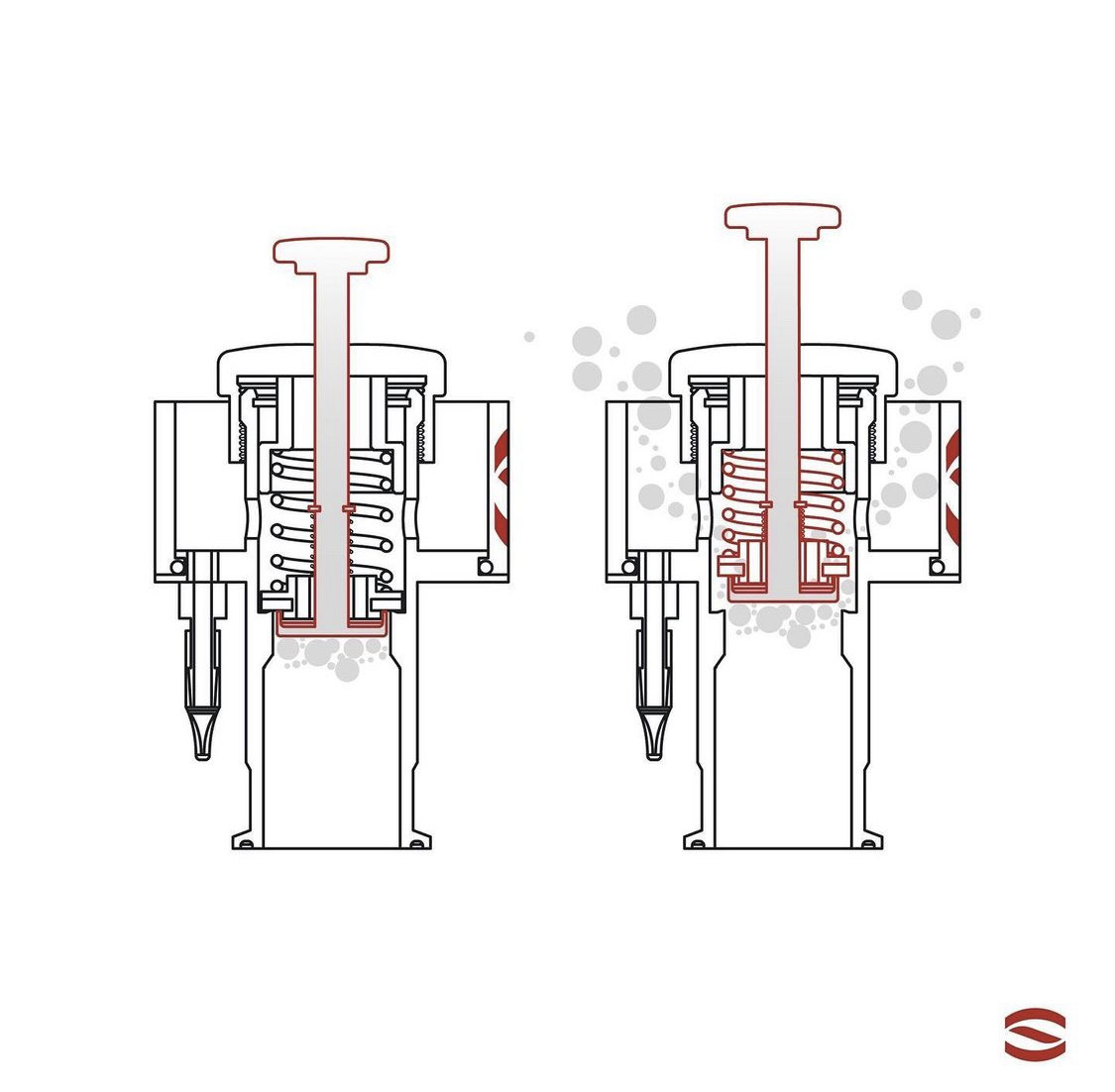 Safety First, Beer Second
CO2 produced by yeast must be handled carefully, otherwise the vessel can become over pressurized, making it very dangerous. This is why a large-port robust PRV is so important. A PRV is designed to automatically vent CO2 gas from inside your fermenter at a set pressure. Since Spike fermenters are designed for 15psi, that's what the All-In-One PRV is designed to release at. The seal and spring lifts to allow it to escape or "bubble out."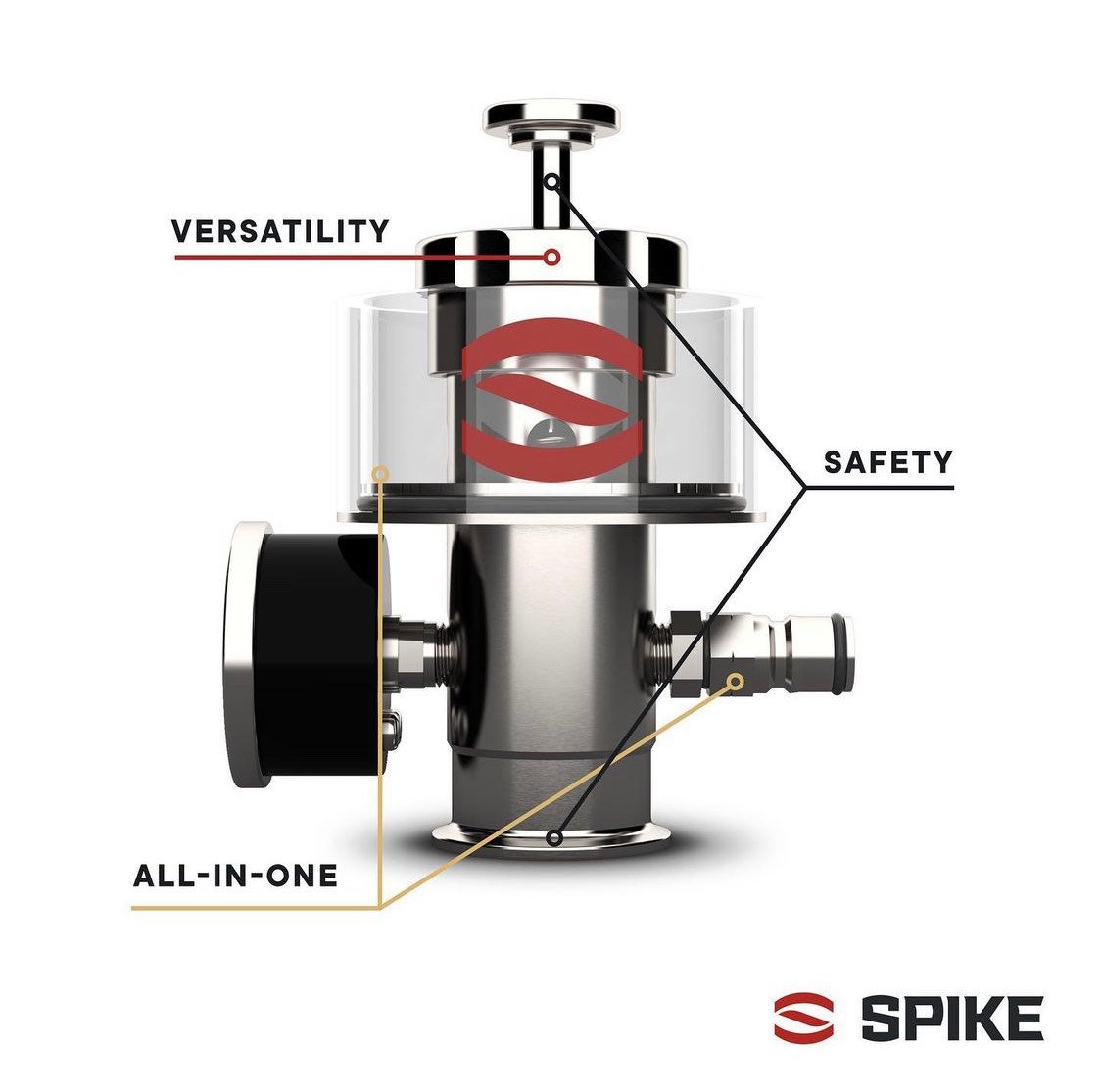 All-In-One
There's a lot of PRV options out there, but the Spike All-In-One PRV combines all those features and then some in one sleek design. It has an adjustable pressure release knob, pressure gauge, gas post, quick release plunger and sanitizer cup with drain.
01 / 03
Pressure and Vacuum Release
Not only does the All-In-One have an adjustable pressure release but it also has a 1psi vacuum release and quick pressure release! Done fermenting or need to bleed off pressure? Simply lightly push down on the top plunger to bleed off the desired amount of pressure from your fermenter.
02 / 03
Sanitizer Cup
During development, the number one request from BETA testers was to add a sanitizer cup. The sanitizer cup acts as an airlock to let gas escape but doesn't let air back in which can cause an infection. The cup also has a built-in quick drain barb so you can quickly and easily drain the sanitizer before depressurizing so you don't end up getting a sanitizer shower.
03 / 03
1.5" Universal Fitting
We've said it before and we'll say it again—when it comes to safety, bigger is better! The All-In-One PRV uses a huge 1.5" TC fitting, which virtually eliminates the chances of it ever getting clogged. Many competitor PRVs have much smaller openings, which can get clogged with hops or krausen.